Sandra Chevrier is a Canadian contemporary artist, known for her captivating collaged portraits of women from The Cages series. Born in 1983, Chevrier got her Bachelor's degree in visual and media arts from UQAM - The Université du Québec à Montréal. As a self-taught artist, Sandra Chevrier first fell in love with art as a kid, expressing her emotions through pencil drawing. At first, she draw sketches of eyes, all the time. This initial passion is highly visible in her present work. Sandra likes to describe herself as a "gaze collector", as she considers that you can read all the emotions of a human being just by looking in their eyes.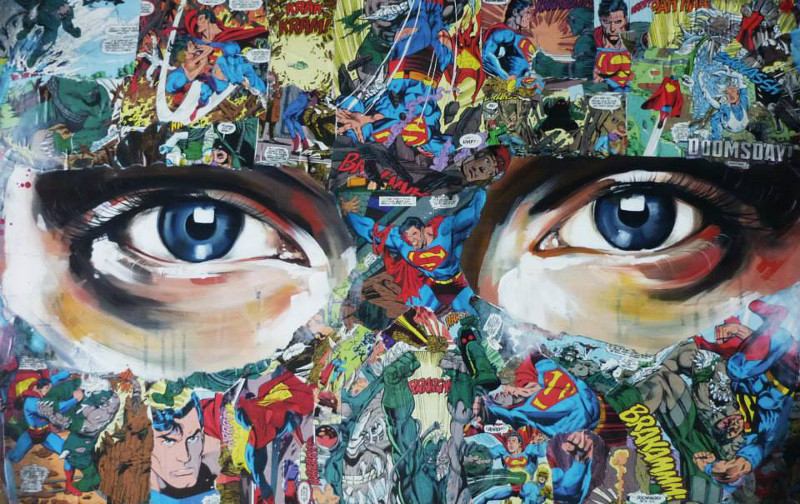 Sandra Chevrier: A Gaze Collector
Chevrier can recall a precise moment that made her realize that she wanted to become an artist – as a teenager, she visited one gallery in Montreal, where she saw a painting that had a strong impact on her. The painting was Detritus Of Devotion, made by a Canadian artist Heidi Taillefer. As Sandra felt a powerful rush of emotions, she realized that she desired to be able to make people feel the same while looking at some of her own creations.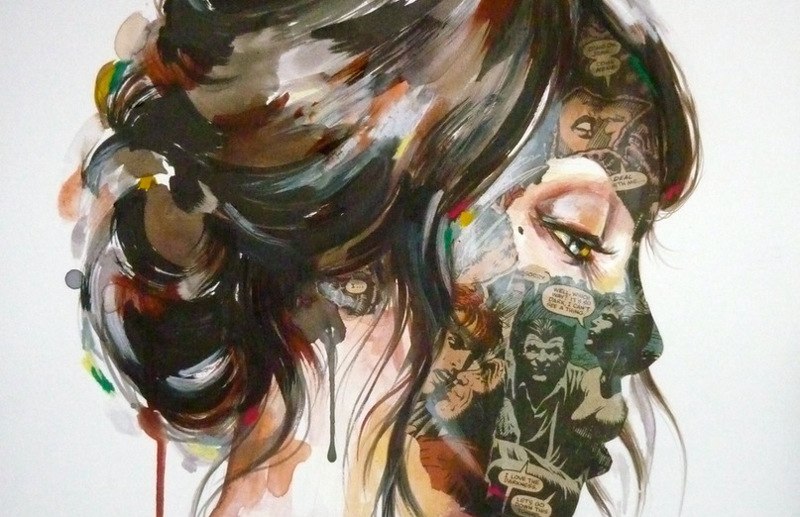 The Cages Series
Works from Sandra Chevrier's The Cages series are created with a strong message of social freedom and an open mind imbued into the canvas. The series emerged from the fuse of painting and collage, as Chevrier uses paint and actual comic book cuttings to produce intense mixed-media portraits of women. Sandra used to work in a really controlled and hyper realistic way before the discovery of collage and mixed media. Now, Chevrier's work is an amalgam of fine and street art that is self-governed as well as supremely crafted. The Cages series tells a story of women trying to find freedom from the imposed cages of society's distorted prejudices and expectations of what a woman should or shouldn't be, of false beauty and perfection. With sharp colors and graphic lines, the artist uses loose and heavy textures of paint which make her portrayed subjects seem to be emerging from the surreal world within the canvas, revealing the underlying tragedy of oppressed female identity. By using comics as a mask for her portrayed heroines, Chevrier highlights the fragility of the superhero, their personal weaknesses and flaws, and exposes the humanity within the superhuman.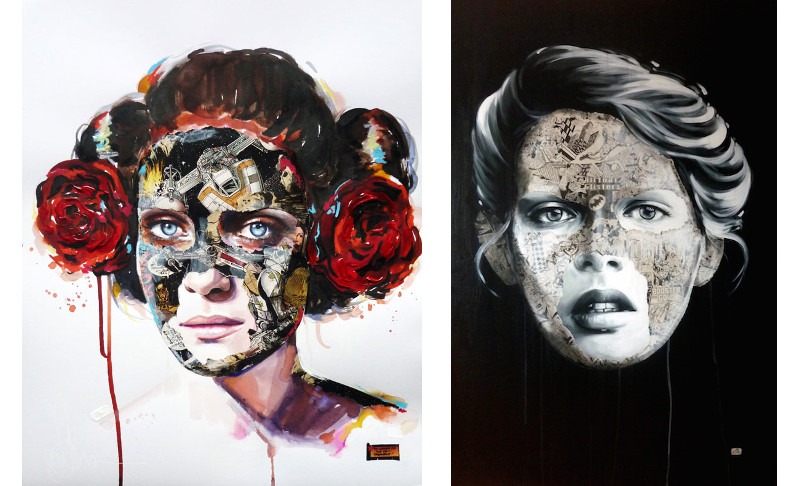 Nuart's Art Billboard Project
Sandra Chevrier participated in Nuart Festival in 2015, as a chosen artist to kick off Art Billboard project, a new project whose main idea is to give contemporary artists the chance to work outside their comfort zone, on the scale of street art in the public sphere. Sandra Chevrier exhibited her work mostly in Canada, but in San Francisco and Los Angeles, United Kingdom, throughout Europe and Asia as well. The most successful series up to date – Super heroes Cages, obtains a worldwide success. Her artworks are now in the collections of art collectors all over the world – Europe, USA, Netherlands, Japan, New Zealand, Australia, Russia, and a lot more.
Sandra Chevrier is represented by C.O.A. Galerie located in Montreal, and Ministry of Walls online gallery.
Sandra Chevrier currently lives in Montreal, Quebec, where she works in a home studio.
All images courtesy of the artist