Sandra Schlipkoeter is a German painter whose work features explosions of colors which gradually dissolve into abstraction. Her paintings are an unusual blend of  dynamic and mystical, especially her recent work which revolves around the topic of interference, a physical phenomenon occurring when two waves superpose to create another wave of greater, lower, or the same amplitude. Interference is related to various sorts of waves such as  light, radio or acoustic waves. Another phenomenon called moiré pattern, which is caused by interference, can be also observed in Schlipkoeter's art.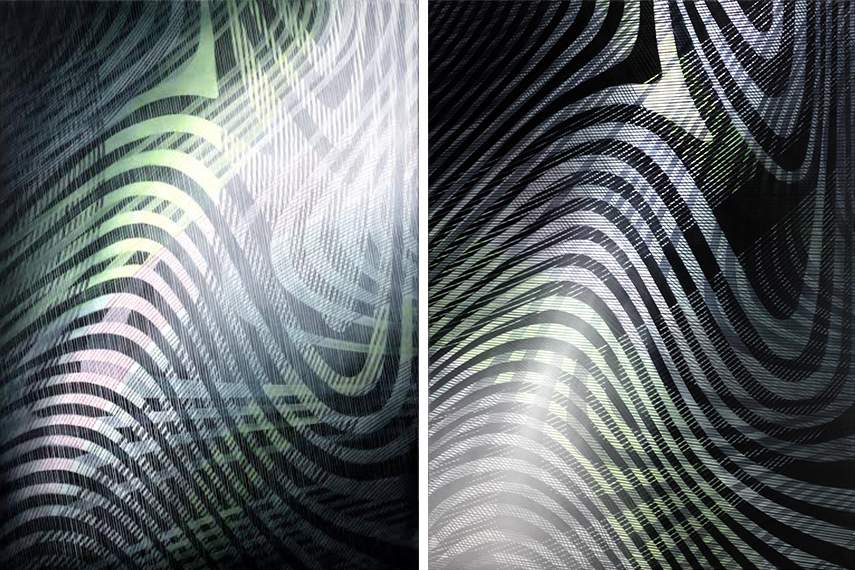 Successful Art Student
Sandra Schlipkoeter was born in Solingen, Germany in the late 70s and she studied design at Ruhrakademie in Schwerte and fine arts at Kunstakademie in Dusseldorf. She has also gained some international experience in the late 90s when she stayed in the United States and China for roughly a year. She has completed her master studies in 2012, under the guidance of professor Eberhard Havekost, who is famous for his enigmatic abstract paintings based on digitally altered photographs.  Schlipkoeter has been participating in German art scene since 2007 and she won the Gargonza Arts Award for her work in 2012. So far, she's had more than 25 group and solo shows throughout her native Germany.
Schlipkoeter has won the Gargonza Arts Award for her innovative work in 2012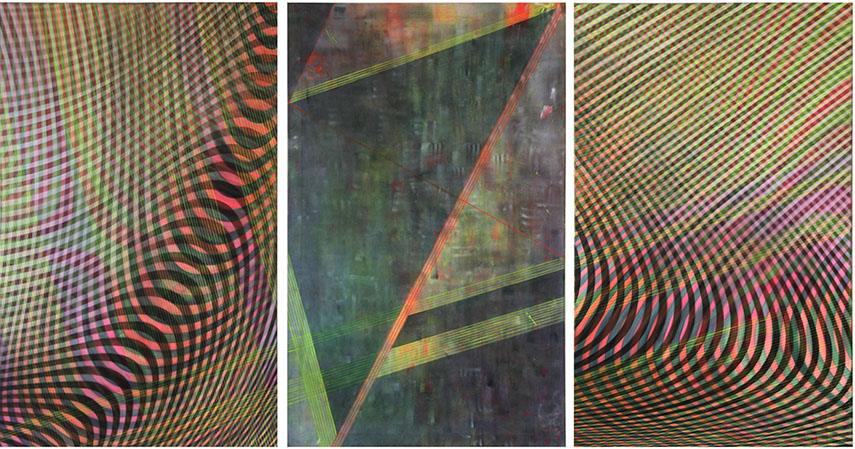 From Abstract Landscapes to Moiré Patterns
 Schlipkoeter's work has gone through an exciting evolution and transformation. Her early paintings from 2008 are dedicated mostly to nature shown on abstract levels, such as forests and rock formations which dissolve into energetic swirls of colors. The artist's innovative abstract landscapes show a multitude of colors and techniques – she often combines oil and acrylic colors to achieve her unique ideas. In addition to these fantastic, colorful landscapes, Schlipkoeter's early work also deals with eroticised portraiture, featuring the elements of BDSM subculture, such as rubber or gas masks. On the other hand, Schlipkoeter's recent work goes much more abstract and it explores the phenomena of interference and moiré pattern, both related to the nature of waves. Moiré pattern is the result of wave interference conditions and it is created  when two identical, transparent patterns are overlaid but slightly displaced or rotated.  It is well-known that photographs of a tv screen taken with a camera often shown moiré patterns and some of Schlipkoeter's pieces are resembling such photos. However, for the artist these patterns are just a starting point – she creates a complex universe of colors and patterns based on a phenomenon of interference as well as her artistic imagination.
Schlipkoeter's recent work explores the phenomena of interference and moiré pattern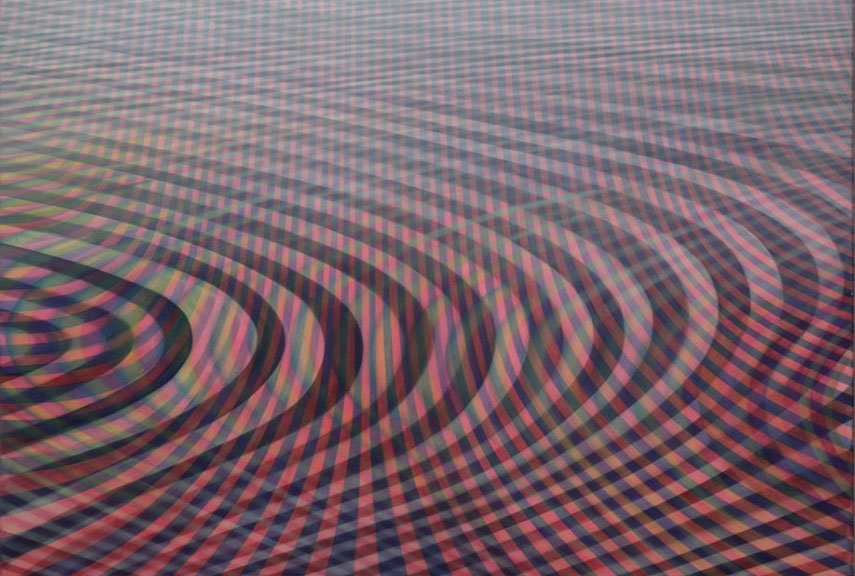 Dynamic World of Patterns
Schlipkoeter's work has introduced a plentitude of new ideas to contemporary German art scene. The artist's approach of using the physical phenomenon such as a wave interference in the realm of visual arts is exciting, unexpected and above all refreshing. Schlipkoeter's work has gone through a tangible evolution over time and her newest pieces represent a clearly innovative abstract art. Her pieces are highly esteemed by art critiques for their unusual, dynamic nature and sold at various auctions. Schlipkoeter is also a co-founder of the independent project space in Berlin, called HilbertRaum.
The artist is represented by artROOM/new relations Studio.
Sandra Schlipkoeter lives and works in Berlin, Germany.
Featured image: Sandra Schlipkoeter - ∆s = (k + 0,5) l3 (Detail), 2015
All images © the artist