Using traditional imagery from his own cultural heritage, sometimes mixing it up with the ones from the countries he visits, Mexican street artist, illustrator and graphic designer Saner creates a distinctive vision of the world. His masked characters appear on walls, canvases, paper or found objects revealing the influence of Mexican customs and folklore. With the intense mystery touch and weird sense of humor, his local demons and heroes are relayed to present time. Posing the images on different surfaces, Saner questions modern society encouraging the viewer towards a mindset of oneness, as opposed to otherness.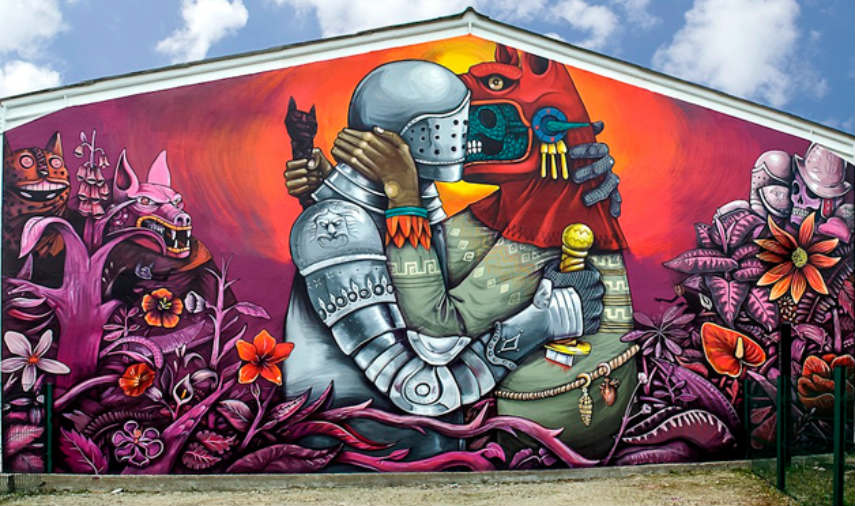 Discovering the Walls of the Great City
Born as Edgar Flores, he raised in Mexico City, where he had a chance to discover graffiti art which directed him to earn a degree in graphic design from the Universidad Autonoma de Mexico. His work has been exhibited in galleries worldwide, from Mexico City and New York to Berlin, London and Barcelona. The exposure to the massive pop art influenced him to freely wander between graffiti, graphic design, painting and drawing. Connecting illustration manners, expressionism, naïve art and surrealism with street art techniques, Saner succeeded in giving a characteristic urban look to all of his pieces.
His expression freely wander between graphiti, painting and drawing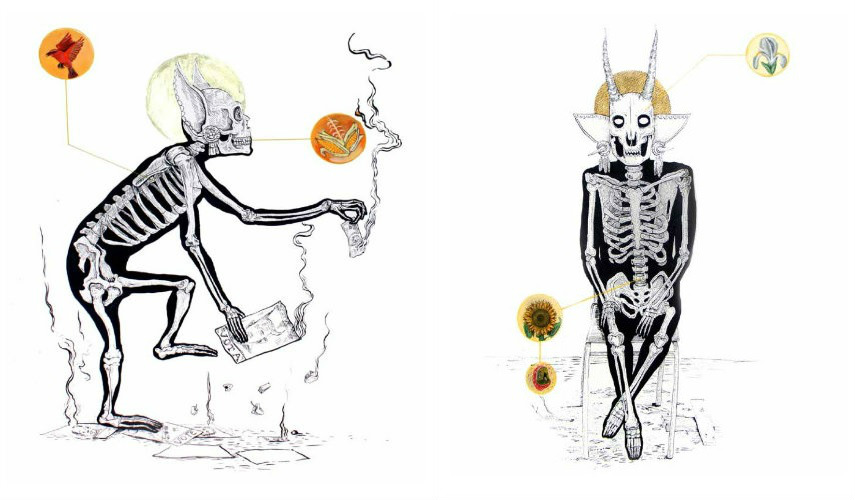 Primitivism in Urban Environment
Aiming to rediscover the respect for the natural world and all living beings, Saner in his recent solo exhibition in Jonathan Levine Gallery, named Primitivo, drawing attention to rapid urban development and estrangement from the environment. Using the word primitive, people today mean to something impulsive and raw, but the artist explores the fact that ancient people had more sophisticated and natural relationship with their surroundings and with each other. In his drawings, the contrast of light-shadows and light-darkness reveals the eternal battle of man in his absurd struggle for survival. Pointing the important issues of violence, anger, anxiety and fear, his images reflect the real world around him.
The contrast of light-shadows and light-darkness reveals the eternal battle of man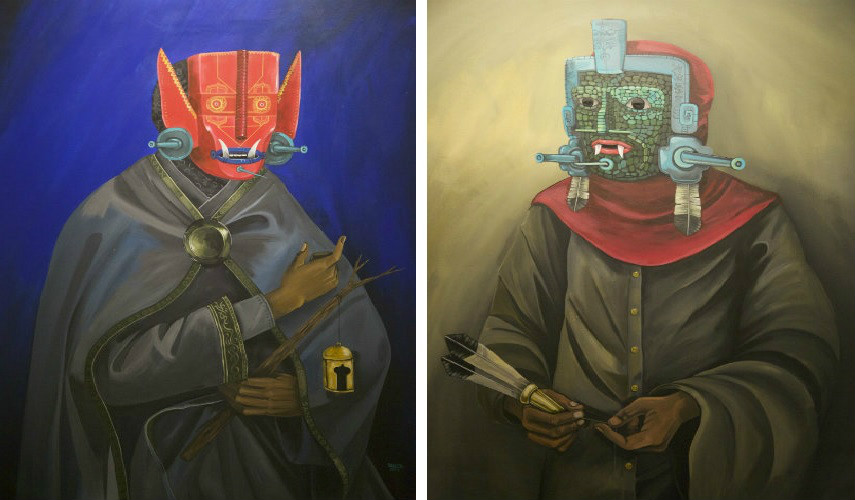 Masks that Reveal
Creating characteristic portraits of people wearing Nahuale masks, which according to mythology have the power to transform humans into animals, he is not trying to hide something, but to recall that life in harmony is possible. His idea of the tribute of the artists who have inspired him, including Gonzales Camarena and Frida Kahlo is embodied in the exhibition The Conquest. It represents the reminiscent of what happened to Mexican people when Europeans came, with the accent on the fact that their complex culture is now the mix of both worlds. Being aware of the circumstances, Saner appeals on the viewers to try to change something in their lives.
Saner creates characteristic portraits of people wearing Nahuale masks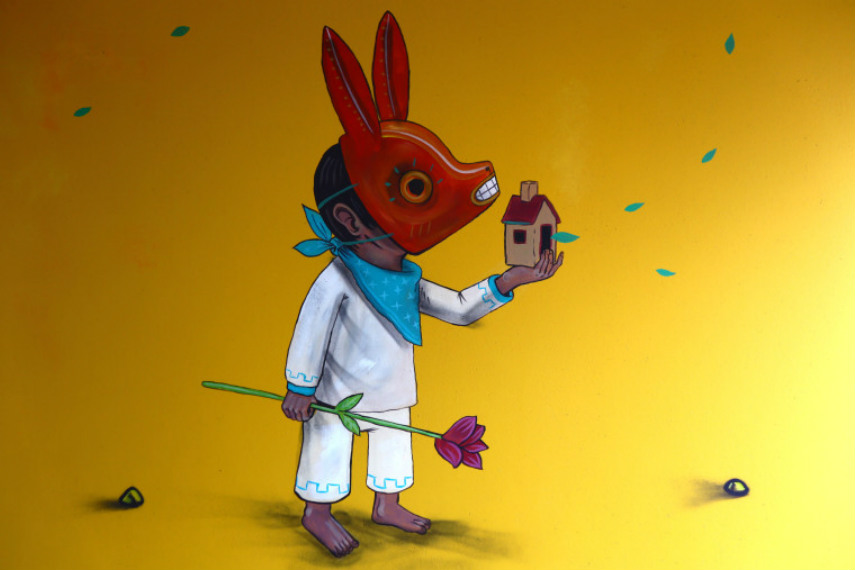 Traditional Symbols as Criticism of Political System
Establishing paradoxical forms in his work, like tradition and innovation, violence and tenderness, simplicity and complexity, his images are pervaded with personal introspection. Saner uses everyday motifs to create mysterious beings with aesthetics of pre-Hispanic traditions. Recently, he was involved in collaboration for the theatre play The poisonous maiden, illustrating the costumes and masks. Encouraging people to look at the past and learn from it, he also asks the questions about the inclement political system in Mexico. His artworks are a celebration of the history and culture he originates from.
Saner lives and works in Mexico City.
Featured image: Artist portrait, 2013, photo credits upperplayground.com
All images used for illustrative purpose only