Sara Pope is a British artist best known for her boldly colorful, seductive paintings and prints of glossy lips. Thanks to her rich experience when it comes to the world of fashion, Sara's inspiration is rooted in glamorous Haute Couture style – she captures the powerful allure, temptation and sensuality conveyed by a pair of sexy lips as the perfect symbol of femininity. Our lips can communicate a multitude of emotions, and are integral to us reading a face, the artist claims. When it comes to Sara's artistic processes, she calls her method working from the elbow, alluding to legendary Jackson Pollock's painting from the hip.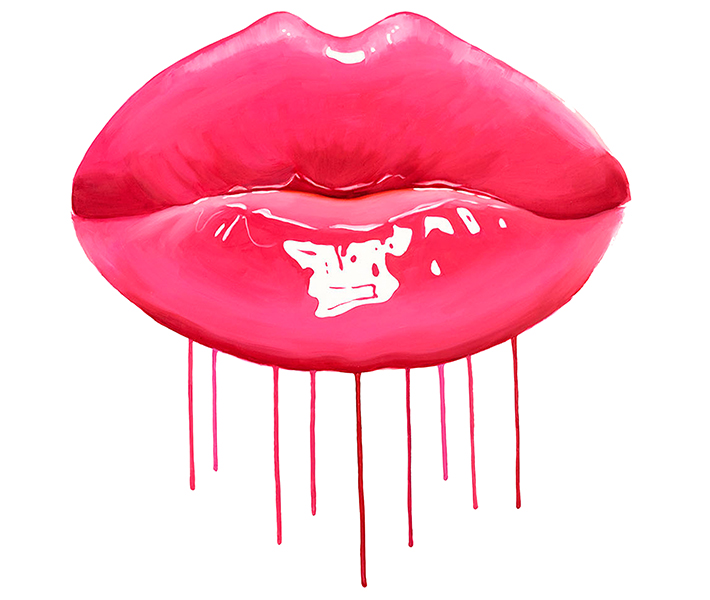 Shiny Lips in Pope's Art and Focus on Commercial Fashion
Sara Pope was born in Stoke-On-Trent, which is a city in Staffordshire, England. Her artistic development was quite abrupt and exciting . Sara was initially studying mathematics, but soon after the graduation, she realized that her creative side is growing stronger and that she couldn't ignore it, despite her non-artistic degree. She was exceptionally brave and persistent, so she moved to Barcelona in order to attend a course in graphic design. Eventually, she has spent a couple of years in Spain and started working in magazines as a designer and art director after she returned to the UK. During her graphic design studies, Sara has rediscovered her strong passion for shoes and avant-garde fashion, which lead to her collaboration with several designers and fashion brands, such as Paul Smith, Lacoste, Felder and Felder, Baby Phat and more. She has also designed a collection of shoes for Fashion Week show and got involved with various freelance catwalk projects for many famous brands. Besides her commercial work, Sara has spent a lot of time developing her own artistic style. She started experimenting with both oil and acrylic colors and she focused on creating shiny, attractive colors, in order to add some pop appeal. The major themes of her work are strongly related to her own experiences and thoughts on them - commercial fashion, consumerism, the importance of beauty and the impact of media and advertising strategies on our lives.
Sara Pope has spent a couple of years in Spain and started working in magazines as a design artist and art director after she returned to the UK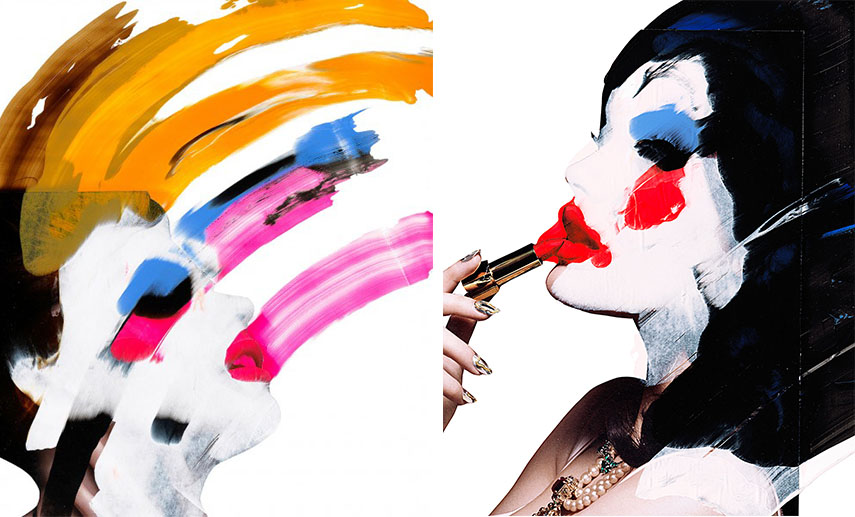 New Ways to Express Hyperrealism
Sara's paintings usually start with a photographic shoot, a model and, of course, some makeup. She asks her models to think about various positive emotions, such as love, happiness or perhaps flirtation, she photographs the results and cherry-picks the most successful ones. Her technique is quite elaborate and original – she normally uses a few thin coats of oil placed over each other, in order to achieve a glass-like, light-reflecting quality. Many of her works belong to limited edition category because the artist prefers working in small and unique series, in order to pay special attention to each and every picture or print. Hyperrealism is the major theme of Sara's work and also a great metaphor for the highly controlled world of fashion and advertising. The artist's main goal is to obscure the original photographic elements of lips and models by transforming them through the use of vivid colors. Sara's work has achieved a quick success once she had her first shows and sold her early pieces in 2012. In 2014, the artist had her first international show in Italy, about which she was interview by the Sky News, BBC News, BBC Radio and various newspapers across the globe. In 2015, she had another important exhibition, this time in London, in collaboration with the prestigious American brand BareMinerals, as they were about to launch a new lip gloss brand. Finally, in 2016, Sara Pope had splendid exhibitions at Lights of Soho and Lacey's Gallery and she was commissioned to paint a piece based on the life story of Jenny Sealey MBE, who is a creative director at Graeae Theatre.
Hyperrealism is the major theme of Sara's creative work and also a great metaphor for the highly controlled world of commercial fashion and advertising
Questioning the Ideals of Beauty
Sara's artworks might seem simple and straightforward at first, but beneath the obvious glamor and gloss, there is much more. The artist raises important questions about the ideals of modern beauty and about the transience of celebrities and fashion stars, which are the inseparable parts of our contemporary culture as seen on Facebook, Twitter, Instagram and other important social media channels. To sum up, Sara's works offer a powerful thought-provoking punch and this is the reason for their rapidly growing popularity. She currently exhibits with several galleries, such as Lawrence Alkin Gallery and Jealous Gallery in London, Art Republic in Brighton, George Thornton in Nottingham, Workhouse Gallery in Harrogate and also 166a Arte, which is located in Florence, Italy.
Sara Pope lives and works in London, UK.
Featured image: Sara Pope's Portrait - image via laceycontemporarygallery.co.uk
All other images courtesy of the artist.