Some people express themselves through various means. Art is arguably the best one if someone has troubles projecting emotions through words. Sarah Folkman is gifted even in that area, being a writer and musician before deciding that art best suits her need for expression. Even during her musical career, painting was her go to place when words would fail. She now explores nature and human's influence on it. Every single piece she made contains nature-inspired motifs or portrays people, often bringing the two together in a kind of reminder that we're dependent on each other. Her latest series is based on her personal emotions experienced while searching for a suitable partner.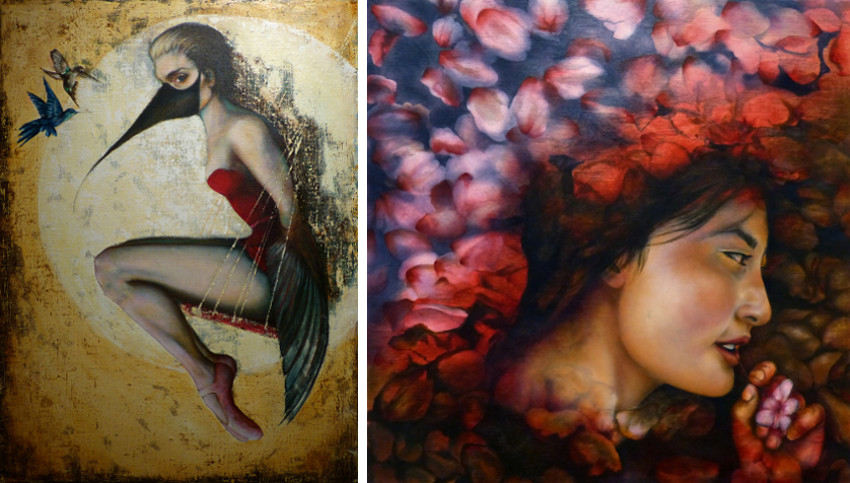 A Sparrow
Folkman fills her pieces with symbolic and figurative elements, making undoubtedly beautiful paintings. For each body of work, a new type of wood is used. It is a challenge she gladly accepts as different types of wood take paint in various ways, placing the very atypical constraints on her technique, forcing the artist into more control and deliberation. Two motifs seem to be her favorite – first being a nude female figure, which makes paintings more vulnerable and honest. The other constant theme is birds. All of them are born from the echoes of the love she felt to one particular sparrow that lived un-caged with the artist for more than 4 years. She has always loved all types of animals, but that little sparrow introduced the bird's mentality to her.
All of the birds are born from the echoes of the love she felt to one particular sparrow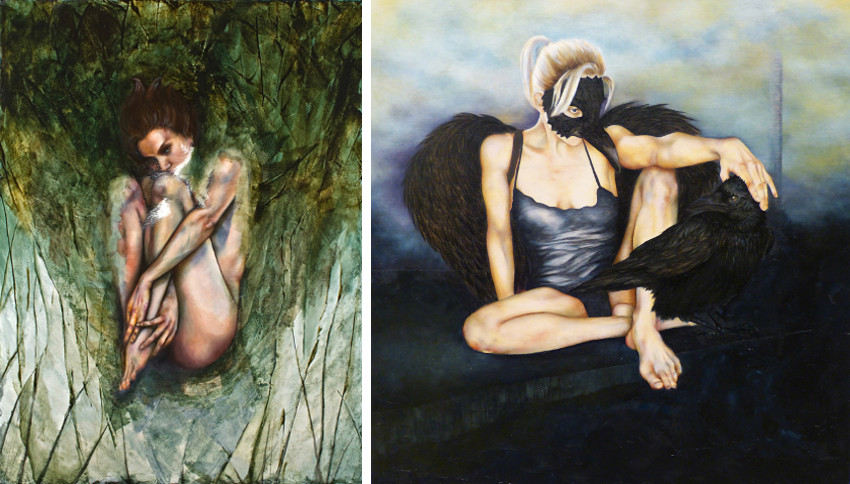 Slaying Vampires
Folkman was born and raised in Los Angeles. She had shown an interest in music from an early age and started her first band when she was only eighteen. She later joined George Sarah in the band THC. Her songs could be heard in TV shows such as Angel and Buffy the Vampire Slayer, and was featured in movies Cleopatra's Second Husband and Curves. Throughout her musical career, painting was always there when words failed, so she could paint anything from a variety of personal subjects ranging from her battle with insomnia to her childhood ray-gun fantasies. She is a self-taught artist, which makes her accomplishments even greater.
She's a self-taught artist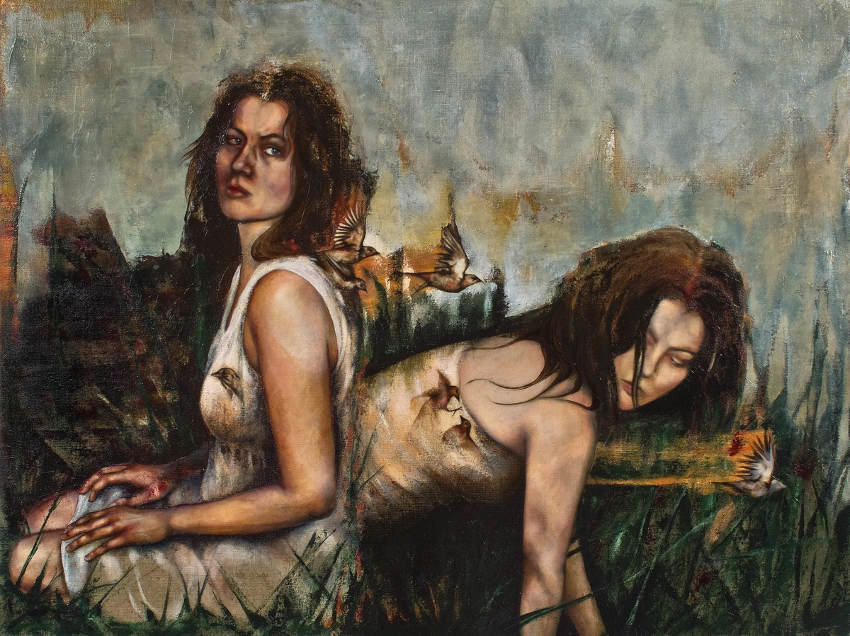 Honesty
No matter what she paints, be it nature inspired scenarios or the evolution of the couple's feeling towards each other, which could go from a passionate affection to something disturbed and heavy in a single painting – everything comes from her own experience. It is wonderful how one sparrow could inspire all the birds she later painted. Art is a sort of cathartic release for Folkman. That kind of devotion and emotion is crucial for her success, for all the paintings are honest, putting aside their aesthetical value and technical requirements, which only make the whole story even greater.
She is represented by Corey Helford Gallery in Los Angeles.
Sarah Folkman lives and works in North Hollywood, Los Angeles.
Featured image: Sarah Folkman – Fundament (detail), 2014
All images © Sarah Folkman