Coming to see an exhibition titled Penis Nailed to a Board, one would expect a rather strong sexual notion. Something provocative and certainly unorthodox. It was the name of the first solo show of Sarah Lucas, a member of an artistic phenomenon widely known as Young British Artists. Placing her work somewhere between the in-your-face feminist statement and materialism, she has forged her way from humble beginnings and is now one of the world's best-known artists, and one worthy enough to be chosen to represent her country at the Venice Biennale. Employing visual puns and bawdy humor, she demonstrates the absurdity of cultural biases, trivial day-to-day life situations and instances from the male-dominated environment.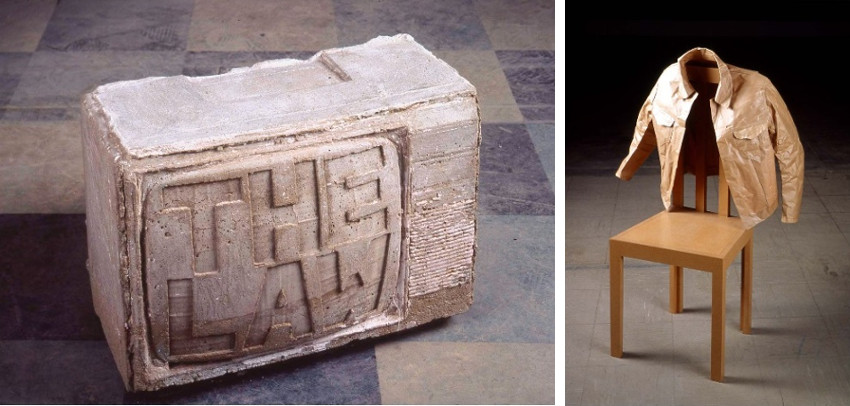 The Art of Sarah Lucas – Between Pictures, Sculpture and Installation
She heralded a new sensibility for the '90s, bringing along raw, angry aspect of British culture. Frustrated with the minimalist-influenced sculpture she made at Goldsmith's College in the 1980s, Lucas turned to a cheaper, more immediate source of imagery: the tabloid press.[1] Inspired by feminist Andrea Dworkin and various books on sexuality and pornography, the artist deals with the male objectification of the female body and how women's 'sexual liberation' has encouraged their inadvertent submissiveness. Through appropriating masculine tropes and gender constructions, she confronts and dissects them. Instead of portraying the feminine as beauty, like Cindy Sherman before her, Lucas's sculptures are fueled by the casual misogyny of everyday life, constructing visual puns to counter stereotypes of femininity.[2] And yet, contrary to the expectation that she always begins creating (especially in the earlier part of her career) with some sort of feminist statement, Lucas's starting point is generally the materials: what she can get in a particular place and time – food, concrete blocks, stockings, human bodies. While perfectly aware of the feminist content, she was always more interested in asking the questions than answering them. The materials Lucas uses (furniture, food, clothing) are sculptural and associative. Her sculptures are all headless. The only face seen in her work is her own, omnipresent through a sequence of self-portraits.
Tools and materials Lucas uses aren't personal, her work is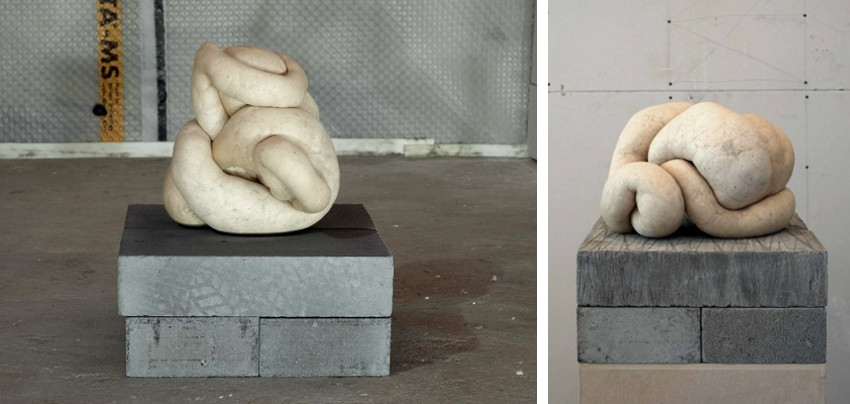 Venice Biennale
On March 21st, 2014, the British Council announced that Sarah Lucas will represent the United Kingdom at the 2015 Venice Biennale. Thus, she joined some of the country's greatest artists, including Francis Bacon, Lucian Freud, Anish Kapoor, Gilbert & George, Tracey Emin, and many other deemed worthy of representing Great Britain in Venice. Andrea Rose, British Council Director of Visual Arts and Chair of the Venice Biennale Selection Committee, has said: "To prick convention could be a term coined for Lucas' work. It's impolite. Like zest in the artworld mix, her work will bring wit and savor to the Biennale. The Committee has chosen a formidably inventive sculptor to represent Britain." Also, Gregor Muir, Executive Director at the Institute of Contemporary Art, London, added: "Having consistently pushed the limits of her practice, there's a sense that Lucas - seemingly more active than ever - is coming into her own. Initially entering the fray as a young British artist, Lucas continues to make her presence known through a powerful and progressive relationship with her work. Her output remains urgent while being rooted in a rich artistic tradition, to include feminism and surrealism."[3]
Biography
Lucas grew up on a council estate in Holloway, north London. Her father was a milkman and her mother worked as a part-time gardener and cleaner. The artist remembers that her parents had little ambition to make a difference, and her mother even forbidding her to do homework because she was at school all day long anyway. Eventually, she left school when she was 16, and a year later, she was pregnant. Having realized that "if I had a child now, I would be in this environment for the next 16 years and not going anywhere", she had an abortion and went to Europe, hitchhiking and looking, fruitlessly, for an idea of what to do. [4] Upon returning home, she got a job (her mother, who was working at a play center, actually got it for her). There she met somebody who went to art college and the idea of being an artist was first born. Before graduating at Goldsmiths in 1987, she studied at Working Men's College, London and London College of Printmaking. Initially, the degree from Goldsmith didn't mean much. Galleries only took boys at the time, and this first wave was quite impressive: Gary Hume, Angus Fairhurst, Mat Collishaw, and Damien Hirst. The situation changed after a couple of years, and Lucas began exhibiting her work in group shows. As mentioned above, her first solo exhibition (that put her on the map and made her famous) was titled Penis Nailed to a Board. It took place at City Racing in London.
Sarah Lucas lives and works in Suffolk.
References:
Anonymous. Tracey Emin, Sarah Lucas & Rachael Whiteread: Did feminism feature as a part of Young British Art?, Chalk Journal [September 13,2016]
Muir G. and Wallis C. In-A-Gada-Da-Vida, Tate Publishing, London, 2004, p.93
Anonymous. Sarah Lucas to represent Britain at the Venice Biennale, British Council of Visual Arts [September 13,2016]
Edamariam A. The Saturday interview: Sarah Lucas, The Guardian [September 13,2016]
Featured image: Sarah Lucas – Self-Portrait with Fried Eggs (detail), 1996 - photo credits PA
All other images courtesy of Sadie Coles gallery