The outstanding hyper-realistic pieces by British artist Sas Christian evoke powerful feelings, often articulated through the expressive look of her subjects. Working in oil and acrylic on linen or board, she creates paintings that are recognizable by the oversized eyes of her mainly female characters. The portraits of her figures serve as a universal language of emotion, instantly conveying happiness, sadness, anger, fear, worry, pain, excitement, joy, and more. Her work is often compared with the art of American artist Margaret Keanes and her signature "Keane's eyes".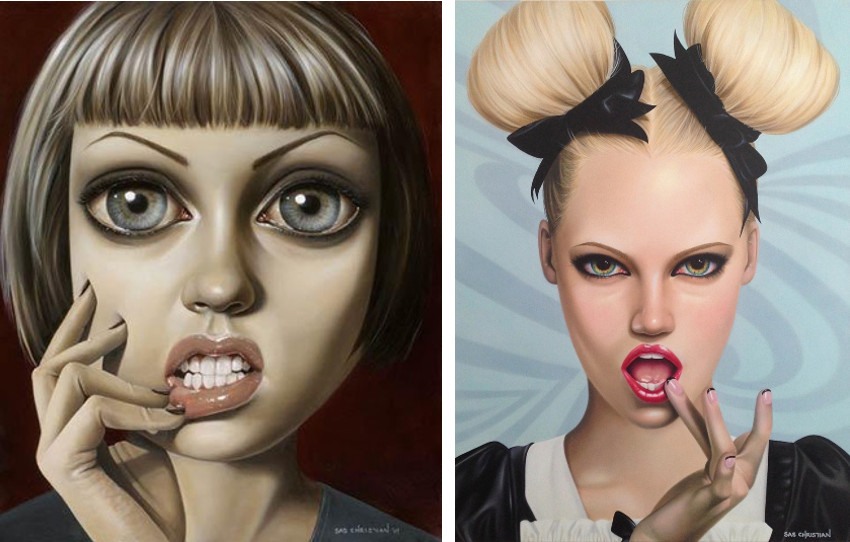 Sas Christian's Background
Born on January 4th, 1968, in England's capital, Sas Christian was raised in Birmingham. In 1989, she went to Bournemouth and Poole College of Art and Design to pursue her studies in graphic design. In Bournemouth, she met her future (and present) husband Colin whom she married soon upon graduation. The couple moved to Florida in 1992, where she got a job in a printing company. Two years later, she resigned, and founded a "Hotbox, Inc", along with her husband. The company specialized in custom made latex clothing and costumes. Additionally, they moved the business into commercial sculpture, producing statues and other decorative elements for nightclubs and restaurants. At that time, Christian visited various museums, and – impressed with the works of the "masters" – she began painting in 1999. She started with acrylic but soon moved to oils creating appealing ethereal creations of unearthly females.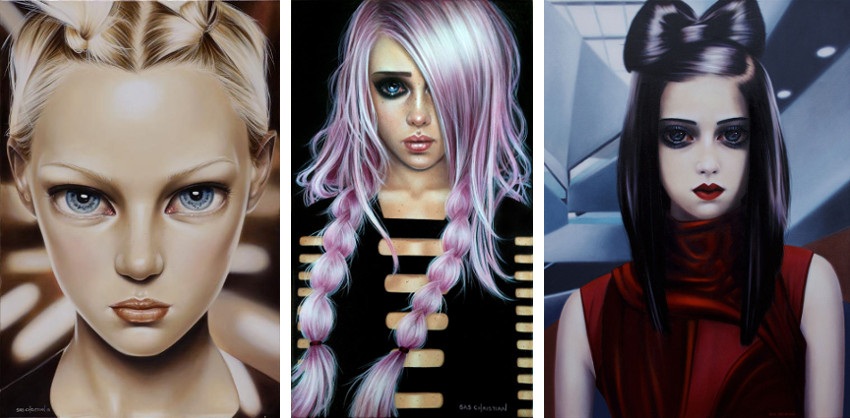 Paintings of Wide-Eyed Girls
Christian attributes artists such as Tamara de Lempicka and Mark Ryden as her major influences in the way she paints her female subjects. Other influences include the world of anime and Japanese pop culture, fashion photography, movies, music, and mundane occurrences. Her youthful subjects directly confront the viewer with their large overly exaggerated eyes, button noses, and flawless complexions looking more like porcelain dolls at times then human beings. The intense look of her flirty, ballsy, weepy, punk, funny, intelligent, and often unusual girls lead the viewer into their mystic and bizarre world; one which blurs the limits between imagination and reality.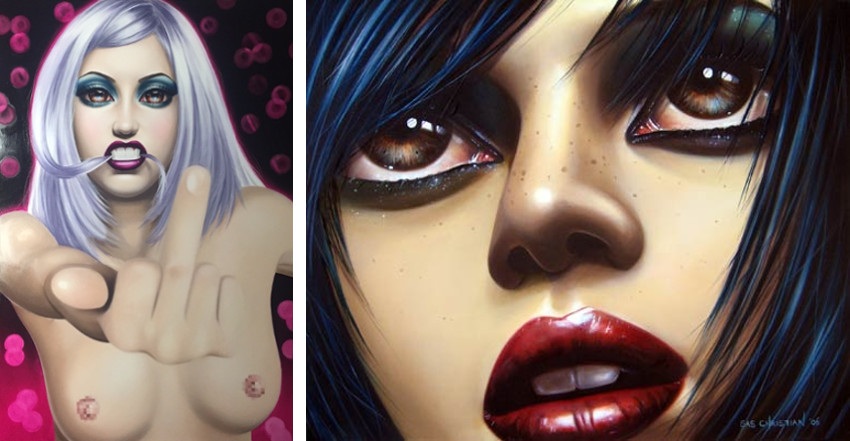 Feeling the Emotions through Each Painting
Sas Christian has exhibited her feminine portraits with ever changing moods in numerous individual and collective shows worldwide including such galleries as Opera Gallery in New York, Dorothy Circus Gallery in Rome, Italy, and Galerie Magda Danysz in Paris, France. Her young damsels instantaneously grab viewers' attention through the expressions that reveal their truest thoughts and emotions that range from sadness to happiness to surprise.
The artist is represented by Corey Helford Gallery.
Sas Christian lives in S. Florida.
All images copyright Sas Christian