Depicting the scenes of the imaginary world and abstract forms of science fiction, Rafael Gerlach aka SatOne creates futuristic graffiti that expresses humanity and emotion through their organic shapes. His interesting approach opens up a new dimension in which graphic design, abstract art and illustration merge into the unified whole. Adopting the story as the most integral part of creativity, his pieces always have something to say. Non-figurative in the essence, whether or not obvious to the viewer, his images seem like captured moments of distorted reality. SatOne's works have a strong resemblance to the visual forms of Futurism, emphasizing the dynamic interplay of divided surfaces, colors and shades.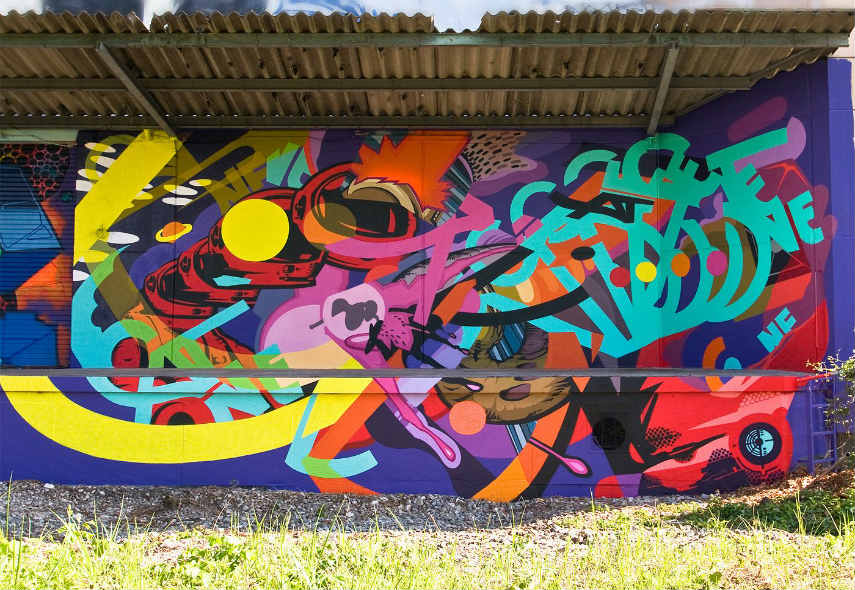 The Early Interest in the Street Art
Gerlach was born in la Victoria, Venezuela, but two years later, his family moved to Munich, Germany. His first interest in painting on the streets began when he was fifteen years old. His studies of graphic design brought him the job positions in various advertising agencies. Since 2003, he is a freelancer, doing illustrations for different media, as well as photography, design and murals. He also worked for companies as Adidas, Asics, Gravis, Burton Snowboards and Ford. His paintings have been exhibited numerous times and his murals are covering the walls around the world.
SatOne became interested in street art at the age of fifteen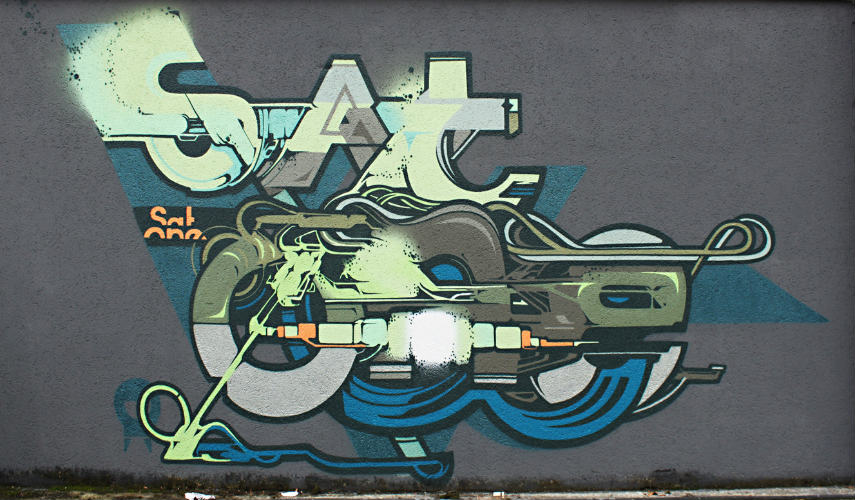 Street vs. Studio
Considering painting on the streets as a great attraction for the artist, SatOne enjoys having a large audience and having spontaneous conversations with people. Choosing a ruined and abandoned buildings, it offers interesting combinations of surfaces for painting. He finds interesting the fact that all these works could disappear over the night if somebody decide to crash down those buildings, leaving the photos as the only evidence of their existence. On the other side, work in a studio has a totally different meaning, forcing the artist to deal intensely with himself. With a perfectionism as a driving force, he used to devote all of his free time to art. Recently, SatOne discovered that his development depends on his sense of freedom only.
The freedom is his drivig force for creativity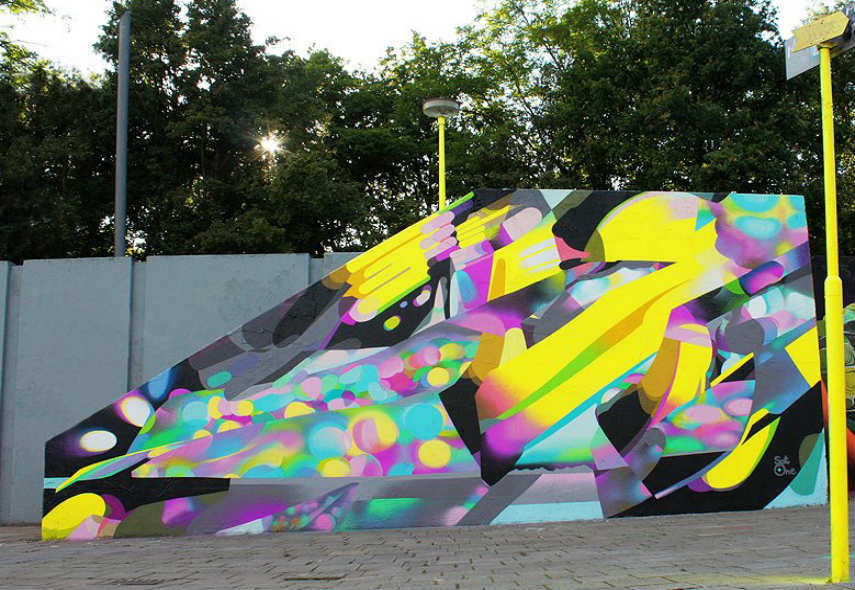 Expressing the Future
Being a part of a group Graffuturism, a movement which tries to explore the commonality between the similar graffiti artists, he has met a lot of like-minded people who he now cooperates with. With extreme skill, SatOne merges geometric forms and non-figurative color fields into dazzling kaleidoscopes of both great dynamics and luminous intensity. Only at a distance does one recognize contours emerging out of the vibrant matrices that may then actualize into humanoid figures. Although futuristic and abstract, his characters possess organic forms and faces. His distinctive style uses visual language in a course between technocracy and imaginary world.
The artist is represented by Openspace Gallery, Kolly Gallery and 999Contemporary.
SatOne lives and works in Munich, Germany.
Featured image: SatOne - Berlin Harddisc sign, 2014 - image via graffuturism.com
All images used for illustrative purpose only