Instead of becoming a teacher of Torah, this artist allowed himself to choose his own path and become an artist. The same principle was applied to his art. Always independent, an American photographer and painter Saul Leiter, gave an enormous contribution to the so-called New York school of photography but never felt part of any school or movement. His recipe was simple: Saul admired many artists, painters and photographers, but he was always headed for a point of view of his own. He arrived there, safe and sound.
Painter Richard Pousette-Dart encouraged Saul to pursue photography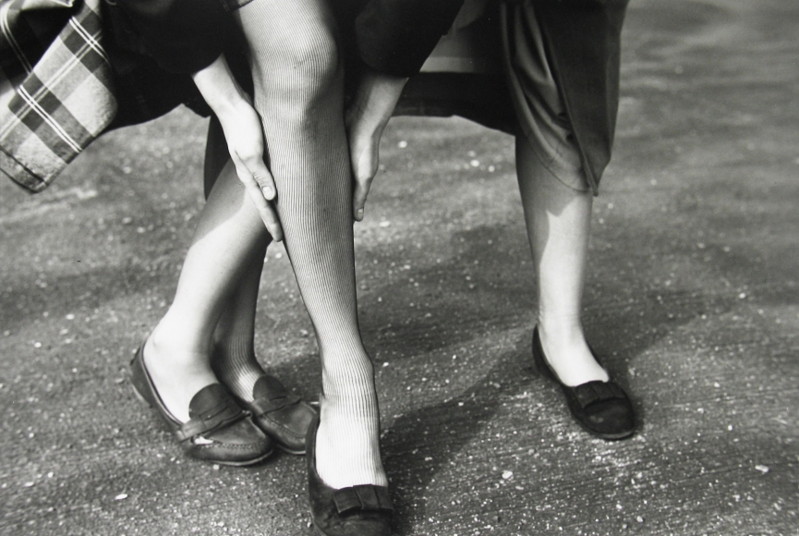 From Exploring Pages of Talmud to the Streets of New York
Saul Leiter was born in Pittsburgh, Pennsylvania. His father was an internationally renowned Talmudic scholar, so in the beginning, Saul (who bore the name of the first king of Israel) followed his steps and studied to become a Rabbi. But one thing stood in the way of his future Rabbi life – Saul's mother gave him what will become his first camera at the age of 12. It was love at first site. His mother used to say he could be a rabbi and still make art and no one would know about it. His brother always said that Saul lives by the strange idea that a person should be happy, and life is not about happiness. This is the atmosphere Leiter grew up in. No wonder that later on, right in the middle of his theology schooling, Saul just couldn't ignore the call to become an artist, the urge was unbearable - so he quit school and moved to New York to pursue painting at age 23, sent off by his family's great disappointment. But, he was determined to immerse into the world of artistic creation and by then, he had developed a strong interest in painting and was fortunate enough to meet the Abstract Expressionist painter Richard Pousette-Dart who was experimenting with photography at the time. Pousette-Dart and W. Eugene Smith encouraged Leiter to pursue photography and he was soon taking black and white pictures with a 35 mm Leica, which he acquired for a few Eugene Smith prints. His early photographs show an extraordinary affinity for the medium but, at the same time, he continued to paint, exhibiting alongside Philip Guston and Willem de Kooning.
The painterly quality of Saul's color photography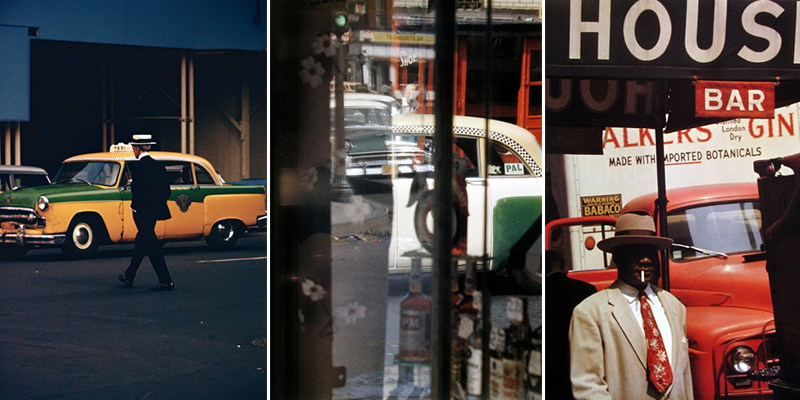 New York School of Photographers
In 1948, he started taking color photographs adding to it a painterly quality. Soon, Saul began associating with other contemporary photographers such as Robert Frank and Diane Arbus, and he helped form what Jane Livingston has termed the New York School of photographers, during the 1940s and 1950s. Leiter's sensibility captured in photos is in a class with the painter Pierre Bonnard's European intimism. That characteristic is what differentiates Saul from the other New York street photographers of his era. The complete lack of hectic urban anxiety, so typical for his fellow colleagues like Robert Frank or William Klein, is what makes Saul Leiter a master of capturing urban pastoral moments. The lyricism he was capable of, is presented in all its glory when Saul turned to color photography, assembling a comparable body of work in color. Saul quickly mastered the handling of color, adding, even more, intensity to his work and helping the development of his visual language, marked by a brilliant improvisation. The majority of Leiter's creations have the pretty unconventional sense of form, one that flirts with the abstract, judging by the way the artist used found colors and tones. His asymmetrical visual rhythm along with unsaturated tonalities are directly inspired by Vermeer. Saul once said that he didn't know he was a pioneer, but have been told he is one, so he just went ahead with redefining the parameters of street photography in the 1940s.
Saul redefined the parameters of street photography in the 1940s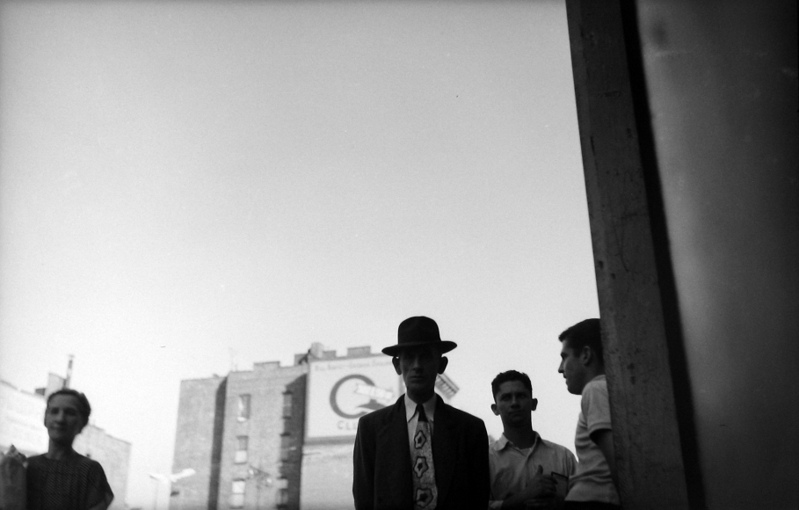 Leiter's Monochrome Photography
However, Saul's monochrome photography never lost its place in the art world. Edward Steichen included Leiter's black and white photographs in the exhibition Always the Young Stranger at the Museum of Modern Art in 1953. In the late 1950s the art director Henry Wolf published Leiter's color fashion work in Esquire and later in Harper's Bazaar. Leiter continued to work as a fashion photographer for the next 20 years and was published in Show, Elle, British Vogue, Queen, and Nova. Even though Saul worked in a fashion industry mostly for practical reasons - sometimes enjoying it and other times not so much, what came as a huge surprise was the power of influence these shootings had on his private and more artistic work. His ability to search and find beauty in the most prosaic and ordinary places contributed to the vision of the urban environment he created, where no one is isolated and endless possibilities lie ahead, waiting for someone with the camera to capture and immortalize it. As Saul always claimed, he had no philosophy. He only had the camera and he would look into it and take pictures. Unpremeditated and quite naturally, Saul's work aligned with the aesthetic of painters he admired, like Bonnard, Vuillard, Honami Koestu…
Through the years, Leiter continued to work as both photographer and painter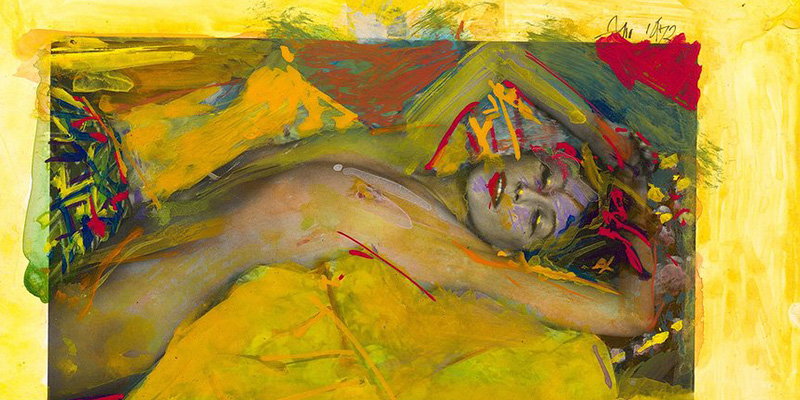 Saul Leitner as a Painter
Leiter has made an enormous and unique contribution to photography simply by always following his vision. His abstracted forms and radically innovative compositions have a painterly quality that stands out among the work of his New York School contemporaries. Perhaps it's because Leiter has continued through the years to work as both photographer and painter. He would often say that he is the biggest collector of Saul Leiter's work - he kept thousands and thousands of pieces, and never stop working on them, endlessly adding or fixing something. His painterly sensibility reaches fruition in his painted photographs of nudes on which he has actually applied layers of gouache and watercolor.
Ed Lachman's movie Carol was directly inspired by the work of Saul Leiter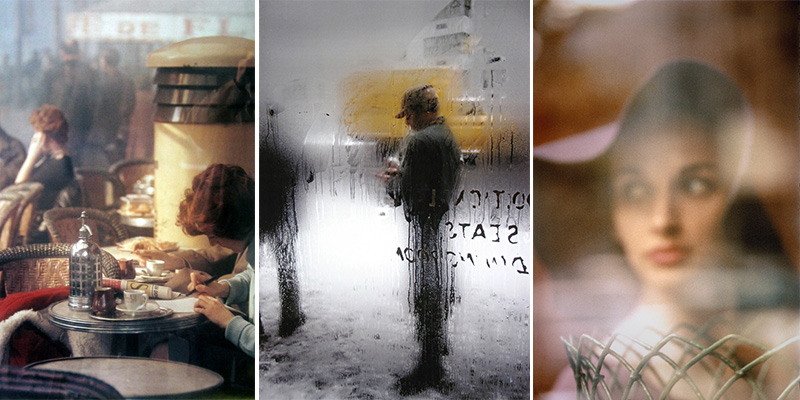 Leitner's Astonishingly Atmospheric Work Continues to Inspire
Todd Haynes' film Carol, released in 2015 was shot by the famous cinematographer Ed Lachman who was directly inspired by the work of Saul Leiter and his astonishingly atmospheric work. Saul was a true master of layering he often depicted his subjects through windows blurry with condensation or reflected in car or shop windows. He mostly used color Kodachrome film – and it was expensive at the time so he would buy material that was passed its sell-by-date, enjoying the muted effect it had on his photos. The same effect and scenes we can see in this movie. When Cate Blanchett, who embodied Carol, is in a slow-moving car, cruising down a New York avenue - it feels if one of Leiter's images just came to life…
Leiter's work is featured prominently in Jane Livingston's book The New York School and in Martin Harrison's Appearances: Fashion Photography since 1945. His work is in the collections of many prestigious public and private collections. In 2008, The Foundation Henri Cartier-Bresson in Paris mounted Leiter's first museum exhibition in Europe with an accompanying catalog.
Leiter is the subject of a 2013 documentary In No Great Hurry - 13 Lessons in Life with Saul Leiter and the documentary film Tracing Outlines by 2nd State Productions.
Saul Leiter closed his visionary eyes forever in 2013, in his beloved New York City.
Artwork images copyright © Howard Greenberg Gallery, British Journal of Photography and The Guardian
Saul Leiter's profile image copyright © Taskovski Films