Scott Conarroe is a Canadian artist best known for his picturesque photographs of landscapes and the built environment. He practices long exposure photography.
Conarroe was born in 1974 in Edmonton, Canada. He received a BFA from the Emily Carr Institute of Art and Design. Scott also earned a MFA at the Nova Scotia College of Art and Design.
Conarroe's so called social landscape photographs combine, and in a very sophisticated way, romantic pictorial traditions with contemporary photography's discourse. He usually creates large-format studies in a long exposure photography, using its possibility to capture more than just one moment in time.
China's massive rail expansion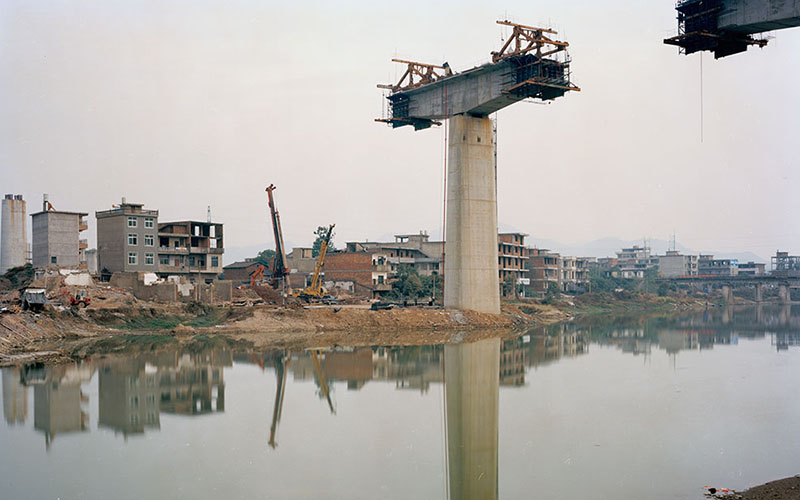 The themes of his artworks are mostly landscapes but contemporary industrial and transportation infrastructures as well: North America's rail infrastructure and coastal perimeter, or China's massive rail expansion, and even the borders of Alps - divided in response to glacial melting.
Scott's widely known series of photographs titled By Sea (2009–11) and By Rail (2007–09) were made during his long trips across North America where he documented railroad and a coastlines.
By Sea Series
By Sea and By Rail artworks look as if they were meant to serve as a remarkable testament to the railway's long gone glory days but also to the future potential to unify urban and rural parts. The certain silent tension between massive public projects and everyday human existence is also documented in his photos. The incredible scale of modern infrastructures that he captures is always followed by their permanent but subliminal presence in the everyday of the societies they serve to.
In 2013, Scott Conarroe received a Guggenheim Fellowship. His work can be found in the collections of the National Gallery of Canada, the Carnegie Museum of Art, and the Bank of Montreal. Scott's first monograph titled By Rail and By Sea is published by Black Dog Publishing.
The artist is represented by Stephen Bulger Gallery, in Toronto.
Scott Conarroe lives and works in Keremeos in British Columbia.
Featured image: Scott Conarroe - Canola Train, Manitoba, detail (By Rail series), 2008
All images copyright © the artist