Scott Schiedly is an American painter, born in Ohio. He graduated from the Art Institute of Pittsburgh in 1990 and moved to Florida. His work is in the style of pop-surrealism. It features realistic interpretations of the surreal, fused with pop culture references.
The artist has a large fan base, due to his humorous artworks which explore the culture implications of colors. His paintings feature realistic portraits of historically infamous, hyper-masculinized world leaders and public figures, such as Kim Jong III, Hitler, Heinrch Himmler, Ayatollah Khomeini and Pope.
Pink Series by Scott Schiedly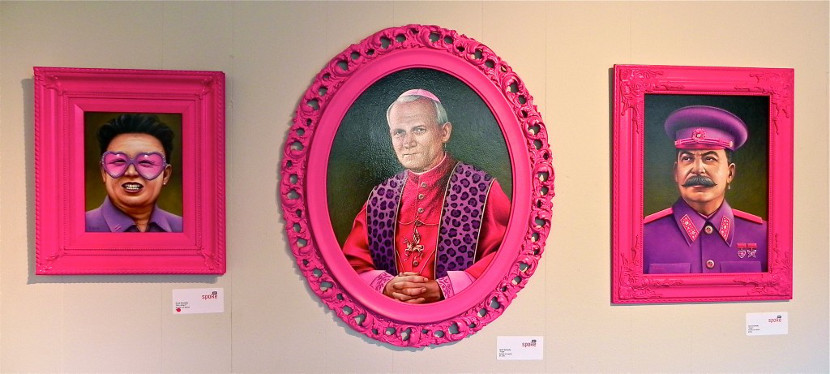 He uses a color palette of lilacs, pinks and magentas to explore the cultural connotations linked to color, question power and those who wield it, as well as the notion of masculinity. If it weren't for the pink frames of these paintings, one could easily confuse his works with the art of Classical portrait painters, since Scott Schiedly's works are not just provocative and satirical. They are technically well-rendered, bearing the resemblance to traditional masters of painting.
In 2011, his Pink portrait series debuted at Spoke Art pop up exhibition in New York City. In 2012, they have been featured at the Scope Art Fair during Art Basel Miami Beach, in addition to ArtPadSF fine art fair in San Francisco in 2011 and 2012.
Scott Schiedly lives and works in Orlando, Florida.
All images copyright © the artist