Sébastien Preschoux is a self-taught Parisian artist known for his handmade thread installations and geometric drawings. The main characteristic that differentiates his art among many contemporary aesthetical concepts is his insistence on manual labor. Drawing inspiration from the values of the Bauhaus movement that proclaims the fundamental importance of manual work, Preschoux tends to stay true to the notion and for in his opinion the only art that has sense is one that is handmade. An approach that is quite in a confrontation with contemporary culture in which technology prevails, is essential for his critique of arts and modern lifestyle.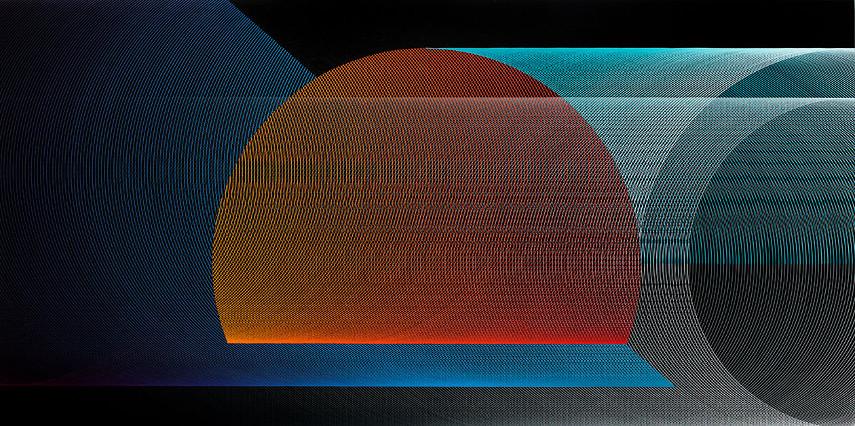 Man vs Machine
Sébastien Preschoux was born in Paris in 1974. He firstly started working as a designer but very soon was completely bored with the conditions and limitations of the job and felt a need to create essential, necessary and vital art. Going back to a natural and spontaneous relationship with the materials, environment, time and work that is put into it, was a crucial first step to showing what is needed in real time in order to create something that the computer finishes in seconds. He praises the value and possibilities of human bodies as perfect tools for creating and enjoying art. He claims that we only need to invest all of our senses and use a little patience – and everybody could create what he does. Using the mantra man vs. machines he tends to highlight the barren falseness of the dominance of technology that frightens him in contemporary culture.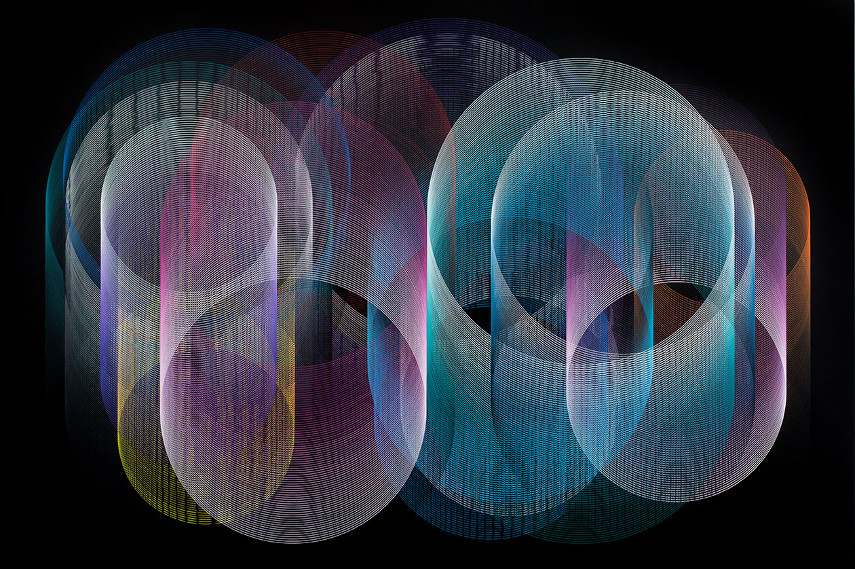 Sébastien Preschoux's Thread Installations
Sébastien's work includes ink drawings he does only using Rotring and thread installations in the urban and natural environment. His intricate multicolored installations made of thousands of feet of strings look like spider webs in geometrical forms. A couple of years ago, he spontaneously started making this kind of string sculptures while working in the forests of Argentina. He liked the notion that the sculptures and installations are in the open, that they are positioned for discovering and are completely available for touching, observing and playing with. Since, they became his trademark. He says that he tends to adjust the installation to the environment, finding inspiration in the natural flow of light, space, and movements in nature and obtaining complete freedom in terms of size and variety. He usually works with Ludovic Le Couster who captures the photographs of the space they are working on. For both of them, the intention is to bring art closer to people in terms of experience and feelings.
Laser like thread installations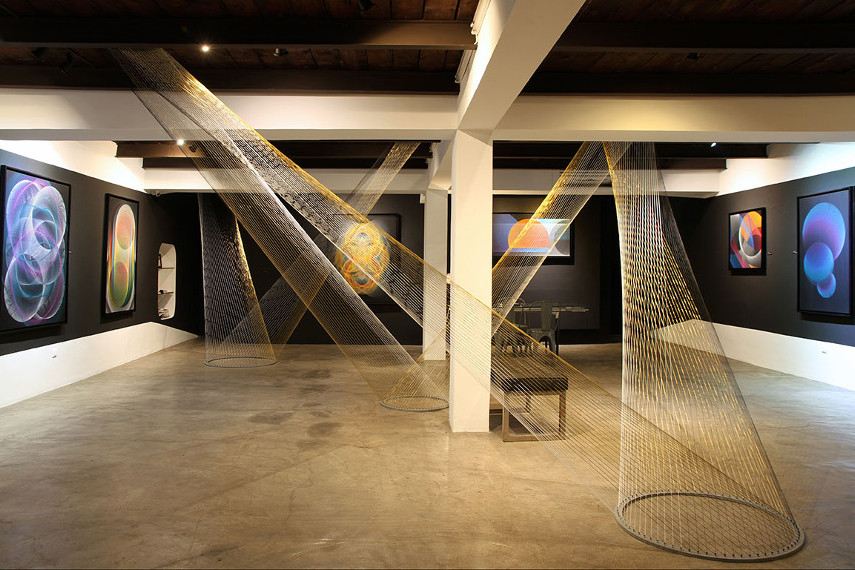 Sébastien Preschoux's Ink Drawings
Paintings of Sébastien Preschoux render geometric forms that repeat in patterns and create optical illusions. They are similar to the installations, as they tend to deconstruct the distinctions between work that looks like it could be made by a computer and without any use of it. In Sébastien's words: With a computer, you can make everything fast-paced and very flattering, everyone can fake it, and so what's the point? Nothing personal, nothing unique. It is so pleasant to have the surprise of the result, to feel that things can escape you and take an unexpected direction. The important thing is to have a tactile relationship with the material, to be able to dread the qualities and the defects.[1]
The artist is represented by the David Bloch Gallery, Marrakesh.
Sébastien Preschoux lives and works in Paris.
References:
Hosmer,K, Complex Geometric String Installations Created by Hand, My Modern Met [April 7, 2017]
Featured image: Sebastien Preschoux - Portrait of the artist
All images copyright of Sebastien Preschoux