Sens is a Mexican street artist and illustrator known for his illustrative and colorful cartoonish style. His funny and optimistic characters can be found all around South America.
Early Drawings
Born and raised in the city of Queretaro, Mexico, Sens was introduced to urban art by his older sister in the suburbs, also called "colonias populares".
The artist believed he has no talent, so he was mostly focused on drawing. One of Sens' first drawings was "Goku", the main protagonist of the Dragon Ball metaseries created by Akira Toriyama. That's when he started to feel passion for art. Dreaming to become a pilot Sens got into technical school but at the same time he started to make graffiti and other illegal street art.
Sens' Street Art Documentary Film
Being mostly into writings and tags, Sens decided to produce a documentary film about street art in his native city. One day while he was documenting the movement, Sens was arrested by the police, allegedly being part of the organizers. Although he was not an active part of the happening at the time, the artist had to spend some days in the jail with more than thirty underage artists and six adults, who were arrested as well.
After that event most of his friends gave up graffiti, but Sens continued to spray in abandoned and forgotten places.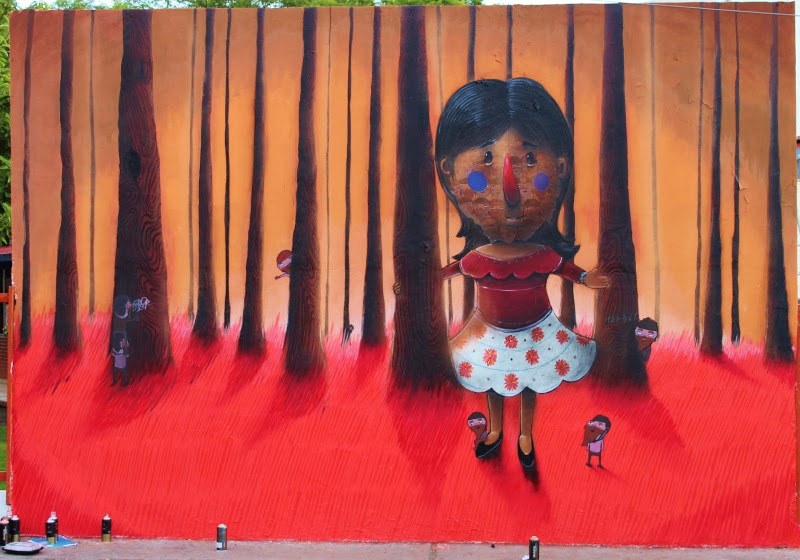 Scholarship from Ramsés De La Cruz
The Mexican street artist continued visual art and painting at the School of Fine Arts in Querétaro. One of the most important steps for Sens' career was getting the scholarship from the recognized Mexican artist Ramsés De La Cruz to study hyper-realism. Ironically by that time, he developed his illustrative, more cartoonish style.
Sens has participated in over 40 group shows around Mexico as well as in many urban art and graffiti festivals.
CHIDO, CHAFA, CHALE
In his latest series of works titled CHIDO, CHAFA, CHALE, Sens combines tradition, folklore and are impregnated by his environment, using elements of Mexican vision.

This slang expressions commonly used in Latin America and Mexico, CHIDO (cool; nice), CHAFA (something of a low quality; fake), CHALE (damn!; oh my god; yeah right), variate the meaning according to the context, portraying the complexity of Mexican slang words as well as its society.
Sens lives and works in Querétaro, Mexico.