Shabu Mwangi is a Kenyan artist who began practicing art in 2003 and established the Wajukuu Art Project in 2013. Influenced by his childhood in the Lungalunga Slum, Mwangi still feels engaged with the situation of street children in the Kenyan capital Nairobi. At the Wajukuu Art Center adolescents are brought up to art. Mwangi himself experienced art as a feeling of absolute freedom and life without restrictions, a feeling that he wants to share today. He is deeply convicted to his work, in which he highlights the life of disadvantaged minorities in his community. Deeply concerned by society's inequality and our lack of empathy for people with a different social, political, ethnic or religious background, his work seeks to examine human behavior and our collective amnesia.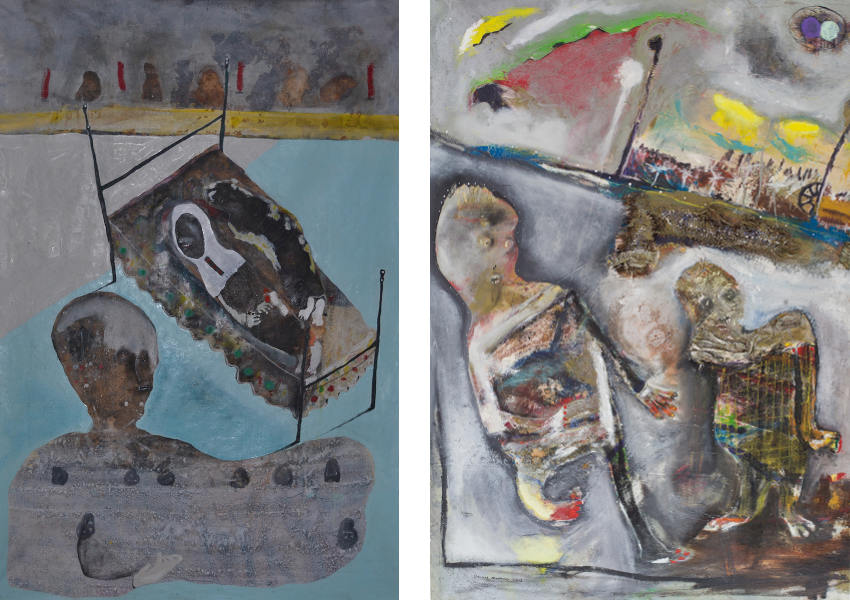 Shabu Mwangi Art
His life history, his personal losses and his experiences of violence and crime became a huge impact on his work. By their minimalistic and indistinct aesthetics in the representation of human figures his images direct the focus on the nominal faces. Mwangi's works concentrate on interpersonal relations, unequal power positions, and the resulting injustices. "We have lost the feeling of being human. We don't pay attention to how we are hurting others anymore." One of his central themes describes escape and migration. Here, nationalism appears as a psychologically dangerous phenomenon that separates human beings from each other because of arbitrarily physical limits and fosters hostility.
The artist is represented by LKB/G Gallery.
Shabu Mwangi lives and works in the Mukuru slum in Nairobi, Kenya.
Featured image: Shabu Mwangi - Modernity vs Culture (detail), 2015
All images courtesy LKB/G Gallery