Shag, born Josh Agle in 1962, is an American designer, painter, and illustrator. His style is is based on a commercial illustration from the 1950s and 1960s. Shaq is a derivation of the last two letters of his first name, and the two first letters of his last name, the nickname he started using to sign his paintings around 1987. The artist claims that he never really aimed at being called Shaq, but it just happened. He opened a retail boutique and show space which sells solely his paintings, merchandise, and prints, the Shaq Store, in 2009 in Palm Springs, California. His works have been featured in several books.
Freaks and Americana: An Exploration of Big Top Culture at Corey Helford Gallery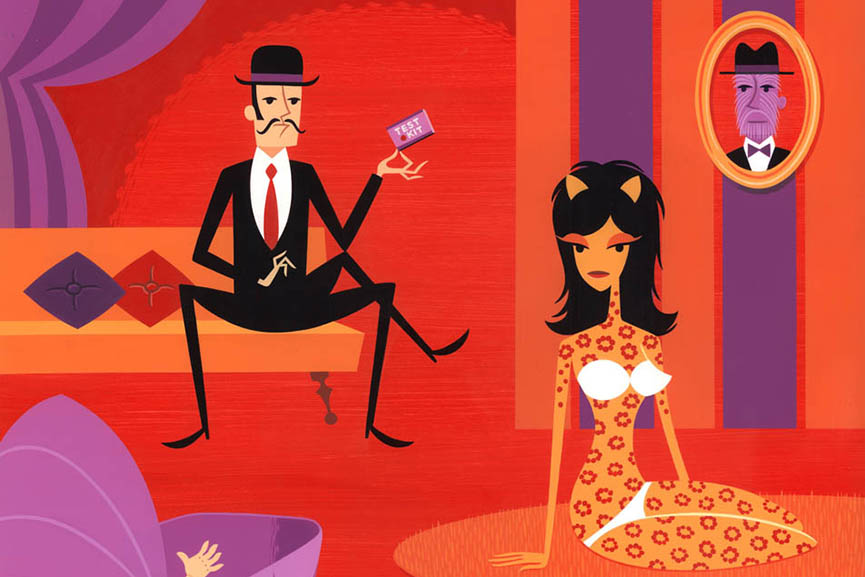 Work
In the late 1980s and early 1990s, Josh Agle worked as a commercial illustrator. He did his works in different styles, and one of the styles was the one he uses nowadays the most, the one based on the slick and kitsch of the 1950s and 1960s commercial illustration, which also reflects the things he likes, such as instrumental music, tiki masks, old vinyl records and cocktail lounges.
His works, boldly-colored and on sharply rendered panels, blend Bossa Nova album art and Disney animation. Shag portrays characters who drink, smoke, socialize and dine in luxurious, stylish, sophisticated settings.
He creates his paintings for galleries in an old-fashioned way, without the use of a computer. He only uses a computer to convert the art to a format which is appropriate for making stickers, t-shirts, and limited edition prints.
Shag's paintings are synonymous with subtle humor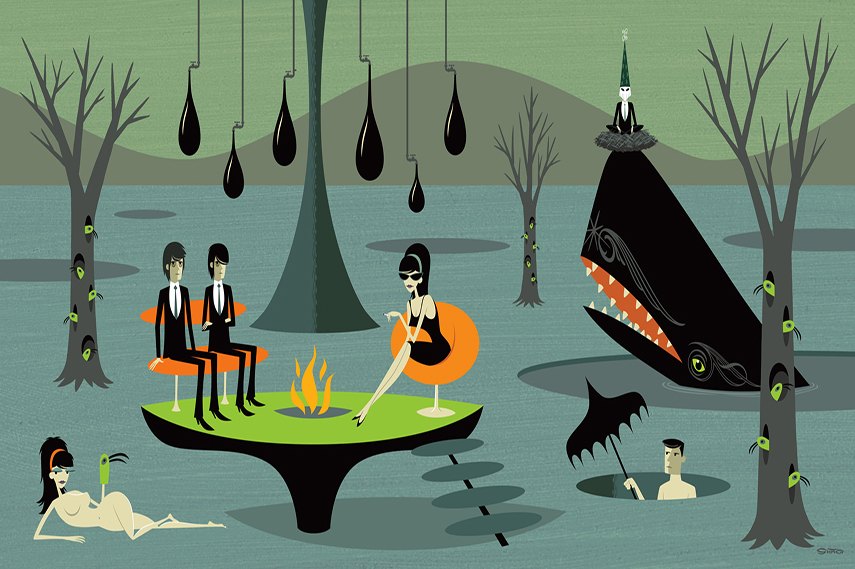 All My Bones
The All My Bones series was inspired by the stories from a book of Old Testament. Shag read these stories when he was a child, and re-read as he got older, finding completely different meanings. His paintings from this cycle deal with consumerism and consumption. Expressionless and emotionally-detached characters are surrounded by opulence and high-fashion, but indifferent to the luxury and lavish architecture.
Thursday's Girl
Inspired by the Velvet Underground's famous song All Tomorrow's Parties, these series have an underlying central narrative, which connects all the works. In the song, Lou Reed sings about the downtown art scene in New York, and Josh Agle portrays the life of fame, wealth and excess. The recurring character is a naive girl searching for a new life, full of glamour and luxury. She parties on weekends, hoping to become a new muse of her superficial idols.
The series Thursday's Girl were influenced by the classic Velvet Underground song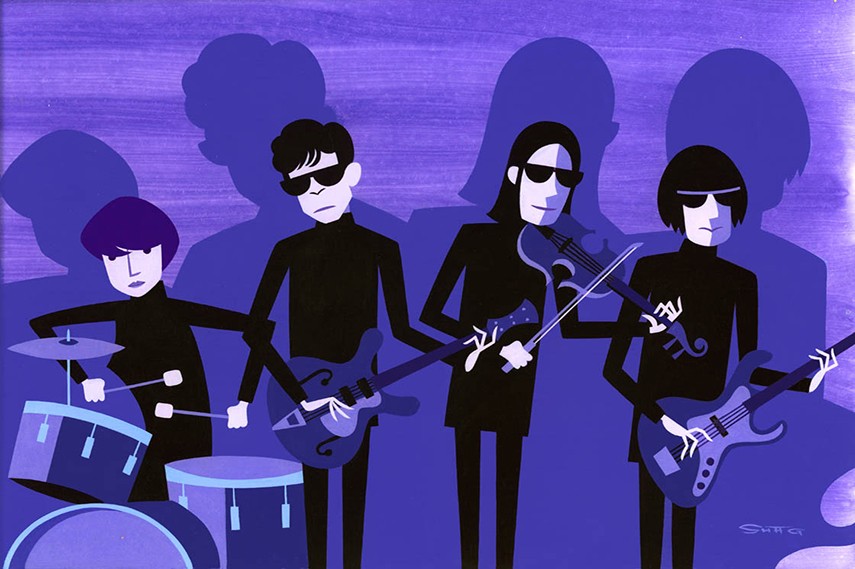 Exhibitions
Shag has exhibited his works in many gallery exhibitions in both his home country and abroad, in Europe, Australia, South America and Asia. His first solo show took place in 1997. In 2002, he exhibited his works in his first New York gallery exhibition. The list of museums where his art has been displayed included the Andy Warhol Museum in Pittsburgh, Pennsylvania, the Naples Museum of Contemporary Art in Naples, Italy, and the Laguna Art Museum in Laguna Beach, California. The art critics Roberta Smith and Ken Johnson from The New York Times wrote about his shows.
Shag is represented by Jonathan Levine Gallery in New York.
He lives with his wife and two children, in a mid-century home with a view to a peaceful wooded alley, similar to homes which can be seen in his artworks. Agle claims that he was collecting 1950s modern furniture before he started painting homes with that style of furniture. Palm Springs in California is his second home and the place where he opened his Shaq Store in 2009. The artist is very enthusiastic about promoting Palm Springs.
Shag lives and works in Southern California.
All images © Shag