Having once taken arms in order to fight for independent Bangladesh, Shahabuddin Ahmed is also a wrestler in painting, displaying the same amount of determination as if his country or freedom were in danger. Going through the terrible process of cultural alienation, he felt great frustration as every ounce of his identity was threatened. He played a great role in the Liberation War, fighting along with Bangladesh's father figure and liberator Sheikh Mujibur Rahman, popularly known as Bangabandhu. After Rahman was assassinated in 1975, Shahabuddin settled in Paris. His work reflects contemporary life and times, with its essence glorifying life's struggle. With great erudition and skill, he relies heavily on the power of motion as his mode of artistic expression, focusing on the jolted vertigo of the body in action, limbs stretched and muscles protruding, up to the paroxysm of effort and suffering.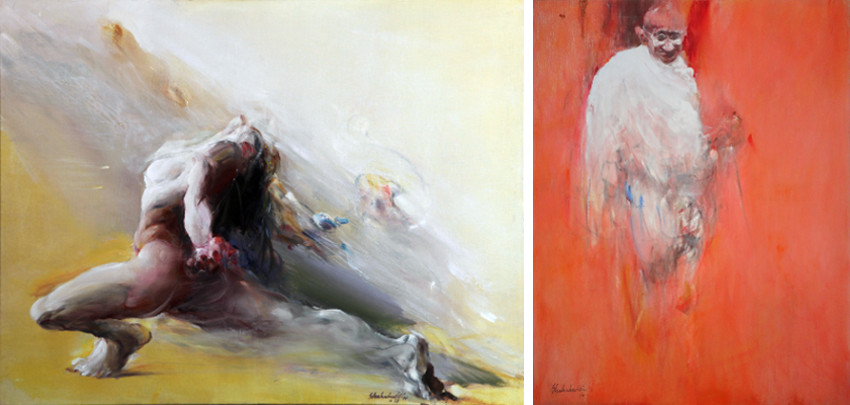 Art of Shahabuddin
His endeavor to unravel the mysteries of the cosmos comes through the use of color, most often monochromatic with splashes of bright unusual colors – canvas and brush has perfectly amalgamated life and art. Perpetually in search of an indestructible force, the artist shows the undercurrent of his deep philosophy in the kinematics of his works, as the movement possesses an inner beauty. The figures move, but there is tranquility in the end. Greatly influenced by Francis Bacon and the European movement, Shahabuddin was awarded a title of one of the Fifty Master Painters of Contemporary Arts at the Olympiad of Arts (Barcelona) in 1992. His baroque-like figures turned towards space seeking light and energy, are a strange mixture of Western influence combined with distinctive features of his place of origin. With an understanding that life is a competition right until the end, there is a recurring motif of sportsmen in his paintings. The imagery of fearless human figures, which are in the motion of running, seems to burst free from their skin with their flesh, blood, and sinew. Violence abhors him and his suffering mythological figures on the canvas are unreachable. They are future bound. The message is terrifying. In their dynamism, his paintings depict human problems and their solutions, which provide one the reason to live. Above all his compositions are unmistakably musical and rhythmic, making Shahabuddin an internationally acclaimed painter with an unmistakable individuality.
The art of Shahabuddin is very personal, yet feels universal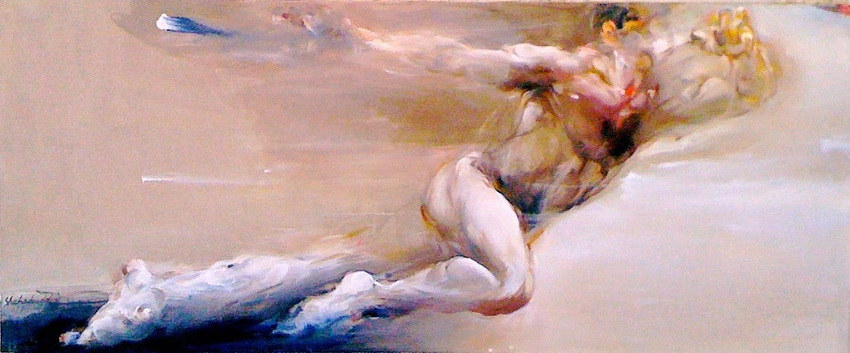 Freedom!
At a recent exhibition at Mumbai's Jehangir Art Gallery, Shahabuddin Ahmed showcased his paintings based on the theme of freedom. It's not surprising that the painter chooses this subject time and again in his oeuvre, having once experienced threats to both his identity and his artistic freedom. Hence, freedom is a leitmotif that he swears by and doles out freely, either in his paintings of Bangabandhu and Gandhi or in his depiction of the man freeing himself from the clutches of bondage in his Freedom and Veneration series. The artist finds it extremely ironic that the freedom for which the country fought in 1971 is now coming at a cost for its free thinkers. In the past one-and-a-half years, about 10 bloggers have been hacked to death by machete-wielding extremists or gunned down for expressing their opinions freely. These bloggers spoke against the terrors of the modern world, which drew the ire of Islamic fundamentalists. So, how do artists express themselves in this perilous environment? As Shahabuddin said: "The idea of Bangladesh was successful after the Liberation War and again was not successful. But we got a strong smell of victory, which still remains."[1] Yet, his hopes remain alive as the country is showing some progress, finally punishing those convicted of war crimes during the Bangladesh Liberation War.
He is represented by Galerie 22.
Shahabuddin lives and works in Paris.
References:
Anonymous., Death of artists prompts exhibition on the theme of liberation by Shahabuddin Ahmed, The Economic Times [December 29, 2016]
Featured image: Portrait of Shahabuddin – image courtesy of The Daily Star
All other image courtesy of Galerie 22