Shai Dahan is an American contemporary artist and muralist, philanthropist, and entrepreneur. His most notable works include the Dala Horses, an ambitious street-art campaign.
Shai Dahan: Skateboarding, Surfing and Art
Shai Dahan was born in Israel and raised in the USA, by moving to Los Angeles when he was ten years old. As a teenager, he was introduced to the graffiti culture and then immersed himself into the local surf and skateboard scene. In his 20's, he began surfing while still skateboarding so he slowly started to paint skateboards and surfboards for fun.
"I was painting all kinds of stuff on them (from Star Wars characters to random dogs). I was doing it for fun and started to make boards for friends and charity events locally in Los Angeles. Started to take part of bigger charity events and I was really stoked when Jason Mraz bought one of my painted surfboards so I kind of kept heading in the direction of making more and more art."
Shai has always challenged himself to find new ways of creating public art. He has evolved himself through small stencils, spray-paint, wheat pastes as well as large mural works in abandoned buildings.
Shai Dahan - New York Street Ad Takeover
In 2007, Dahan moved to New York City where he participated in street-art projects such as the NYSAT, Underbelly Project (a project where roughly 100 street-artists from around the world were invited to be part of a selected group going into an abandoned subway station in the belly of New York City underground and paint there), and MOM&POPism. He also began to exhibit his art with galleries in Los Angeles, New York, Boston, and Philadelphia. Eventually, he met Jordan Seiler in New York who had projects through Public Ad Campaign called "New York Street Ad Takeover" where he invited artists to come and paint over illegal advertisements throughout New York. Shai loved the idea of being able to take away advertisements, which are forced on the public for the sole reason of profit, and replace them with artwork, which has a sole reason of beautify the community, as he says.
"It is a shame that street-artists are still considered vandals and criminals when they want to paint on a side of a wall but putting giant advertisements to make you feel bad about yourself is totally fine. So I really got into doing it more and more and putting public art in the community as much as I can".
For Shai Dahan, New York was a totally different experience than Los Angeles. NYC is where his art really flourished and the artist truly believes it was because of the people he met there.
"While I was in New York I met some amazingly talented street artists and painters. New York is such a hustle. If you are not doing 20 things at the same time, you are not doing enough and I took that with me when I moved to Sweden and I think that is why I am always so busy here in Sweden because I never let go of that New York mentality".
Shai Dahan Discovers Sweden and Dala Horse
After moving to Sweden in 2010, Dahan began to create a new reinvention of the Swedish Dala Horse (Dalecarlian horse). Dahan began to paint the Swedish traditional Dala Horse as a realistic horse that carries the Kurbits colors and patterns of the original wooden statuettes. Shortly after creating a few illegal Dala Horse wheatpastes around neighborhoods in Sweden, Dahan's paintings began to generate media attention. After his Dala Horses were published in the newspaper in the city of Borås as well as in Gothenburg, Dahan began to get much attention for his Dala Horse painting and has been mostly recognized in Scandinavian countries for his technique of painting wild horses as the historic Dalahästs.
"A year later, I had my solo exhibition at the museum and was asked to add a mural as a permanent piece to the city of Borås during their Sculpture Festival. It was the first time anyone added a mural to the city center, in the past it has been mostly sculptures, and it was also the first time a street-artist was invited to participate so it was rather ground breaking for both myself and the city. It was something the city never experienced before".
Shai uses the horses as a metaphor for urban art to create a dialogue between the conformity and foundation of Royal history and the scorned graffiti culture that authoritative leaders have tried to prevent from advancement.
Shai Dahan in Palestina: Risking for Art
In 2012, Dahan traveled to Palestinian territories in Israel, where he painted a 5 meter mural of an Arab Bedouin on the West Bank Barrier wall in Bethlehem. "In early May I was invited by a good friend of mine David Freid to come to the Holy Land of Jerusalem. David was there to film a documentary about the art on the wall which separates Israel and Palestine. Knowing the risk involved, I got on a plane and after a few days spent in West Bank in Palestine, I finished the piece."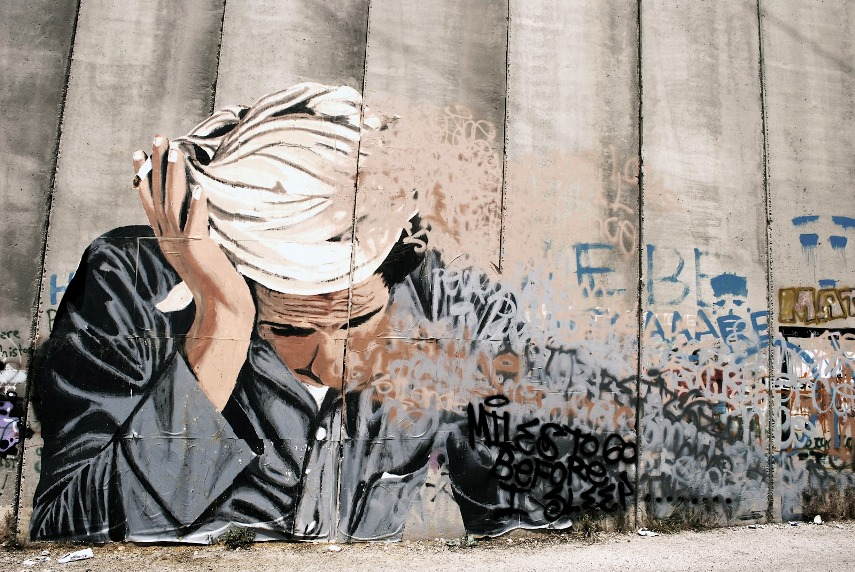 The piece was based on a photograph which David took of a Jordanian Bedouin. The project was documented for a film titled "Art on the Seam". "The locals loved it and although the stress of entering an area full of conflict with zero security was great, it was a very special project and one of the highlights of my career. I got to enter a place filled with anger and frustration and paint there."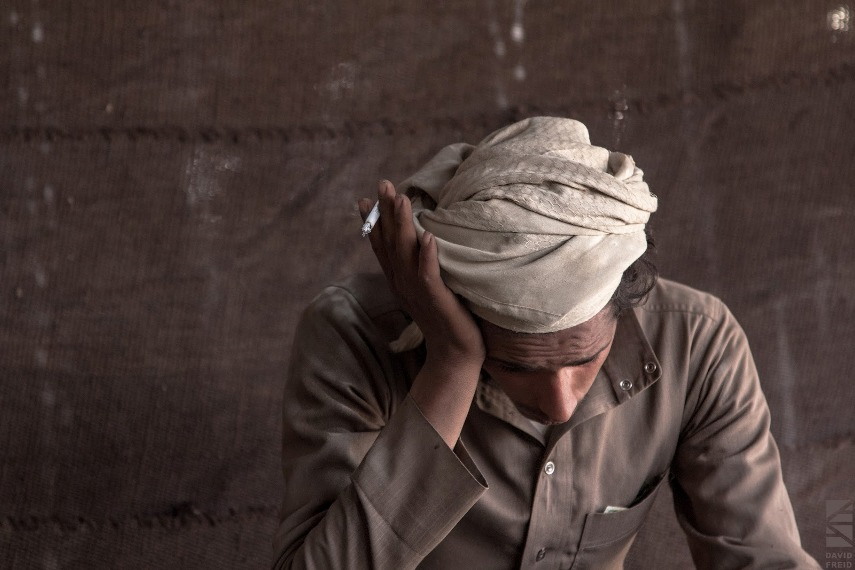 After the trip, Dahan was asked to give the keynote talk at TED Gotebörg, titled "Beyond Borders", about his experience in Palestine and the mural he painted there.
Shai Dahan's Technique
In 2013, Shai co-founded EAST 39th, a Men'swear clothing branch based in Sweden. The brand designs, markets, and distributes men fashion apparel across Scandinavia.
Having lived in various countries and cities around the world, Shai Dahan's work is inspired by cultural motifs that surround him. He has developed a unique style using acrylic, oils and spray paint to create bold and colorful paint gestures integrated into depictions of iconic and historical figures. Over the course of his technical and stylistic researches, he ended up developing an approach combining the strictness and the excellence of fine arts with the freedom and the codes of street art. Just like Conor Harrington or Antoine Gamard, he covers culturally marked worlds he then subjects to the test of urban graphical expression. However, unlike his French homologue, Shai Dahan does not confront these schools. On the contrary, under his brushes and cans, past and present wed. Throughout his career, Shai Dahan has used different techniques for his outdoor artwork as well as his gallery collection. This includes stencil, wheatpasting, as well as using acrylics, oils and spraypaint. Dahan creates hybrids of the urban arts culture mixed with fine art work and he draws from everything that surrounds him.
"My influences are mostly my environment. I enjoy painting depending on where I am both physically and emotionally. I do enjoy going to museums and getting inspirations. I go through phases. When I first arrived in Sweden, I was really influenced by the culture here and it really inspired a lot of the things I create now Dalahorses but that will also change. I have people tell me: You can do the Dala Horses for the next 30 years and make it your thing, but I don't really care for that. Sure, I can sit and make a career out of painting Dala Horses all day, but I think at some point I will get frustrated and annoyed because who the heck wants to paint the same thing for 30 years? I want to evolve.
Birdguns & Animalguns Series
Shai's work very often focuses on animals and their environment conditions, and how the repercussion of human tampering causes them to evolve into survivalism. Animals painted and illustrated with witty and humorous hints of man-made weapons, expresses Shai's hopes in letting the viewer see the hybrid effect of man's hands in animal society and its disruption on the natural order. In the past, Dahan created his now much recognizable "BirdGun" series which depicts birds with weapons for their heads. This theme eventually grew into including other animals with guns for their heads including a series of DeerGuns, Elkguns, and others.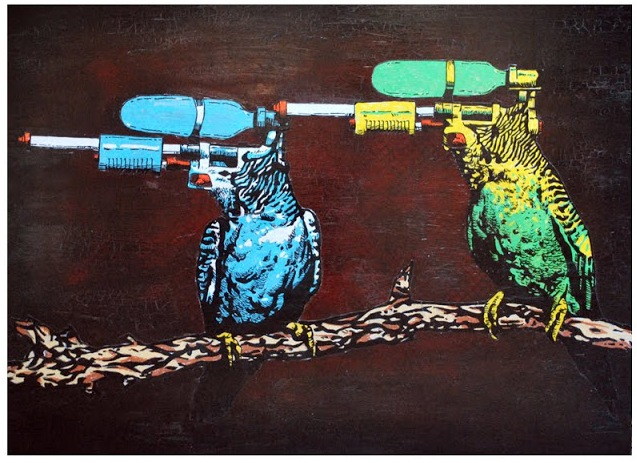 Tales of the Brave
In his 2015 solo show – Tales of the Brave – Shai Dahan introduces a new page, in Gothenburg, where he moves between a chaos of vibrating spray paints and more traditional painting. This time, the viewers could see more details, and fewer explosive patterns than what they had seen on his canvases before. Exhibition Tales of the Brave presents large canvases with motifs mainly inspired by Roman art and with elements of baroque future greats. The works of art in itself gives us a sense of Greek mythology. The new collection joins a conceptual theme, offering a greater depth and a deeper meaning than what is seen before. The characteristic spray-painted faces are gone. Instead, we see traces of them in the background pattern in the form of Roman numerals.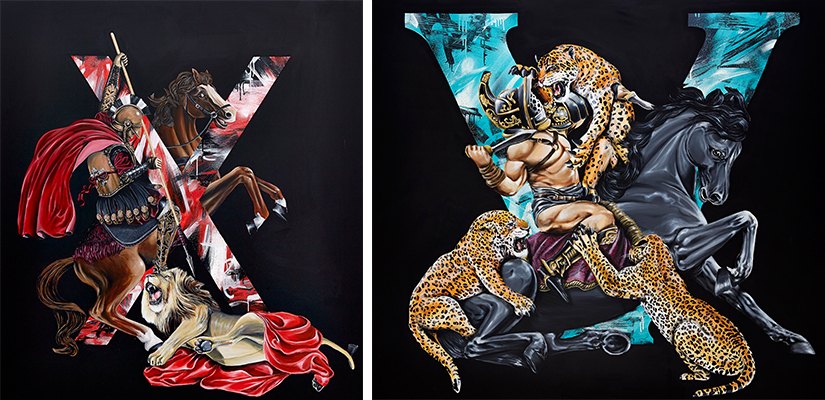 Shai Dahan lives in Boras, Sweden.