Marchal Mithouard aka Shaka, is a French street artist, known for expressing the absurdity of human behavior through his artwork. Amazing techniques and methods that the artist applies on canvas and walls, thereby creating three-dimensional illusion, leaves nobody indifferent. He relates his graffiti's, sculptures and paintings with the desire for freedom, whose inspirational vibes he founds in anarchy, Jamaican music and alternative culture. Coming from the suburbs of Paris, his pieces show the reflection of differences that exist between people. He uses body, and its perfectly imperfect shapes and lines, as the central theme in most oh his works to show the complexity of mankind nature.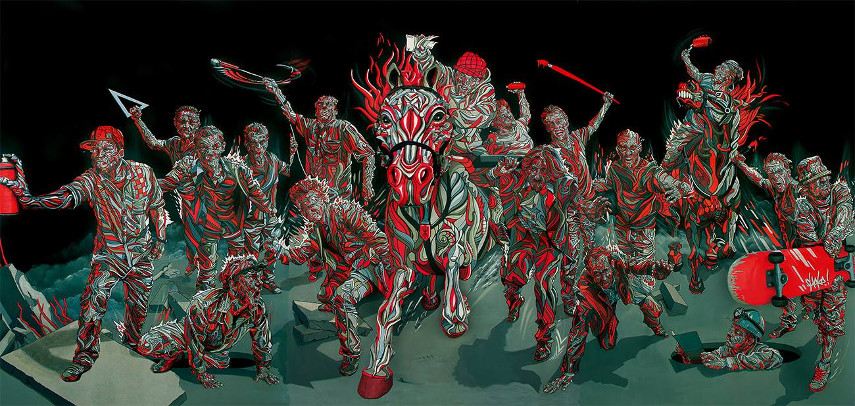 Colors as Integral Part of Artist's Life
Shaka was born in Evry, France in 1975. Since he was a nine years old boy, he did oil paintings on canvas, so by the time he was fifteen, the artist already had a significant experience, and collection of artwork which he enforced to the street. As a teenager, he grew up in the era of hip-hop and punk culture, so it is not strange that Shaka includes mixed, often different influences in his art. Anti-racist messages that Shaka advocated, were expressed through graffiti, which he first made just for fun.
He grew up in the era of hip-hop and punk culture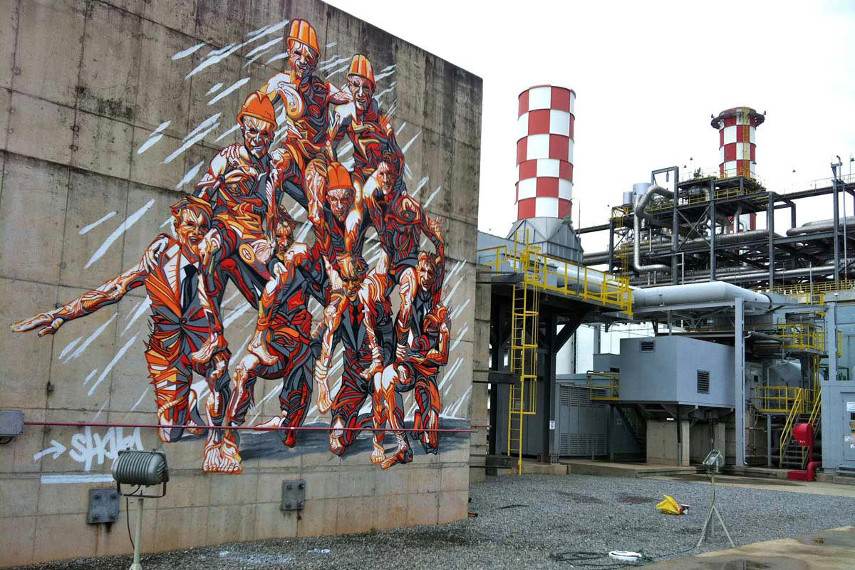 Education and Influence
In the 1990's Shaka and his friends founded a DKP graffiti crew in Paris. He later graduated from Sorbonne with a degree in fine arts, and specialization in multimedia. Caravaggio, and his tumultuous and aggressive character had a big influence on Shaka's style. This modern street artist likes to accent the force, the strength and the contrast he sees in hooligans on the stadiums. Despite the emphasized violence and anxiety in his work, the author sees himself as a calm person, whose only weapon in the confrontation is art.
Anti-racist messages that Marchal advocated, were soon expressed through graffiti
Human's Behaviour as the Medium
The heart of Mithouards' art is about capturing the smallest details and expressions on people's faces and carrying them over to his sculptures, pictures and graffiti's. The 3D technique he perfected, allows different emotions, like selfishness and anger, to be presented to the viewers in a unique way. Exaggerated note of violence, anarchy, and arrogance are the key elements, with which he tries to explain the basics, and sometimes absurdity, of human relationships and behaviors. Through the use of body anatomy and graphic language, the author connects his ideas with the quantum physics principles, which he later conveys in a form of movement.
Exaggerated note of violence, anarchy and arrogance are the key elements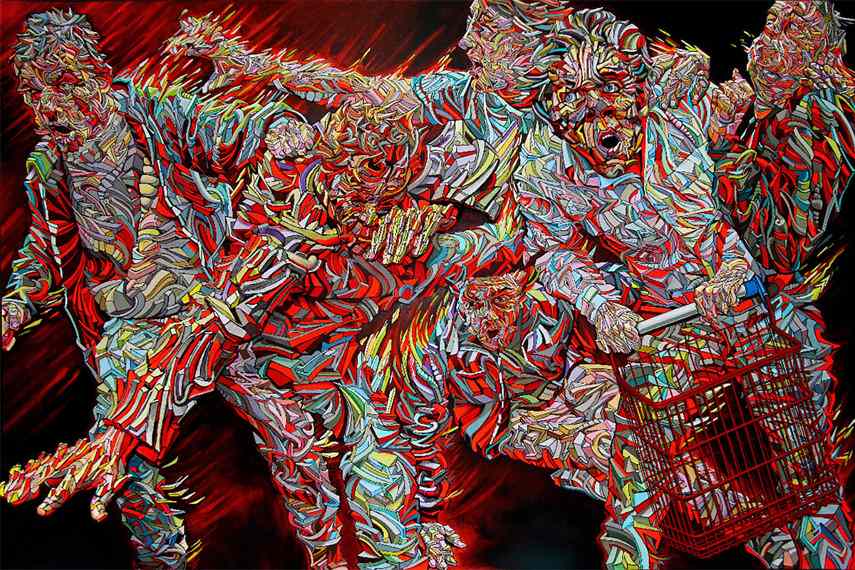 Sculptures and Shows
In 2007 Shaka begins to experiment with paintings and sculptures, by building layers of materials on canvas, in order to make a personal connection and relationship with the audience, in the time of the internet. Although he uses the same provoking style on both his sculptures and graffiti's, he says that they are not the same. The latter are usually done illegal and during the night, without photographers behind the back. They represent the essence of street art. Artists' artwork can be seen on many walls throughout Paris and cities worldwide, his sculptures and paintings were exhibited at the Gallery Nine5, New York in 2015, at Nextstreet Gallery, Miami in 2016 and more.
The artist is represented by Galerie Lazarew.
Marchal Mithouard lives and works in Igny, France
Featured image: Shaka – You (detail), 2010, Oil and low-relief on canvas, private collection
All images copyright of the artist