Celebrated British graffiti legend sheOne is recognized as one of the first artist in his country who used spray paint only to produce his graffiti works. sheOne creates abstract expressive pieces that often utilize the surface on which they are painted like the crumbling stone or the peeling paint on the wall. Bold, conspicuous strokes and splashes of color map out the unique visual landscape wonderfully envisioned and executed to detail. Though working with a vivid palette, black remains the most important color in sheOne's work as the artist uses black to emphasize the details in his artworks and lifts them off the surfaces thus making them even more conspicuous.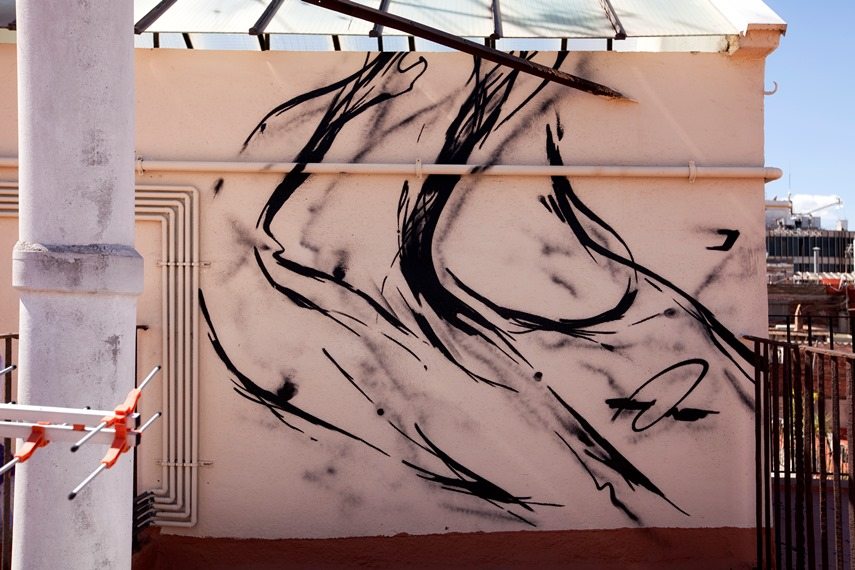 An Exhibition of Abstract Graffiti by sheOne
James Choules aka sheOne was born in London in 1969. In 1984 he became one of leading members of the fist wave of graffiti writers in England who used only spray paint to create their stunning large scale pieces. sheOne began experimenting with his moniker by adding a more expressive looser forms to his hand drawn typography. Quickly he developed his own style characterized by vivid movement and life expressed trough an array of contrasting lines, vibrant colors and signature shapes. In the nineties, sheOne become one of the original members of the Transcend Collective alongside Joker, Poesia and others street art creatives who experimented with a new style that later became known as Abstract Graffiti.
sheOne was one of the first graffiti writers in Britain who used only spray paint to create their pieces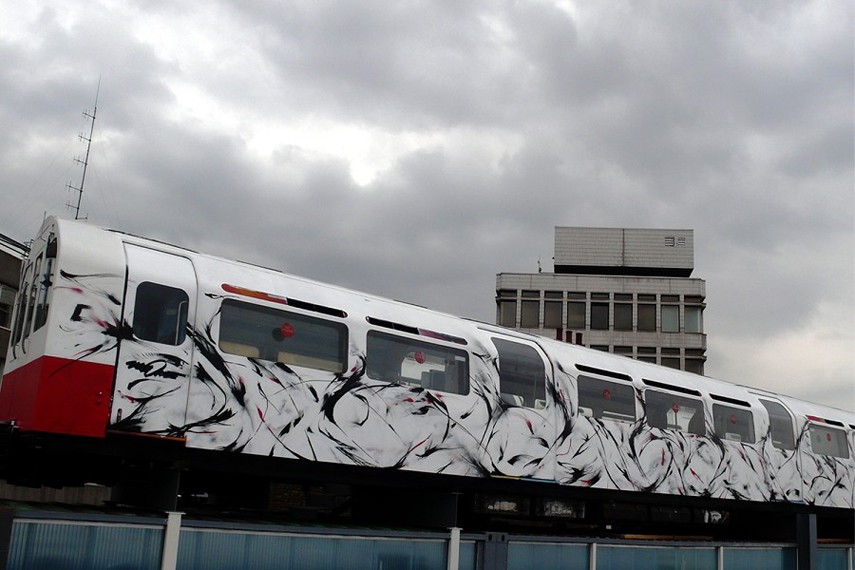 Music and Easter Calligraphy as Main Influences
SheOne was influenced by a variety of scores ranging from metal music and drag racing to Eastern calligraphy. The influence of Eastern calligraphy is particularly visible in his canvas piece as the artist employs monochromatic colors and space to create works driven by emotions, rather than the rules of creative process. When working in his studio, the artist conveys the same energy and style to his small scale canvas series. BLACKATELIER is the name of his studio practice which is currently located in Barcelona, Spain. His canvas works were exhibited in numerous galleries around the world including the venues in New York, London, LA, Hong Kong and Sidney including an opening exhibition of Gamma Transport Division gallery in Edinburgh in 2013, that was curated by Rob Swain from Gamma Proforma.
The artist employs monochromatic colors and space to create works driven by emotions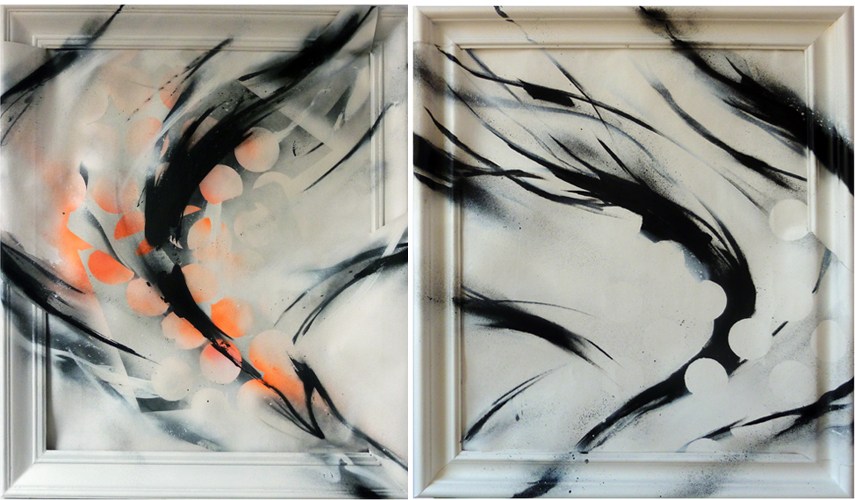 Publications and Hand Painted Apparel
The undisputed energy of sheOne works well on any surface he chooses to decorate. Throughout the years his recognizable works embellished a variety of useful objects including guitars, helmets, and salvaged car parts and bicycle frames. SheOne also placed his black shapes to furniture, such as armories and cabinets and the artist also created his own line of handmade fashion items thus transferring his best pieces to shirts, shoes, hats and other wearable objects design. Throughout the years sheOne's works were included in a variety of monographs including PARALLEL STROKES, and FUTURISM 2.0 In 2016 BLACKATELIER art book was published featuring works and photography from the artist's personal archive encompassing the past 20 years of his outstanding career. SheOne is one of the pivotal members of a UK-based street art group Wizard Kings alongside Will Barras, Otwo, Stendec, Andrea Riot, Marc Lyken, and Mr. Jago. In 2016, the artist curated a group show hosted by Fousion Gallery that presented the works made by this eclectic group entitled W/K with the main theme of black and white. During a live painting session with Andrea Riot and Otwo, SheOne painted a large-scale mural at Fousion gallery Rooftop to accompany the show.
The artist is represented by Fousion Gallery.
SheOne lives and works in Barcelona, Spain.3>
Featured image : sheone - Portrait
All images courtesy of Fousion Gallery