When you make an appearance on The Simpsons and when Black Sabbath asks you to make a promotional poster for their final tour, you've already reached a level of fame and popularity that seems almost unrealistic. Shepard Fairey, an icon of the American contemporary art scene, is most famous for his Obey Giant artworks and subsequent Obey series, which have found their place on t-shirts, skateboards, posters, walls, and even clothes, spreading the name of the artist throughout the USA and world, eventually. His pieces are thought-provoking and often controversial. He's also known for the Obama-regarding posters and copyright infringement lawsuit against Associated Press, which he lost. Nevertheless, Fairey remains one of the most famous artists in the world, whose work will likely inspire generations.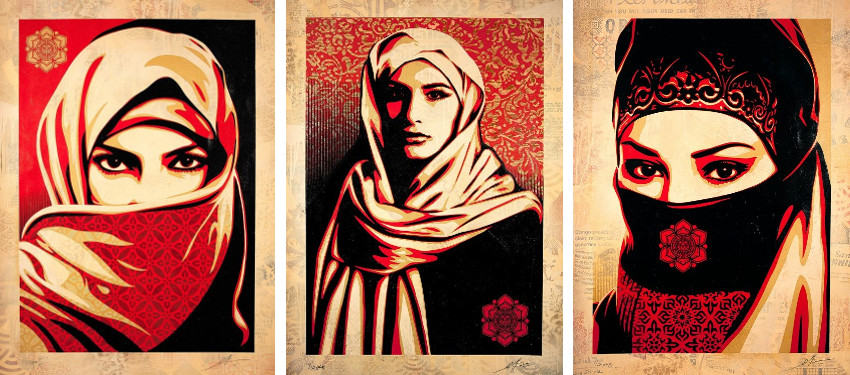 ANDRE THE GIANT
Frank Shepard Fairey was born and raised in Charleston, South Carolina. He graduated from the Rhode Island School of Design with a Bachelor of Fine Arts in Illustration. Fairey became involved in Art in 1984 when he started to place his drawings on skateboards and T-shirts. His first major work was reproducing black and white images of the wrestler Andre 'The Giant' Roussimoff.
Andre the Giant Has a Posse is a street art campaign based on a design by Fairey created in 1989 in Providence, Rhode Island. Distributed by the skater community, the stickers featuring an image of André the Giant began showing up in many cities across the U.S.A. At the time, Fairey declared the campaign to be "an experiment in phenomenology". Over time, the artwork has been reused in a number of ways and has spread worldwide.
At the same time, Fairey and fellow RISD student Ryan Lesser, along with Blaize Blouin, Alfred Hawkins, and Mike Mongo created paper and vinyl stickers and posters with an image of the wrestler André the Giant and the text "ANDRE THE GIANT HAS A POSSE 7' 4", 520 lb", ("7'4", 520 lbs", or 2.24 m, 236 kg, famously being Andre The Giant's billed height and weight) as an in-joke directed at hip hop and skater subculture, and then began clandestinely (and somewhat fanatically) propagating and posting them in Providence, Rhode Island and the rest of the Eastern United States.
An in-joke directed at hip hop and skater subculture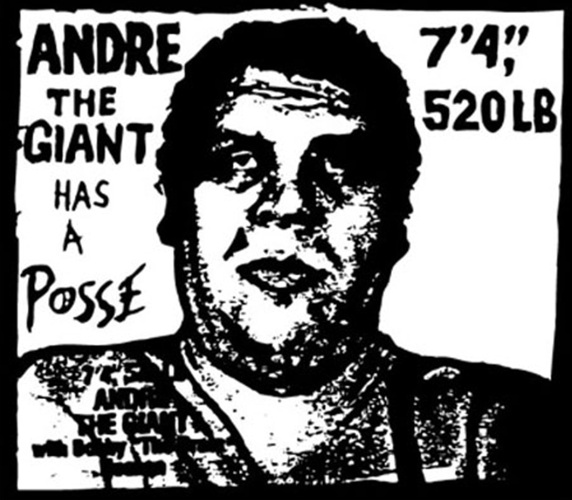 Shepard Fairey: OBEY Giant
Fairey altered the work stylistically and semantically into the OBEY Giant. This was also to become iconic and a decisive move in Shepard Fairey's career, particularly in subsequent works that featured the 'Obey' word without any associated image. In a manifesto he wrote in 1990, and since posted on his website, he links his work with Heidegger's concept of phenomenology. His "Obey" Campaign draws from the John Carpenter movie They Live which starred pro wrestler Roddy Piper, taking a number of its slogans, including the "Obey" slogan, as well as the "This is Your God" slogan. Fairey has also spun off the OBEY clothing line from the original sticker campaign. He also uses the slogan "The Medium is the Message" borrowed from Marshall McLuhan.
The 'Obey' sticker campaign was an experiment in phenomenology. Shepard Fairey says, "The 'Obey' campaign had no meaning, except to cause people to react, to contemplate and search for meaning. The intention was to provoke people through disassociating words with images that normally have an underlying motive (i.e. to sell a product)."
Shepard Fairey was responding to the effects of subliminal commercialism on audiences, prompting them to question their own role in digesting and utilizing information and to get them to think beyond their own existence. Subsequently, the 'Obey Giant' campaign, which was posted throughout the streets of California, led to the artist's arrest on a number of occasions (as it is essentially a form of graffiti); an effect, which resonates in many of his more contemporary works as well.
The OBEY campaign is rooted in the Do It Yourself counterculture of punk rock and skateboarding, but it has also taken cues from popular culture, commercial marketing and political messaging. Fairey steeps his ideology and iconography in self-empowerment. With biting sarcasm verging on reverse psychology, he goads viewers, using the imperative "obey," to take heed of the propagandists out to bend the world to their agendas.
The artist prompted the audience to question their role in digesting and utilizing information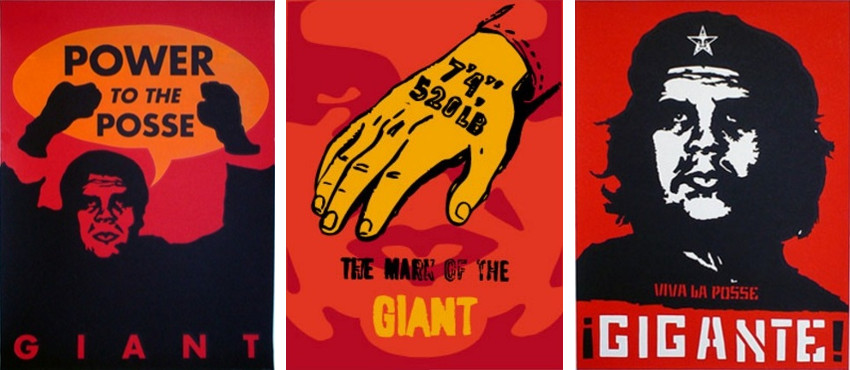 OBEY Clothing
OBEY Clothing was formed in 2001 as an extension of Shepard's range of work. Aligned with his populist views, the clothing became another canvas to spread his art and message to the people. The clothing is heavily inspired by classic military design, work wear basics, as well as the elements and cultural movements Shepard has based his art career on. Through designers Mike Ternosky and Erin Wignall, Shepard works to create designs that represent his influences, ideals, and philosophy.
Apart from initiating his own art campaigns, Fairey does select commercial work (he helped to develop a design firm called Studio Number One for this) and he designs for album art, skateboards, film posters, and clothes (he also has his own clothing line which came about as a result of the 'Obey' sticker campaign). Examples of his commercial work includes designs for the Black Eyed Peas album covers for 'Elephunk' and 'Monkey Business'; the 2009 promotional material for the Earth Hour initiative and a range of creative branding designs for Pepsi, Nike, Electronic Arts, Hasbro, and Netscape, among others.
The clothing is inspired by the elements and cultural movements the artist has based his career on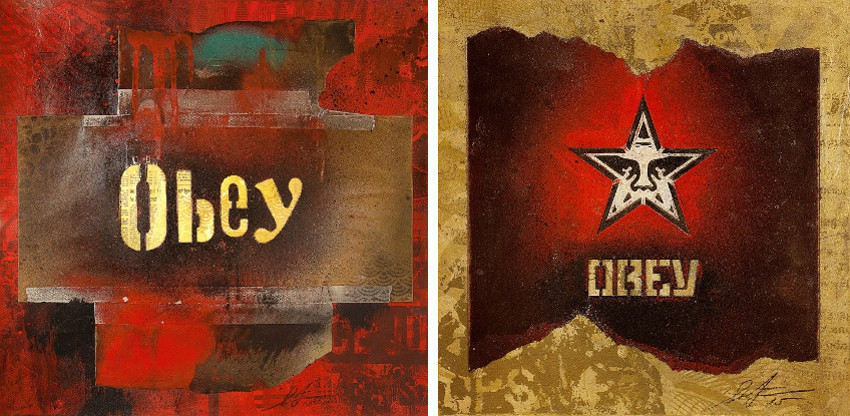 Shepard Fairey and Barack Obama
During the 2008 presidential election, Fairey's poster of Barack Obama—a graphic, vaguely Russian-propagandist-looking portrait of the then candidate with the word HOPE drawn in big, bold letters underneath—achieved the rare feat of becoming a visual emblem of a moment in American history. Obama, of course, won the election. The first Obama poster produced by Fairey (produced without any connection to the official Obama Presidential Election Campaign), showed a portrait of Obama (gazing upwards in the guise of a visionary leader) with the word 'Progress' underneath. Initially, official Obama campaigners kept a distance from the poster, but eventually embraced it, asking Fairey to produce two revised versions. The first replaced the word 'Progress' with 'Change' and the second used the word 'Vote'.
But while the Obama poster—as well as a diverse, complex, and at times controversial body of work that stretches back two decades—helped set the stage for Fairey's first solo museum show, titled Supply and Demand, at the Institute of Contemporary Art in Boston last year, it also attracted a different kind of attention. Fairey became embroiled in a contentious—and potentially precedent-setting—lawsuit with the Associated Press over his unauthorized use of one of the news service's photographs, which was taken by photographer Mannie Garcia in 2006, as a reference for the Obama portrait. In 2009, Fairey sued the Associated Press to show in court that his portraits of Obama were fair use of an AP photograph and avoid being sued by the AP himself for copyright infringement. But, the AP claims that the artist's use of the image is copyright infringement; Fairey believes that in making the portrait, he was just exercising his First Amendment rights and that his use of the image as a reference falls under the category of fair use. Fairey's admission in late fall that he attempted to destroy evidence of his using the Garcia image as a reference has thrown a new wrinkle into the proceedings. Fairey realized that he was wrong and that he had indeed based his work on the photograph that the AP said he had used, so Fairey panicked and tried to cover his tracks by submitting falsified evidence and attempting to delete the actual evidence from his computer. He then went ahead and claimed for months something that he knew was false.
Shepard Fairey was sentenced to 300 hours of community service, two years of probation and a $25,000 after pleading guilty to one count of criminal contempt. Government lawyers believed that Fairey could have been fined up to $3.2 million and also argued that he should spend time in prison (he could have been incarcerated for a maximum of 6 months).
The lawsuit could have costed him milions of dollars and up to six months in prison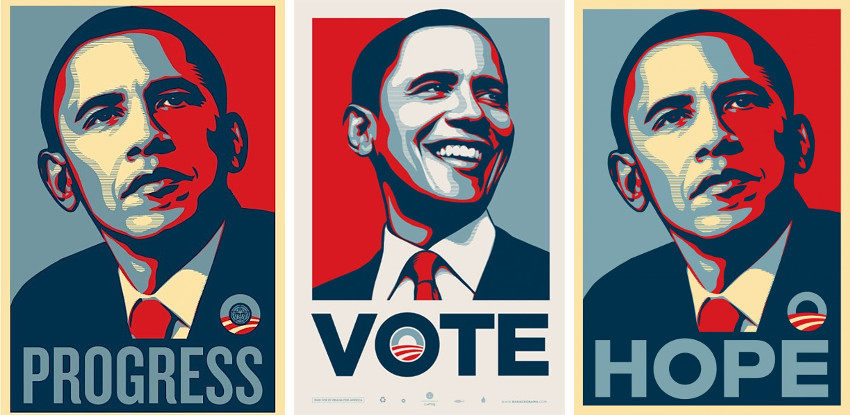 Admiring the Right People
Shepard Fairey, who himself is a member of the punk and skateboarding sub-culture, attributes his rebellious street art streak in part to this, as well as Soviet-era propaganda, 1960s-era psychedelic rock poster art and paintings from Works Progress Administration campaigns, all sources from which Fairey derives great inspiration. Another of his controversial works was a series of posters titled 'anti-war, anti-Bush' which he created in collaboration with artists Robbie Cond and Mear One in 2004. Images in this series include the former President, George Bush, hugging a bomb and another depicting George Bush as the devil. The Obama poster campaign, however, was a shift away from this. It did not hold that antagonistic streak reflected in these previous campaigns, but rather the Obama posters captured Fairey's own forward-looking and hopeful prospects for a new direction for the United States.
"I created the Obama image with a little bit of a different intention than a lot of other stuff that I make. It's not that I haven't put people who I admire on pedestals before, but they were usually people like the Black Panthers or the members of Black Sabbath .." He was asked by the heavy metal band to make promotional posters for their last tour symbolically called - The End.
Inspiration is drawn from the Soviet-era propaganda and 1960's psychodelic posters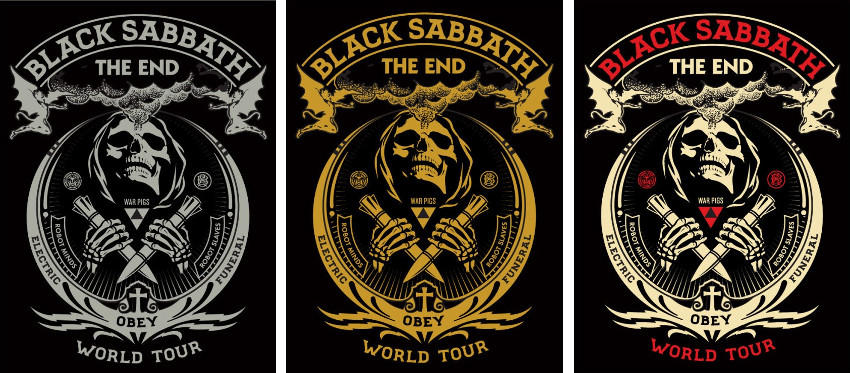 Exit through the Gift Shop: Controversy
Since the release of the film Exit Through The Gift Shop, there has been much speculation that the film and story of Mr. Brainwash are a hoax concocted by Banksy and Shepard Fairey themselves. It is a story of Thierry Guetta, a French immigrant in Los Angeles, and his obsession with street art. The film charts Guetta's constant documenting of his every waking moment on film, from a chance encounter with his cousin, the artist Invader, to his introduction to a host of street artists with a focus on Fairey and Banksy, whose anonymity is preserved by obscuring his face and altering his voice, to Guetta's eventual fame as a street artist himself. It was thanks to Fairey, that Guetta gains access to street art's most elusive genius, Banksy, who agrees to have Guetta tag along on some of his operations, such as the kidnapping and brutal murder of a London phone booth, as long as we never see Banksy's face.
However, according to a recent interview with artist Ron English, who's perhaps best known for his portrait of a rotund Ronald McDonald, the film was entirely real. English claims that the film started out as a lawsuit against Thierry Guetta, the enthusiastic street artist wannabe who follows the renowned Shepard Fairey and Banksy through the first half of the film before the doc turns the cameras on Guetta's longing to be a vapid, mass-produced, faux street artist named Mr. Brainwash.
Here's what English has to say:
"Here's what actually happened: when we first met Thierry, he was supposed to be making a movie about Shepard. He was filming Shepard all the time, wherever he went. They made a deal, 50/50, we'll make a movie. They shot for five years doing this, Shepard in his Spiderman prime, leaping off buildings and stuff. At the end of five years, Shepard says 'Alright, let's put the movie together,' and Thierry said 'I'm not giving you the footage.' He's actually quite smart and can be a little devious -- he figured 'I just took away five years of your fame,' because in his heart, Thierry always wanted to be the artist. He figured he was messing up his competition, in a way, and holding onto valuable footage. Shepard didn't quite know what to do and filed a lawsuit against Thierry.
Then Banksy figured 'I'm in the same situation, he has tons of footage for me.' He had some of the only footage of Banksy where you could actually see who he was. So he calls up Thierry and said 'I'm sending you a first-class ticket to London, get on the plane, I have to talk to you.' That's when he told Thierry that he would make a movie about him instead, in exchange for the footage, which Thierry turned over to Banksy. That's when they realized that the footage wasn't nearly what they thought it might be, but it turns out they did get a different sort of treasure trove, because you've got a portrait of this weird guy, Thierry."
So Banksy and Fairey thought Guetta was going to ruin them on film, but then Banksy turned the cameras on Guetta to create a rousing critique of modern art? Sounds like a fair trade, and another intriguing twist in this already engaging story.
There was a lot of controversy around The exit through the gift shop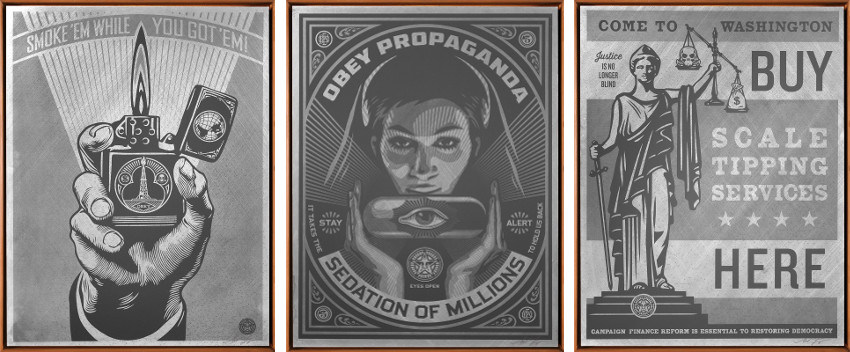 The Simpsons
Simpsons' season 23, episode 15 is titled, "Exit Through The Kwik-E-Mart," a play on fellow street artist Banksy's 2010 documentary, "Exit Through the Gift Shop." In "Exit Through The Kwik-E-Mart," Bart acts as a graffiti artist, plastering Homer's image all over Springfield -- that is, until Bart and Millhouse get caught... Shepard Fairey, Ron English, Kenny Scharf and Robbie Conal lent their voices to the episode. In a statement on Fairey's website, the artist writes, "Part of being on 'The Simpsons,' is you're being honored as a reference point in culture." He later states that "The Simpsons" has been one of his favorite shows for the last twenty years.
The Simpsons are one of the artist's favorite shows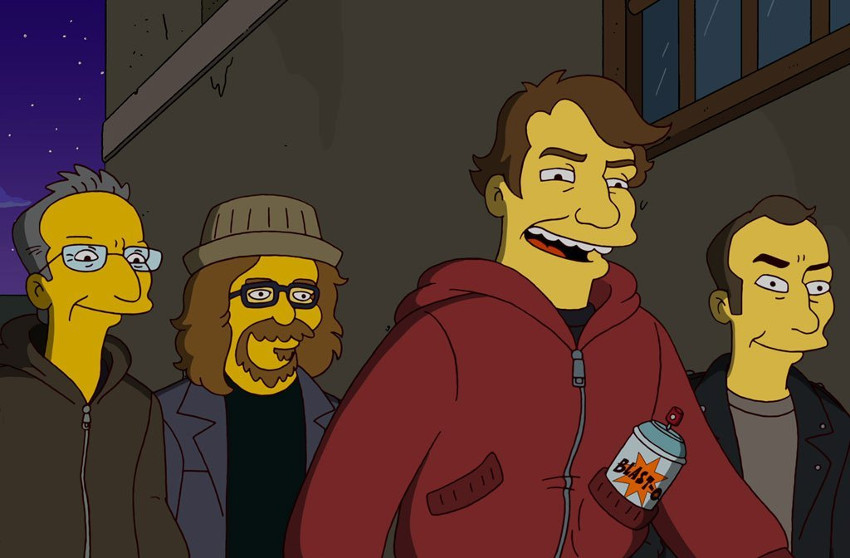 DJ Diabetic and Emcee Insulin
In addition to his successful graphic design career, Fairey also DJs at many clubs under the name DJ Diabetic and Emcee Insulin. Shepard Fairey's artwork for the exhibition titled 50 Shades of Black is inspired by the 12-inch record cover format. Since 2006, Fairey, a DJ and music enthusiast has continuously created artwork with the record cover template in mind. 50 Shades of Black featured 50 Hand Painted Multiples (HPMs) and a box set with screen print editions of each of the 50 new album cover designs. A record store installation with customized vintage turntables and a portion of the artist's own record collection will also be on view. Viewers can participate in the exhibition by selecting records from Fairey's collection and playing them on the provided record players.
He is also a successful DJ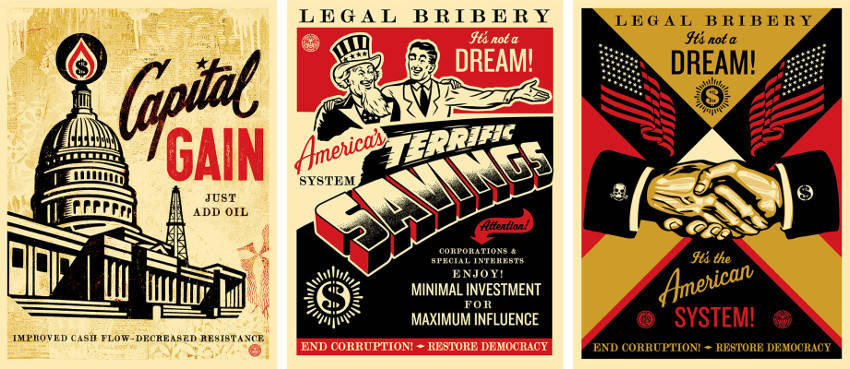 Fairey and Justin Peck: Heartscape
Among his most notable projects, Fairey's recent collaboration with Justin Peck, one of the country's most sought-after ballet choreographers, really stand out. Their first collaboration happened in the spring of 2015 in Miami, where Fairey's art is the backdrop for a new ballet called "Heatscape." Peck explains that he was inspired by Fairey's murals in Miami's Wynwood arts district, part of a permanent street art exhibit called "Wynwood Walls." With a collaboration between Peck, the young resident choreographer of New York City Ballet who is the hottest new talent in classical dance, and famed street artist Shepard Fairey - Heatscape is one of the most high-profile premieres in MCB's history.
Heatscape is one of the most high-profile premieres in MCB's history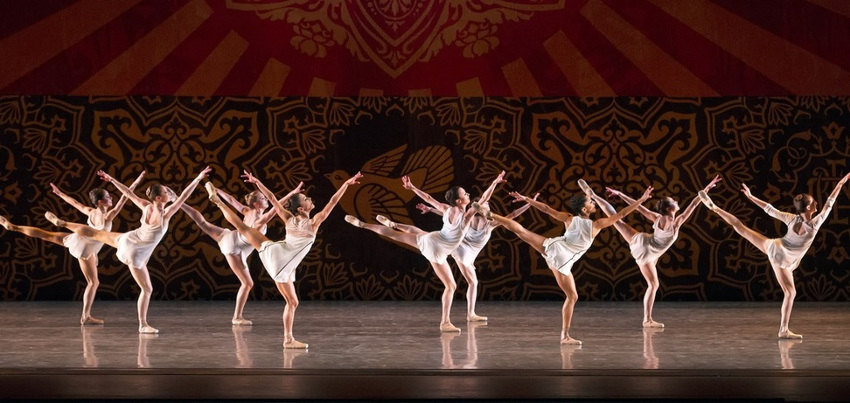 Streets of New York, Detroit, Jersey City - Fairey Owns Them All
The true nature of street art lies in its unpredictability. You can't always get an explicit permission to do your thing on the walls. And for Fairey, it's all about giving his art to the people, disregarding the obstacles. The fact they liked what they saw pushed his career. And yet, due to the lack of the permissions, the artist got arrested more than a dozen times and even faced felony charges in Detroit. Still, he owns the streets, roaming them in pursuit of a new perfect place to paint. This kind of persistence has made him one of the most famous artists in the contemporary world.
He is represented by Vertical Gallery, Merry Karnowsky, Hang-Up Gallery, Pop Fine Art, iDroom, Ministry of Walls, Artsuggest.com, We Art Partners and Magda Danysz.
Shepard Fairey lives and works in Los Angeles.
All images, including the featured – copyright Shepard Fairey.