Shozo Shimamoto was a Japanese artist, a co-founder of Gutai group and one of the most daring and independent experimentalists of the postwar. Born in Osaka, Japan in 1928, Shozo Shimamoto attended Kansui Gakuin University and graduated in 1950. The artist is best-known for his contributions to the influential Gutai Art Group and the development of the mail art movement. Gutai was the first radical, post-war artistic group in Japan, created around the idea of a relationship between body and matter in pursuit of originality. The group was involved in large-scale multimedia environments, performances, and theatrical events.
Shozo Shimamoto at the 2nd Gutai Art Exhibition, in 1958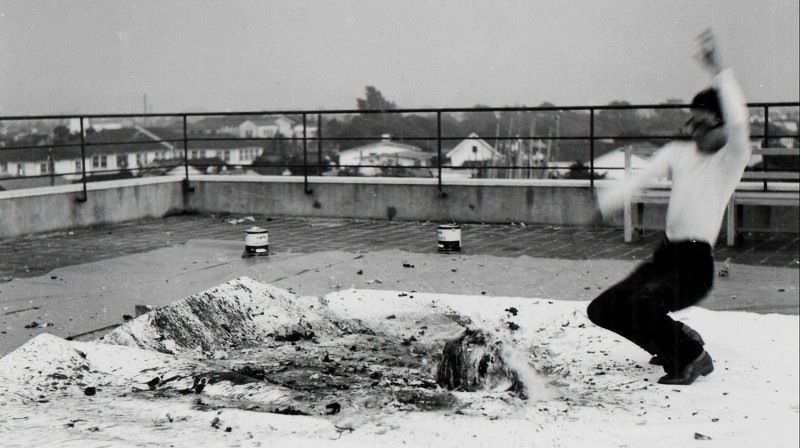 As a founding member of the Gutai movement, Shimamoto's action-based painting style was seen as the Eastern, independently born reaction to important art movements in the post-war art scene in the United States, most famous of them being Jackson Pollock's Abstract Expressionism. Shimamoto's art is mainly ruled by the artist's actions, gesture and chance. As an example of his work, Shozo Shimamoto's Bottle Crash performances consisted of the artist smashing glass bottles full of paint against a ground of canvas to create a pulsating field of color.
Bottle Crash, 1999 (blue)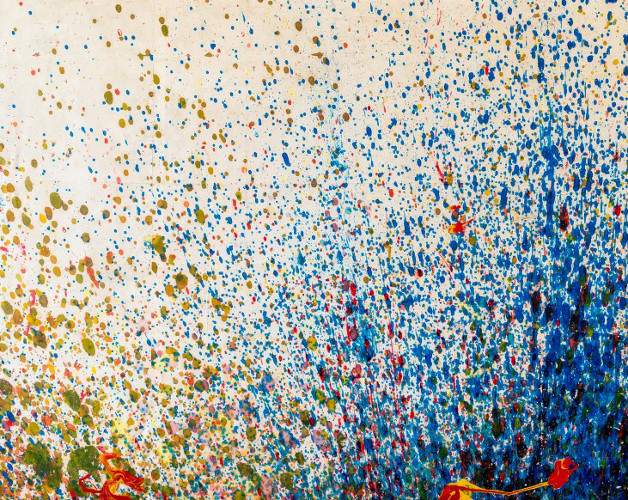 Shimamoto's artworks are in a collection of several prominent art venues and museums, such as Tate Modern, London, Ca' Pesaro International Gallery of Modern Art, Venice, National Museum of Modern Art of Rome and Art Center of Milan in Italy, Mail Art Museum, Switzerland, Paris Gallery in France, and Tokyo Contemporary Art Museum and Osaka Contemporary Art Museum in Japan.
Art of Shozo Shimamoto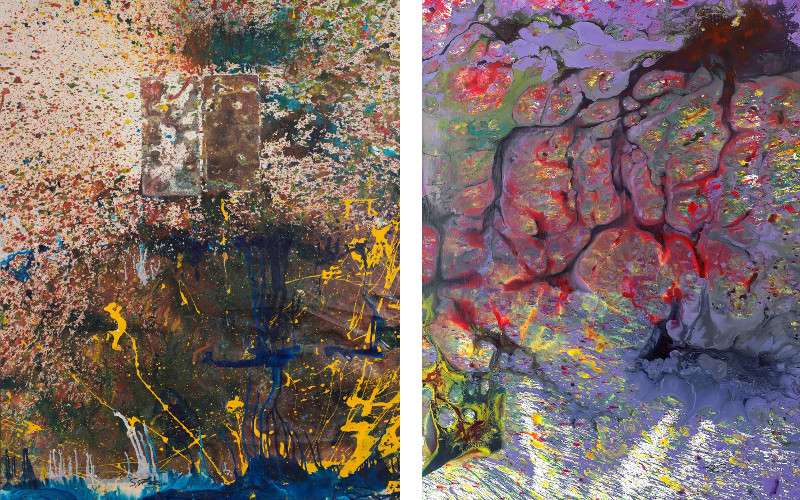 The artist's oeuvre has been featured in a number of important exhibitions dedicated to Gutai, including at the Solomon R. Guggenheim Museum in New York, MOCA – Museum of Contemporary Art in Los Angeles and the Jeu de Paume in Paris. In 1996, as a recognition of his important pacifist activities, Shimamoto was nominated for the Nobel Peace Prize.
Shozo Shimamoto died in 2013 in his hometown Osaka, aged 85.
Images copyright © the artist