Sickboy is a street artist from Bristol, UK, known for his temple logo and his 'Save the Youth' slogan. It is claimed Sickboy was one of the first UK graffiti artists to use a logo instead of a 'tag'.
Sickboy: Fine Art and Tagging with Logo
Sickboy originally trained in fine art and, as well as painting graffiti on the street, he also paints on canvas and exhibits conventionally in art galleries. He has been painting street art since circa 1995. In recent years Sickboy has become known for painting his 'temple' logo on wheelie bins, which can then be worth up to £50,000.
He emerged from Bristol infamous graffiti scene and his work has cemented his place in the upper echelons of the British street art movement. His temples, slogans and audacious stunts – including the caged heart installation dropped outside the Tate modern in 2008 – have landed him global recognition. Sickboy's work continues to evolve and he's always pushing things forward.
Graffiti influenced his life from an early age and vice versa. Sickboy left a remarkable impact on the scene by inventing an entirely new way of tagging.
Instead of lettering, he used a pictorial logo, an emblem, for his tag. The logo in question is a red and yellow emblem named "The Temple" and can be glimpsed on walls and wheelie bins worldwide. However, Sickboy has always painted on canvas alongside graffiti. Originally trained in Fine Arts, he's been exploring and pushing his work through a broad spectrum of sources side by side with his street ventures. Sickboy's peculiar paintings, characterized by cartoonish style and vivid colors, are filled with humorous characters and funny situations that spread all over the canvas leading or misleading the viewer's eye from one story to the other. He is a peerless storyteller with playful visual language and one of the artists with whom we are proud to collaborate.
"I've been exploring and pushing my figurative and landscape work through a broad spectrum of sources such as renaissance masterpieces to surrealist art. I wanted to represent my version of heaven and earth. I'm not religious, but at the same time, I'm fascinated by religion and its effect on art over the years."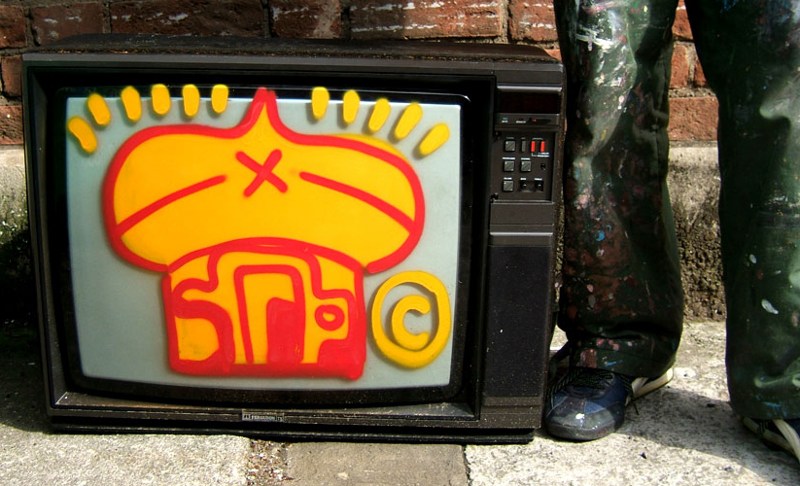 Sickboy in Exit Through The Gift Shop
Sickboy has built up one of the largest bodies of street art works and he has been labeled as one of the movement's most bankable artists. But, he wouldn't call himself professional graffiti artist even though his humorous and subversive street exploits have firmly placed him in the upper echelons of the British street art movement. Appearances in Banksy's Oscar-nominated Exit Through The Gift Shop and 2008's Stay Free installation outside the Tate Modern have earned him global recognition.
Sickboy, Make It Last Forever
Sickboy moved to London in 2007 and his street art became prevalent particularly in the East End boroughs of Shoreditch and Tower Hamlets. In a 2011 article, The Guardian newspaper asked five international street artists to name their favorite artist; Sickboy was one of those interviewed. He named Spanish street artist La Mano as a major influence:
"At the time, graffiti was mainly seen as letter-based, but [Le Mano] just used a logo and repeated it… I'd never been a big fan of stencil work, which is where a lot of people think graffiti crosses over into more acceptable street art. La Mano stuck more closely to the graffiti aspect, which I try to adhere to now. I like the freehand, grab-a-tin-of-spray-paint approach".
This UK street art pioneer made his first London gallery appearance in the summer of 2014 with Make It Last Forever, a multi-disciplinary exhibition designed specifically for The Outsiders London. Make It Last Forever celebrates a poignant embodiment of the artist's inspirations and creative endeavors to date, and provides a unique multimedia diary that seeks to outlive its creator. Sickboy's playful visual language will reappear in several guises throughout the show, including his iconic temple shrines, ever-popular superman sculpture and distinctive Sickboy coffin. Utilizing a variety of mediums across both floors of the gallery the new body of work provides an unconventional narrative in the form of abstract large-scale canvases, sculpture and interactive installation.
Successfully transposing his controversial and subversive street exploits into the gallery environment, Sickboy seeks to highlight our transient and fragile existence by asking how we can Make It Last Forever.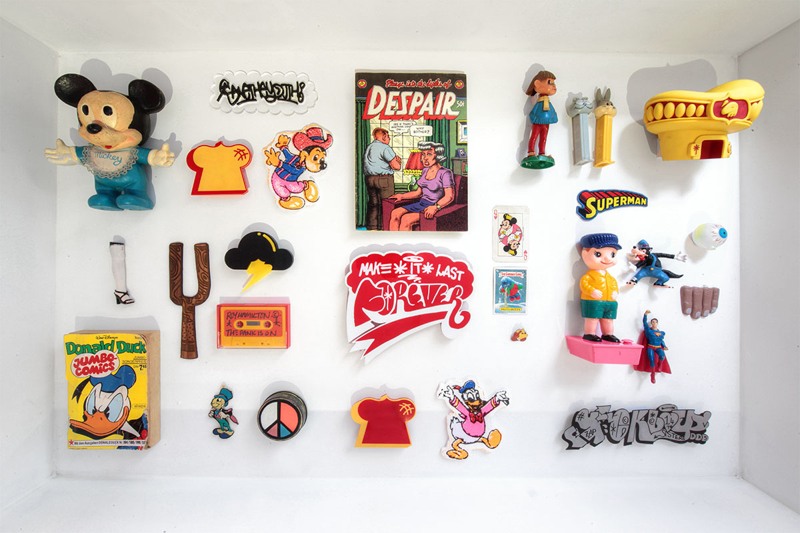 Sickboy's work
Sickboy's work has been featured in countless graffiti books, documentary films and in global and national TV, newspapers and magazines including BBC London news, The Financial times, The Independent, I-D, and many more.
Sickboy is currently based between his London and Barcelona studios, exhibiting and curating across international art fairs and self-funded projects worldwide. The artist's current practice includes interactive installation, abstract narrative painting, film and light sculpture, audience participation and public intervention.
Sickboy currently lives between Barcelona and London.