Silio Durt is a Belgium artist, known for deconstructing reality in his canvases and drawings. He exploits empty space and the absence of lines, and thus represents viewers clear and direct pictures. Unrehearsed style and technique really reflect artistic visual sensations, presented through joyful, wise, and well-balanced images. His life, as well as his artworks, can be described as intensive. A vast number of shapes and textures implemented on his paintings and silkscreens are permeated with violence and destruction. Regardless of the use of pen, colored pencil or acrylic, Silio's art creates a certain sense of mockery against popular culture.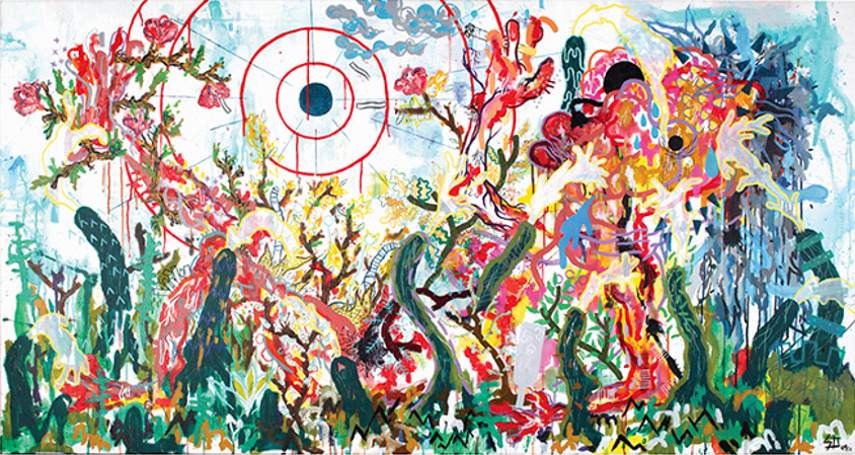 Durt's Path Towards Paintings
Silio Durt was born in 1985 in Brussels. He discovered his interest in art, while he was a young child. Before going to the college the artist used to draw a lot, but at a certain point, he made a break. In 2003 being inspired by Kubrick and Lynch films, he started studying video at the Ecole de Recherche Graphique. As someone who loves art house cinema, Durt's first idea was to make movies, but changing of departments at the faculty progressively led him to drawings. After completing courses in illustration and drawing, in 2007 Silio took a one year course on paintings, and his journey in the world of art could begin. The artist admits that his early pieces were mostly drawings and illustrations, but when he saw works of the painter Serge Vandercam, a member of the CoBra group, his imagination and creativity turned completely wild. The additional contribution to the creation of his direction has underground graphic culture, the research of the post-war, music, books, and literature.
As someone who loves art house cinema, Durt's first idea was to make movies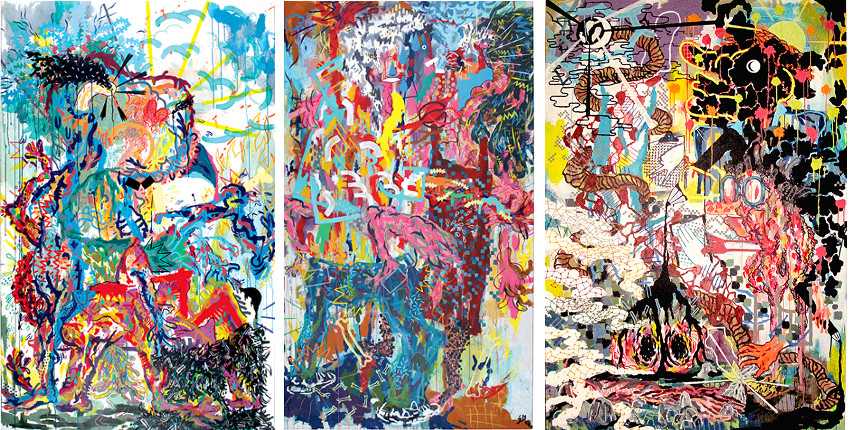 Silio's Never-Ending Aggression
Durt's focus is on the contradictions and ambivalences one piece can have. Silio has no problem with the description of his work as childlike and morbid at the same time. There is no single style that can classify his final products, rather they are a mix of sensations Durt feels at the moment. His project called Bordelisme represents an organized mess that emphasizes the philosophy of muscles and chaos, through the critique of the everyday world. Silio Durt intently and skillfully shows the reality as it is, with all the horrible things human do. Without any sketches and plans the author combines violence and aesthetic, flashy colors and extreme splashing, movement, and spontaneity with precision, and ends up with a multi-layered coherent image, which becomes part of the Joyful Mongol Movement.
Silio Durt intently and skillfully shows the reality as it is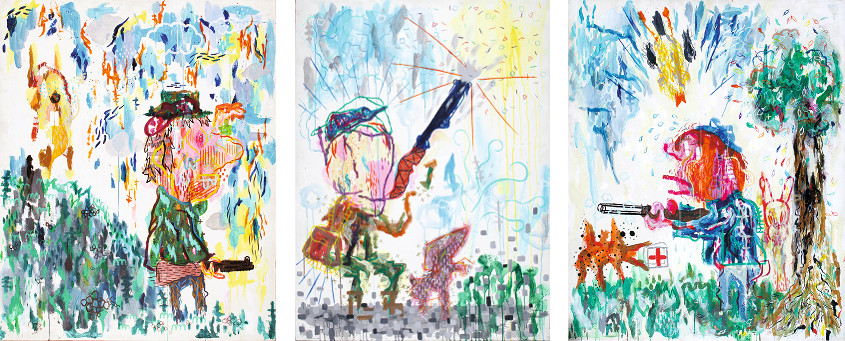 Workshops and Exhibitions
Silio is also involved in his own publishing house Buyuk Yumruk, named after a Turkish film, which means the hardest punch. Durt's artwork has been exhibited in many galleries and cities around the world. In 2014 he was a part of a group exhibition called Les Enfants Terribles at the Gallery Guillaume Daeppen in Basel. In 2010 he was awarded a special prize at the Mediatine Prize, and nominated for the Collignon Prize in 2011. Silio's artworks were displayed in Germany, England, Spain and the Netherlands.
The artist is represented by the Gallery Guillaume Daeppen in Basel.
Silio Durt lives and works in Brussels, Belgium.
Featured image: Silio Durt - Phantom of Industry (Detail), 2010
All images copyright of the artist