Simon Mathewson is a British artist whose practice is a unique combination of Op art and abstraction. This author predominantly paints abstract geometric designs in enamel/acrylic on driftwood. Interaction of colors, geometric forms, optical effects - all of these features are treated as primary in Simon's art. Interestingly, Mathewson's previous work includes video art, sound design, live music and animation. Although very different on both the conceptual and visual level when compared to his current work, Simon's initial experimentations with various media served him very well in forming the foundation of his abstract geometric designs on wood.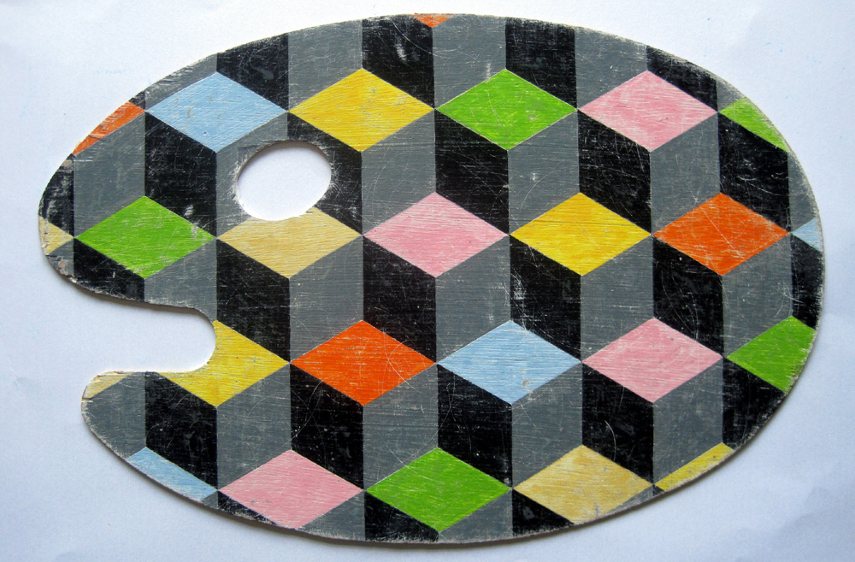 The Road to Mathewson's Field Technique
In the 1990s, Mathewson did a Foundation course at Bournemouth Art College and then studied Creative Arts at degree level in Manchester, specializing in visual art and video. During his studies, Simon became interested in color theory, exploring it through the writings of Bauhaus tutor Johannes Itten. Artists like Sol LeWitt, Paul Klee, Gerhard Richter and Henri Matisse have been a big influence as well as their use of color provided countless hours of exploration. Other initial influences were the work of the designer Anton Stankowski and Op art movement - however, Simon's constant inspiration came from the urban/natural environemnt and from seeing the abstract in the everyday.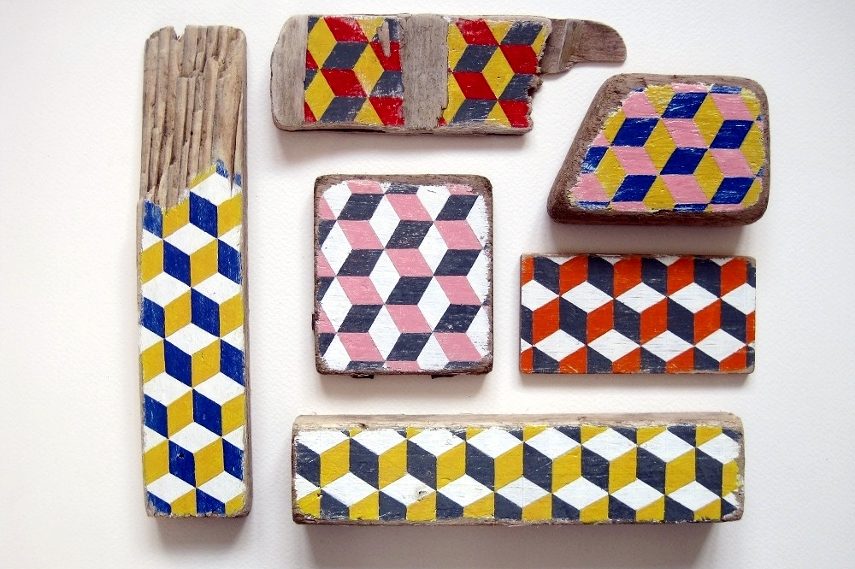 The Magic of His Colour Cubes
Mathewson mainly paints enamel on driftwood found on the Dorset coast that's near where the author lives and works. Through the use of bright colors and rigid geometry, Simon's work explores the transformation of the discarded into the decorative with the possibility that these paintings are fragments of larger designs. It took him a long time to find the appropriate style and for many years Mathewson was making work that was very derivative. It wasn't until he started painting and sanding rigid geometric forms on driftwood that he felt he was making something unique and that he was really getting some public interest. Simon's creative process starts with collecting driftwood and deciding which pieces to keep and which ones to discard. Once he gets them ready to paint, Mathewson goes through a decision-making process regarding shape and color and what would best compliment the piece of wood.
Simon Mathewson doesn't really tackle any particular theme with his art - he is simply interested in finding a balance with interlocking shapes and interacting colors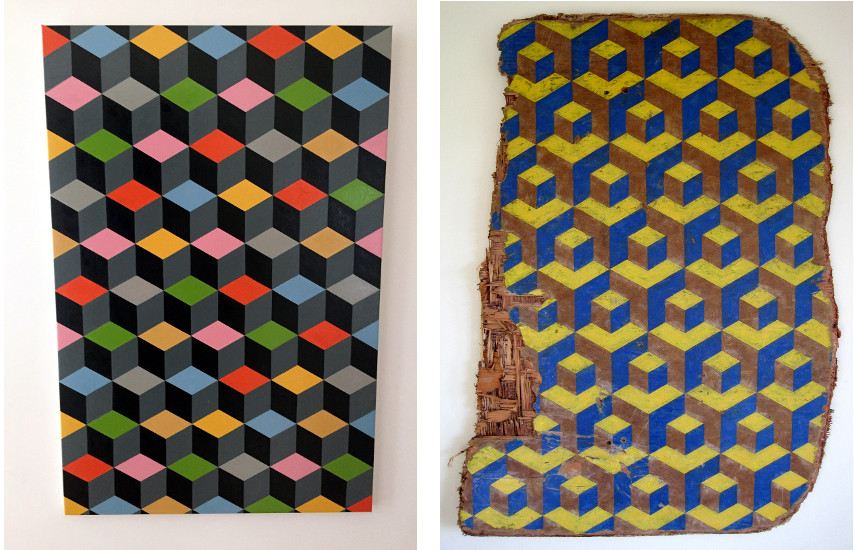 Another Step Forward for Simon Mathewson
So far the most important milestone of Simon's career has been getting a piece into the Royal Academy Summer Exhibition. Being recognized by such an institution in the art world makes you feel that you must be doing something right - however, Mathewson is far from done when it comes to developing his artistic vocabulary. He would like to expand his visuals to the streets by making a large scale mural and he would also like to secure a solo exhibition. Due to his devotion combined with Mathewson's intentions of communicating messages through responses, we see no reason why both of these goals should not be realized in the near future.
This artist is represented by NuArt Gallery.
Simon Mathewson lives and works in Bridport, Dorset, the United Kingdom.
Featured Image: Simon Mathewson - Photo of the artist - Image courtesy of Simon Mathewson
All images courtesy of the artist.