Simon Vega is a Salvadorian artist, known for his sculptures and installations made from various found objects. His pieces serve as a platform to reiterate the political and socio-cultural themes explored throughout his oeuvre. His body of work – which includes drawings, ephemeral sculptures and installations – are all inspired by the informal, self-made architecture and vendor carts found in the streets and marginal areas of his native El Salvador and Central America in global.
Simon Vega was born in 1972 in San Salvador, the capital of El Salvador. He attended graduate school in Madrid, and afterwards graduated with a BFA from University of Veracruz in Mexico, and got his Master´s degree in Contemporary Arts from the Complutense University in Madrid in 2006.
Growing up in El Salvador in the late 70s and early 80s, Simon Vega witnessed The Cold War in a period when both the U.S. and the Soviet Union were competing for influence in Central America, among the poverty-stricken nations. These early memories have greatly shaped the artist's view and approach to the world of contemporary art.
Vega's Drawings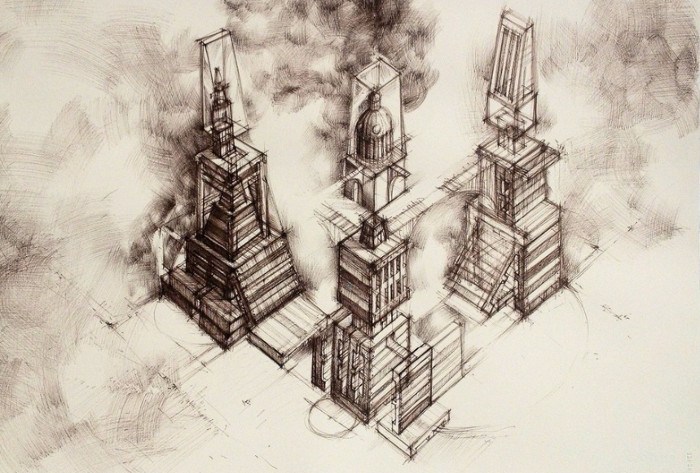 By using shipping crates, plastic, bottles, signs and old TVs, the artist creates sculptures that often parody famous Modernist and mythological buildings and cities, surveillance systems as well as high-tech robots and satellites developed by NASA and the Soviet Space Program during the Cold War.
Old Ideas for New Geo-Political Structures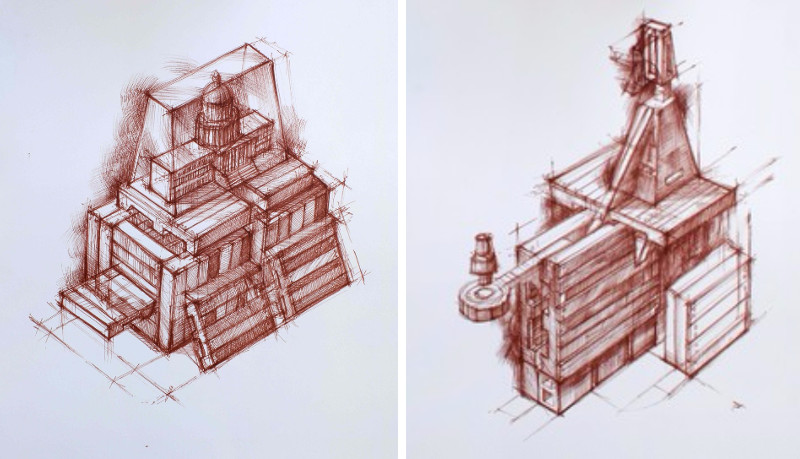 A great example of Vega's approach is seen in his installation at Socrates Sculpture Park in New York City. The piece, created in 2011 as a part of The S-Files exhibition, depicts a space module made of soda cans, discarded bottles and iron rods that has apparently crashed into the earth.
Sub Central A installation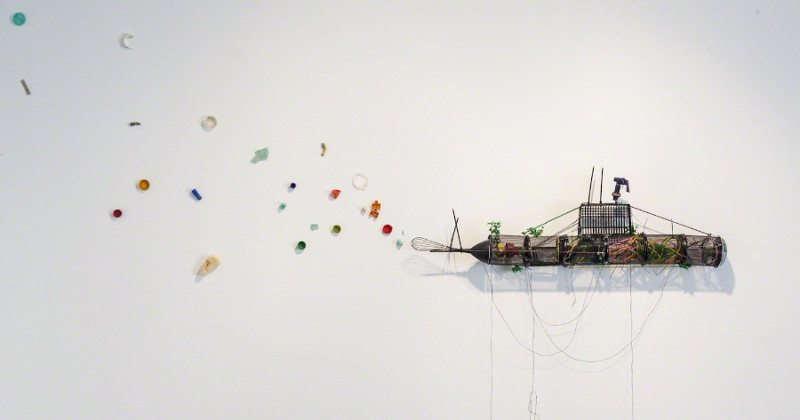 Simon Vega has exhibited his work throughout Europe, the United States and Latin America, including the 55th Venice Biennial in Italy and the IX Havana Biennial in Cuba. Vega's art is in a permanent collection of Perez Art Museum, in Miami, Florida.
Simon Vega lives and works in La Libertad, El Salvador.
All images copyright © the artist