Creating works of art as syntheses of ephemera she collects, multi-cultural contemporary artist Simryn Gill produces sculptures, photographs, drawings and writing. Since her birth in 1959 in Singapore, Gill has frequently changed her place of residence, having lived in Malaysia, India, the United Kingdom, and Australia. This mix of cultures has invariably influenced her work, in spite of her objections to being regarded through the prism of nationality or race.[1] Like herself, Gill's art defies classification, its meaning often elusive and found somewhere in between the lines, posing more questions than giving answers. One of the recurring topics in her art is indigenous culture in comparison to western civilization, as can be seen in her pieces combining chili peppers (which she grows herself), representing native South American peoples, together with fine cutlery, that stands for the aristocratic way of life.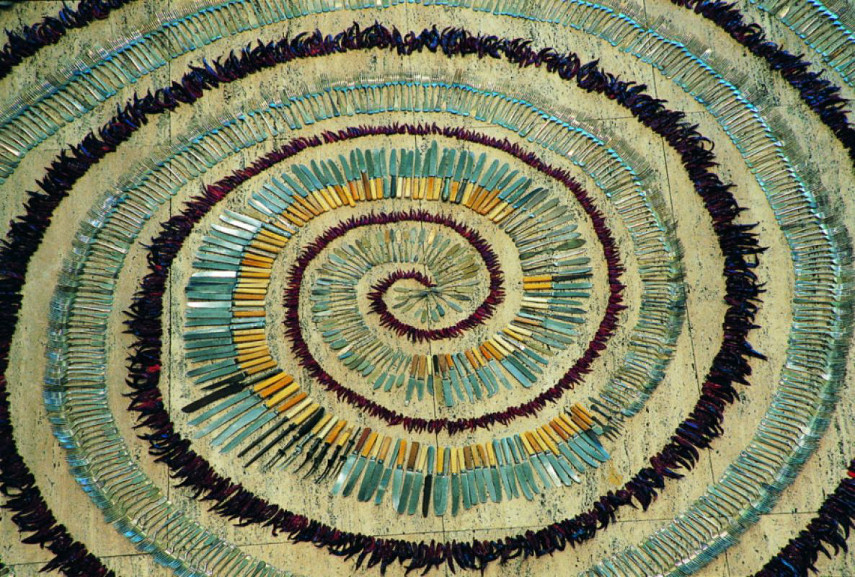 Finding Place and Making Sense of the World
Always resourceful, Gill proves the old maxim "one man's junk is another man's treasure". Any castaway belongings, wrappers, papers, plastic bits, etc. can find their place in one of her works of art. An avid collector of trinkets and fleeting objects she finds on the streets, Gill produces artwork that evoke feelings of a moment just about to be over, a sense of uncertainty and not fitting in. Simryn herself is quite familiar with this emotion, having spent most of her life in different locations, always facing a never settling question of identity in a modern, post-colonial Pacific Asia. Photographs from her collection entitled A Small Town at the Turn of the Century (2000) can be seen displaying tropical fruits in the place of people's heads, commenting on the fact that identities are imposed upon people through setting and visual appearance. By equating Malaysian people with tropical fruit Gill's photographs suggest that – even at the turn of the millennium – stereotypical associations with "the tropics" and Asia are still at play.[2]
Simryn uses images of fruitheads to challenge stereotypes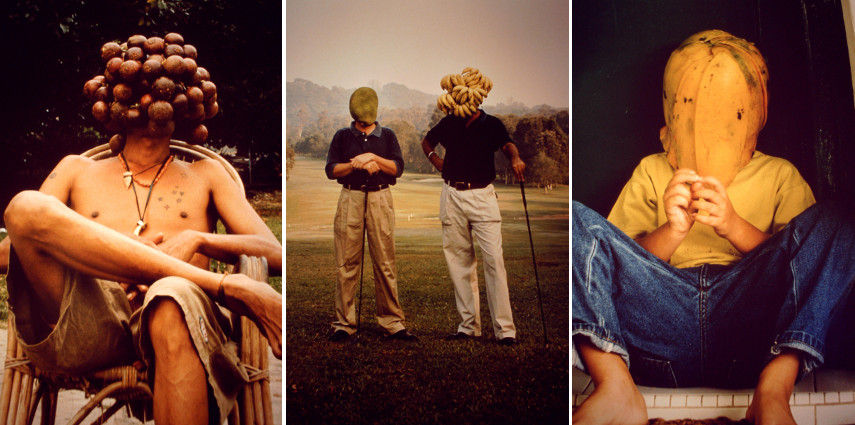 Representing Australia at the Venice Biennale 2013
Australia's pavilion at the 55th Venice Biennale hosted Simryn Gill's exhibition titled Here Art Grows on Trees. Having been critical of her adopted country's political standpoints on the question of refugees, this Singapore-born artist of Punjabi ancestry appreciated the irony of her representing Australia. Her exhibition featured four works: Let go, Lets go, a series of collages of text she recovered from found books; Eyes and Storms, birds-eye-view photographs of mines across Australia; Half Moon Shine, a large bowl; and Naught, a collection of found objects in the shape of zeros, hung from nails and strings on the wall. Not disclosing the entire depth of connections that could be made between these elements, Gill hinted at the recurrence of a circular "O" shape in all four: "O" shaped items, the bowl forming an "O" and the great holes in the earth she photographed from the air.[3]
Simryn's work has been on display in many a museum and gallery, always varying in message and medium, her images provoking a plentitude of emotions. For example, her 2012 exhibition Full Moon is a disassembly and re-sequencing of books from her grandfather's collection, the pages of which have been inscribed with circular designs in ink, gouache, grass pigment, laundry detergent, and correction fluid, whereas her new exhibition Sweet Chariot (2016) is a series of large black and white photographs portraying the Strait of Malacca, taken from a fishing boat.
Simryn Gill lives and works in Sydney, Australia and Port Dickson, Malaysia
References:
and 3. Kitty Hauser (2013), Artists Simryn Gill becomes Australia's accidental ambassador at Venice Biennale, The Australian [May 25, 2013]
Tate Modern: Display (2016), Simryn Gill, Tate
Symrin Gill - Portrait, photo via dasplatforms.com