Skeme, also known as 3 Yard King, is an American graffiti artist, known for All City, a group of graffiti pieces painted on many trains of the New York subway system.
Born in 1964 in Bronx, NYC, Skeme lived there for five years, before moving to Manhattan with his family. Surrounded by numerous graffiti pieces and murals as a teenager, Skeme began soaking the New York art in. He did his first graffiti in 1978. However, he painted his first train in 1980. Since then, the artist had begun "marking" the train lines one by one. This ultimately resulted in his pieces traveling through all five boroughs of New York City, or All City, as it became known. Only a handful of artists have managed to pull off this feat. One of the things Skeme is known for as well is bombing, a sort of interior writing where he employs his signature refined style – the style that has become one of the most significant in the world of graffiti art.
Skeme's Subway Art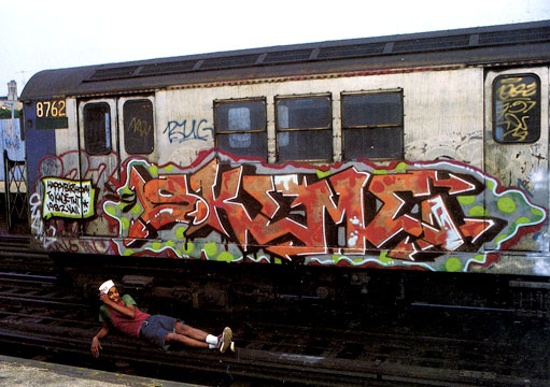 For a short period of time, Skeme had made over a hundred different graffiti pieces. When only 16, the artist became known as "the king" of lines 1 and 3, as his pieces adorned the majority of trains on those two lines. At the same age, his works could go side by side with some of the most prominent graffiti giants of the time, such as Daze, Kool 131, Chain 3, and Phase 2, to name a few. He was also a part of many well-known groups like TMT (Ten Million Tags), INDS (Independents), 3YB and TDS.
Works on Paper by Skeme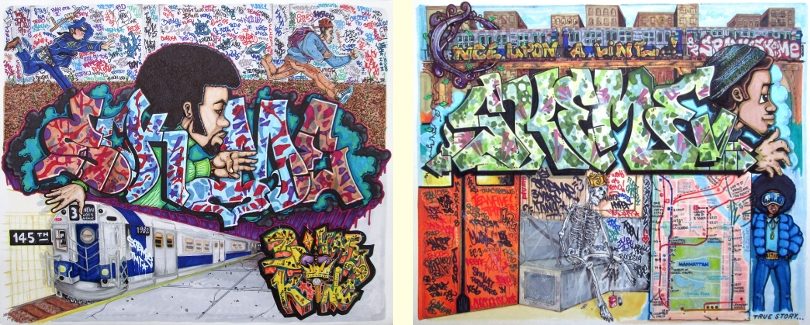 Skeme came into prominence when he appeared in a documentary film titled Style Wars, a film about Hip Hop and Graffiti culture. In the movie, he talked about his beginnings, and the invitation he received from Phase 2 to paint a wagon (the wagon was subsequently titled Tuff City). Phase's invitation turned out to be a pivotal moment in Skeme's career. However, the artist's mother wasn't particularly fond of Skeme's artistic endeavors, as she was afraid that he would succumb to the "bad influence" of New York. She pressured him to give up on graffiti and join the military when he was only 17. Skeme was enlisted in 1982, and for 28 years he served in various parts of the world. When he returned to the US in 2010, he was taken aback by the still popular and ever-developing graffiti art. He continued to produce his pieces, as he does to this day. Now, his paintings and graffiti are heavily influenced by Marvel Comics.
Pulp Fiction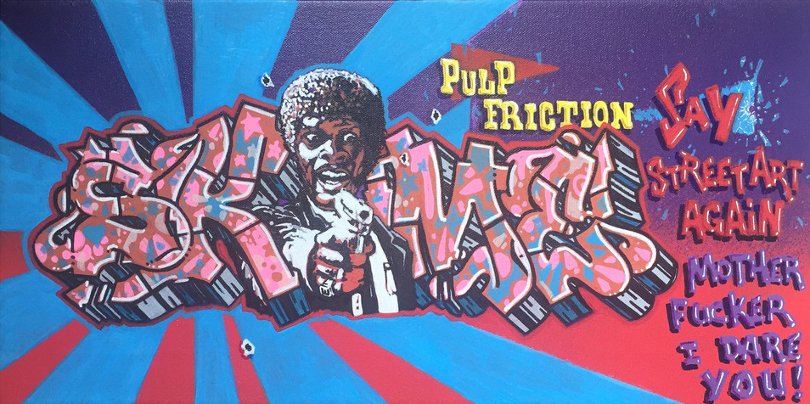 Skeme is represented by Galleria Varsi in Rome, Italy.
All images courtesy of the artist and Galleria Varsi.