Louis de Villiers, better known as Skullboy, is a South African multidisciplinary artist and designer currently based in New York City. He works almost exclusively in black, white, gold and grey, dealing with themes of religion, sex, drugs, and rock 'n roll that he tackles with a highly distinctive style, bold imagery and humor. The interplay between order and chaos, simplicity and complexity, decay and renewal, characterizes his eye-catching, well-crafted and visually interesting pieces. Along with Mathew Kieser of Sol-Sol, he is also a man behind FRIENDS on Occasion, an ongoing series of men's lifestyle publications.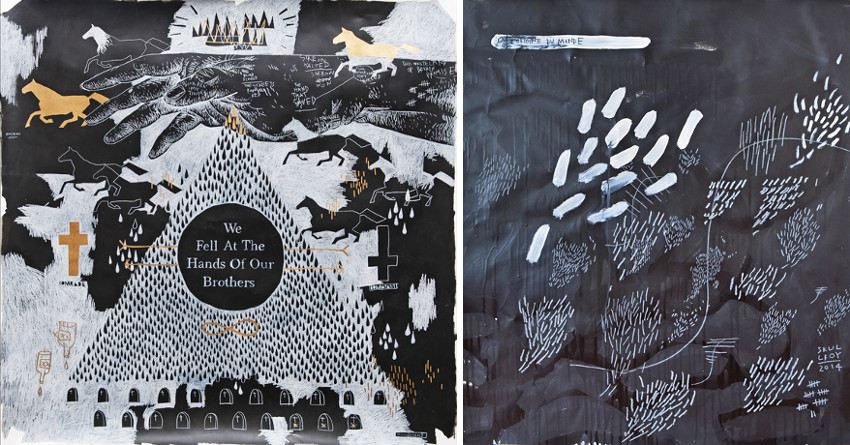 The Art of Skullboy
Born and raised in Durban, Skullboy originally became known in South Africa's third-largest city for the street art he was making in the mid-2000s. While the artist's earlier subject matter focused on youth and night culture, which is still one of the key themes of his current work, the voice has grown up over the years, so today he also addresses some delicate social, political or religious themes. Skullboy's debut one-man show You & Me in 2012 at Kwazulu-Natal Society of Arts, Durban, included one hundred pieces depicting the victories and tragedies of how an anonymous group of people came to lose their virginities. For his second solo show A Sum of Parts at Gallery 415, one year later, he presented a new body of work composed of paintings, sketches, sculptures, photographs, and collaborations. In 2015, Yung Metamoderni$m, his latest solo exhibition at Space Between in Cape Town was the culmination of a month's long residency at the gallery's studio. For this occasion, the artist brought light to issues such as immigration, violence, xenophobia and the influence of modern technology on young generations.
Skullboy works in a wide range of media including paintings, sketches, sculptures, photographs and murals
'Basquiat' Inspired Work
Although many describe his works as 'Basquiat' inspired, Skullboy creates pieces based on his own experience, ideas and thoughts. He fuses them together to get some sort of response from the viewer, hoping that they can relate to what he is thinking of and exploring. Amongst creating amazing artworks, Skullboy has been collaborating with Mathew Kieser of Sol-Sol to co-edit and direct a 'zine called FRIENDS. The first issue of the publication was launched in February 2015 in Cape Town, Durban and Johannesburg. It featured a series of interviews and work by prominent figures in culture and industry from Durban, Cape Town, Hong Kong, Johannesburg, New York and Seoul.
The artist is represented by Kalashnikovv Gallery.
Skullboy is currently based in New York.
Featured image: Skullboy - portrait
All images credits of the artist