No matter who we are or what we do in our lives – we can all relate to the term Good Times. We have all experienced it at some point (some more, some less). Slim Aarons was an American photographer widely famous for capturing these moments. After the World War II, where he served as a photojournalist and witnessed the horrors and atrocities, he vowed to shift his focus towards taking pictures of celebrities as they were having a good time. A unique phenomenon at the time, Aarons was praised by both the jet-set, whose trust he had gained through his charm and artistic skills, and by the ordinary people, simply dying to read about those famous people, and more importantly, see them at their best. The photographer provided a window into the world of movie stars, European aristocracy, the grande dames of high society, captains of industry, media moguls, statesmen and stars of every sort.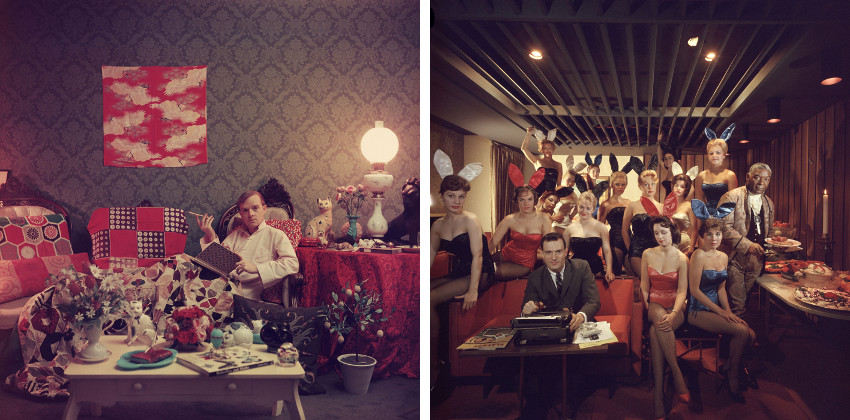 Slim Aarons – From War to Glamour
Born on a farm in New Hampshire, Aarons's childhood remains a blur up to this day. Raised by grandparents, he never met his parents and refused to talk about it on numerous occasions, stating he was a simple farm boy. And like all New Hampshire farm boys in early '40s who wanted to see the world, he also enlisted in the US Army, talking his was into a job as a hypo dipper, the boy who dunks the developing prints in chemicals - the lowest level in photography. Soon thereafter he became a photographer at West Point, a prestigious military academy, shooting military maneuvers. When the war broke out, Aarons worked his magic on movie director Frank Capra, who had been making a movie for the war effort, and who had come to West Point looking for people to work overseas on Yank, the weekly spin-off of the military newspaper The Stars and Stripes.[1] Upon arrival to Europe, he was issued a Speed Graphic, a camera that required the insertion and removal of plates, but Aarons quickly ditched it, saying it was unsuitable for war conditions. Instead, he used a small Leica to photograph the fighting. He recorded the brutal fighting at Monte Cassino, where, under mortar fire, he lost bowel control. Not all was completely black, and he met George Silk and Carl Mydans, photographers who were taking pictures for Life, the magazine he had revered as a teenager. The trio stayed together throughout the whole campaign in Italy. All of them, scared to death, witnessed some gruesome and gore scenes, and Aarons actually saved Mydans's life by frantically telling him to retreat from some German gunners. Slim Aarons was wounded during the invasion of Anzio, and because of this, he was given a Purple Heart. In the end, as a normal human being, he grew tired of witnessing carnage and despair that culminated in the form of a concentration camp. After everything, he thought to himself: "I felt I owed myself some easy, luxurious living to make up for the years I had spent sleeping on the ground in the mud, being shot at and bombed."[2]
After wartime experiences, he shifted his focus towards the luxury themes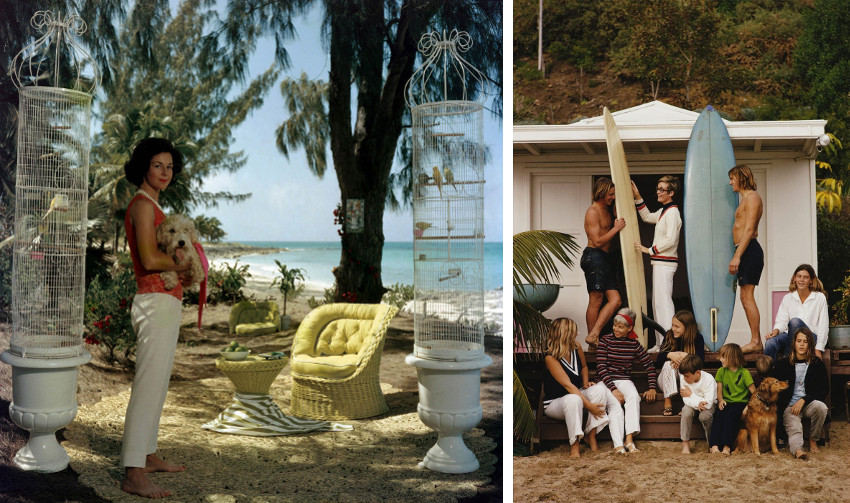 Viewing the Good Times in Every Single Photograph
The '50s were the time when princes, polo players, and a certain class of performers began bouncing between places like Monaco and Marbella, enjoying the possibilities at their disposal to the fullest. Journalists like Noël Coward and Truman Capote used words to record this rarefied universe, but it was Slim Aarons and his photos that allowed the lesser beings to marvel at the glorious comings and goings of their icons. Magazines like Harper's Bazaar, Life, Holiday, and Town & Country regularly published his works, and considering the subjects captured, all of the photography exuded prestige, glamour, money, and Good Life. There was the picture of the 10th Duke of Marlborough and his wife Mary on a garden bench at his ancestral home, Blenheim Palace — he reading The Times of London, she embroidering the ancestral crest. Or the Hearst family at home in taffeta and black tie. He photographed the grand dames Babe Paley, Gloria Guinness and most famously C. Z. Guest, as she held the arm of her 5-year-old son in front of a temple to the goddess Diana at her family's Palm Beach. Slim Aarons shot Man Ray at this studio in Paris, Joan Collins in bed with her pink poodle and Mick Jagger and Marianne Faithfull at an Irish mansion. His motto was simple: "Attractive people doing attractive things in attractive places."[3]
His photography oeuvre contains many memorable scenes, but the one that stands out is Kings of Hollywood, taken in 1957 at Romanoff's New Year's Eve Party in Beverley Hills, California. It depicts four icons, Clarke Gable, Gary Cooper, Jimmy Stewart, and Van Heflin, all laughing. Suitably, the crown of his photography depicts the kings of Hollywood in all of their charm. There's a funny story related to this iconic piece, which took place in Italy, where Gable was shooting his film It Started in Naples. Aarons was on the set, taking pictures, and Gable, having realized he's in need of a tall cameo actor, suggested that Aarons, six feet four, take the role. The photographer accepted, but couldn't properly say his two lines. After numerous takes, Gable left aggravated, and in the end, dubbed those lines himself. Slim Aarons thought his relationship with the actor was beyond saving but was relieved later that year to be on hand to shoot what was going to become his most famous work. Obviously, Slim's antics in front of the camera, as opposed to his undoubted ability behind it, was the source of much mirth among Hollywood's finest. At that point, Slim knew he had not only retained Gable's friendship but in the process had taken an iconic image with which he would later become synonymous.[4]
Slim Aarons photographed some of the most biggest stars in the world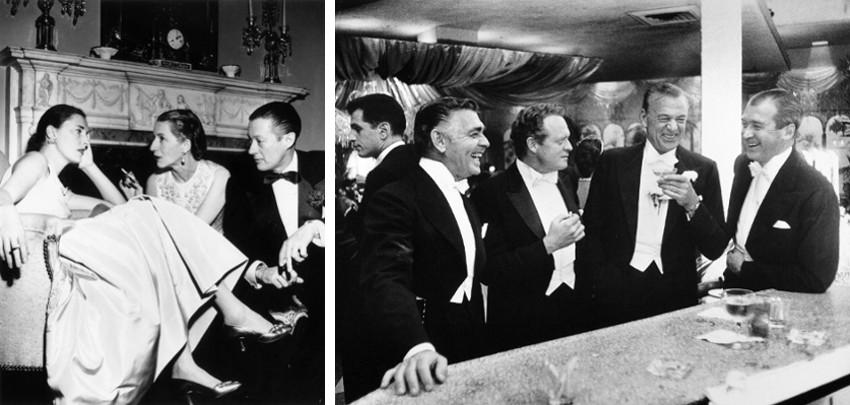 Legacy
For Slim Aarons, adroit planning is crucial. A great believer in form and design, that guiding principle grew into the organizational zeal, evident throughout his photography. On one occasion, he dragged away a giant freezer blocking a 15th-century mural that made a splendid setting for a portrait of a Roman princess.[5] As a combination of his talent for photography, meticulous approach, and charm that got him the most important thing of all – access, his work is appreciated even today. Not just as a reminder of some different times and some different people, his photographs served as an introduction to the modern understanding of portraits. He made rich people look sexy and good, and in return, they gave him their trust and a complete access. Aarons could be considered as a founding father of the mutual belief in the portrait photography.
Slim Aarons lived and worked in Montrose, New York.
References:
Peretz E. Postcards From Paradise, Vanity Fair [September 5,2016]
Aarons S. Slim Aarons: Once Upon A Time, Harry N. Abrams, New York, 2003
Martin D. Slim Aarons, 89, Dies; Photographed Celebrities at Play, The New York Times [September 5,2016]
Butson M. Story behind the photo | Slim Aarons, InFocus by Getty Images [September 5,2016]
Mason C. AT HOME WITH: Slim Aarons; Teaching the Rich To Say Cheese, The New York Times [September 5,2016]

Featured image: Slim Aarons - Poolside Gossip (detail), 1970 - image courtesy of Photographers Gallery
All images copyright Slim Aarons