One of the biggest contradictions in a modern world – the fact that we are connected more than ever, but at the same time, lonelier than ever before – has been a source of inspiration not only for social scientists but also for many contemporary creatives. Among them is Slinkachu, a British street artist and photographer best known for his adorable Little People Project, which puts modern life under the microscope and gives us a new perspective on our society. His small-scale people installations emphasize all the alienation and loneliness of modern life, especially in the most populous cities. The photographs of Slinkachu's short-living pieces result in powerful, often amusing images.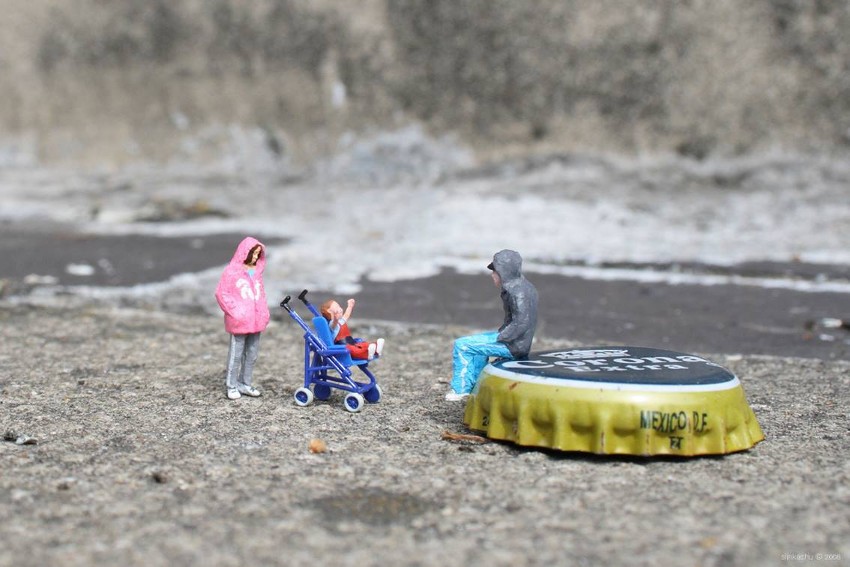 Figures of Little People
Born as Stuart Pantoll in 1979 in Budleigh Salterton, a small town on the south coast of Devon, UK, Slinkachu has always been fascinated with small things. When he was a child, his dad made him a train set and he was captivated with miniature figures, trees and houses.[1] In 2002, Slinkachu relocated to London to pursue his career in commercial art and design. The idea of Little People Project came to his mind four years later while he was looking for the most creative ways to express himself outside of commercial work. He bought some simple train set characters and placed them on the street to recreate typical London life. Additionally, Slinkachu became fascinated with the possibilities of telling stories with his tiny interventions and making people feel empathy with them.
Slinkachu became a full-time artist in 2006 when he started his Little People Project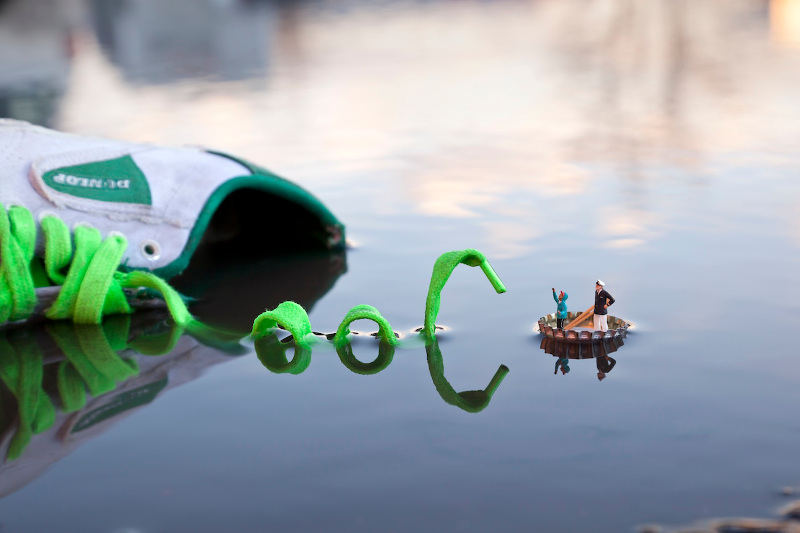 Photography of Slinkachu's Little People
Because of the ephemeral nature of his pieces, the artist has made photography as a key part of his method. To make the shot he imagined Slinkachu has to go through several phases. First, he has to find and customize his characters to suit the story. To get to his figures, he uses different sources – from model shops to online model railway sites and e-bay. Once the figures arrive, Slinkachu paints, and often remodels and reposes them, changing legs and arms positions. Some of the figures get new features and props, such as hoods, cloaks, suits, and so on. These modifications are most visible in his Whatever Happened to the Men of Tomorrow? series, depicting elderly super hero characters, abandoned by the city they once served. Once he settled the scene and chose the right location for it to happen, Slinkachu shoots close-up, wide-angle images as well as pulled back scene to give a different perspective on it. Because of the miniature nature of his works and tricky focus, the artist sometimes has to shoot up to 300 photos per installation, just to get the right one.
Photography is a key part of his art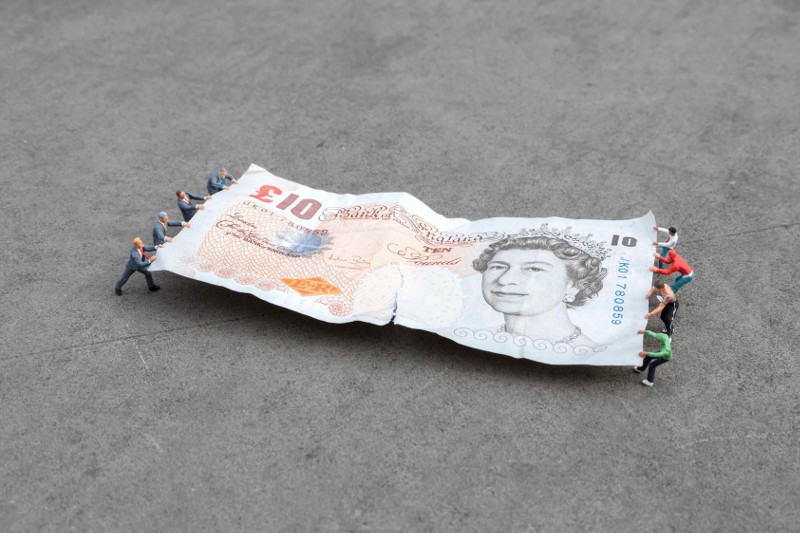 Exploring Issues of Modern Society
As soon as he gets the perfect shot, Slinkachu leaves his miniature installations in pavement cracks, on bits of litter and between other pieces of urban flotsam to fend for themselves, with just a drop of superglue on each foot. Seen from afar, his pieces are almost unrecognizable, but when viewed up-close unveil a new universe inhabited by miniature men, women and children with their own lives and stories behind them. In a cruel world of city-living, these Lilliputians convey complex narratives about human conditions exploring the way ordinary people live their lives in today's consumerist society. Unfulfilled dreams, loneliness, a cry for friendships and freedom, as well as the over-dependence on the consumption economy that drives so many of our decisions are just some of the themes they explore.
His characters have their own lives and stories behind them
Miniaturesque - Art Exhibition at Andipa Gallery (2015)
Slinkachu has exhibited his photographs, prints and installations in many individual and collective shows in the United Kingdom, USA, Germany, Austria and Switzerland, among others. One of his major solo shows was held in March 2015 at London-based Andipa Contemporary. Entitled Miniaturesque, the exhibition explored the relationship between Londoners and the natural world.[2] He presented a series of photos depicting the smaller-than-life characters enjoy rich nature much as real people do. However, these tiny, hidden landscapes that look beautiful when photographed up close are actually only little glimpses of nature—like weeds, leaves, and moss—when seen in their broader context. The show included several sculptural pieces, one of which is Slinkachu's biggest yet featuring over two hundred characters in a recreation of The River Thames.[3] His earlier shows at Andipa Contemporary include Global Model Village (2012), Concrete Ocean (2011) and Whatever Happened to the Men of Tomorrow (2009). His work is currently included in group show Vitality & Verve: In the Third Dimension at The Long Beach Museum of Art. Organized in collaboration with Thinkspace Gallery in Culver City, CA, and POW! WOW! Long Beach, the exhibition will be on display until October 16th, 2016.
Slinkachu been exhibited his work in many solo and group shows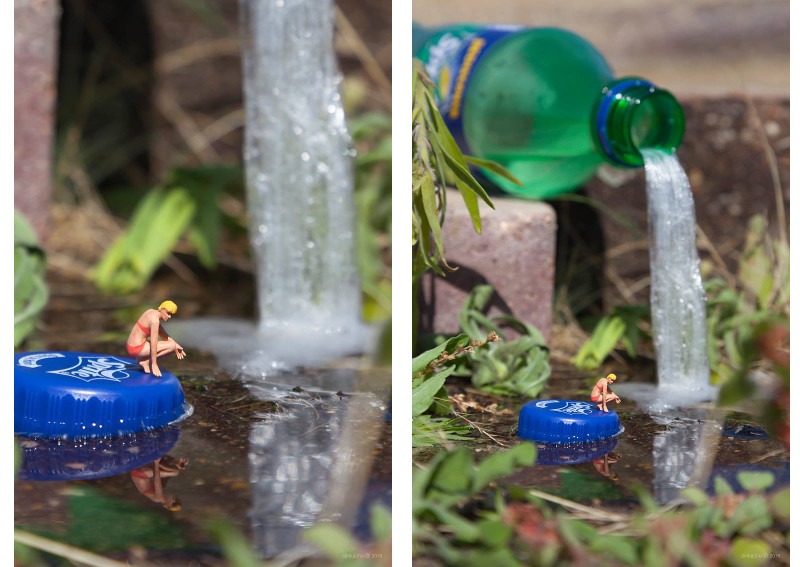 The Mirror of Our Lives
Ten years after his first microcosmic installation saw the light of day, Slinkachu's street art continue to highlights the dramas of hope and tragedy, boredom and surprise, loneliness and humor amongst the millions living in large cities. Often inspired by news stories and people-watching, he puts his figurines in situations that act as a mirror to what is going on in our own daily lives. The fact that we live in cities full of people doesn't stop us from feeling alone in them. Slinkachu perfectly manages to capture the basic human issue of loneliness and disconnectedness in his photographs of mini and fragile characters. To date, he has left hundreds of his miniatures around the UK, as well as in the major cities of the world including Berlin, Beijing, Paris, Moscow, Lisbon, Doha, Cape Town, and many more. His images have been collected in three best-selling art books: Little People in the City (2009), Big Bad City (2010) and Global Model Village (2012).
Slinkachu lives and works in London.

Sources:
Anonymous, Slinkachu: The artist who is the god of small things, Independent [September 3, 2016]
Allfree, C. (2015) Slinkachu, Miniaturesque: the tiny world of London's hidden figures, Standard [September 3, 2016]
Anonymous, Slinkachu: Miniaturesque, Andipa Contemporary [September 3, 2016]

Featured photo: portrait of the artist
All images copyright of the artist