Hand cut stencils and great attention to detail have over time become the trademark sign of Snik. Artist duo from UK is known for achieving a high level of realism in their work but they are also known for the hand cut stencils that are sometimes made by cutting trough 9 layers of cardboard at the same time. Not burdened by the complex narratives Snik aims to highlight the detail of a single moment in its bold and striking street and canvas works.[1]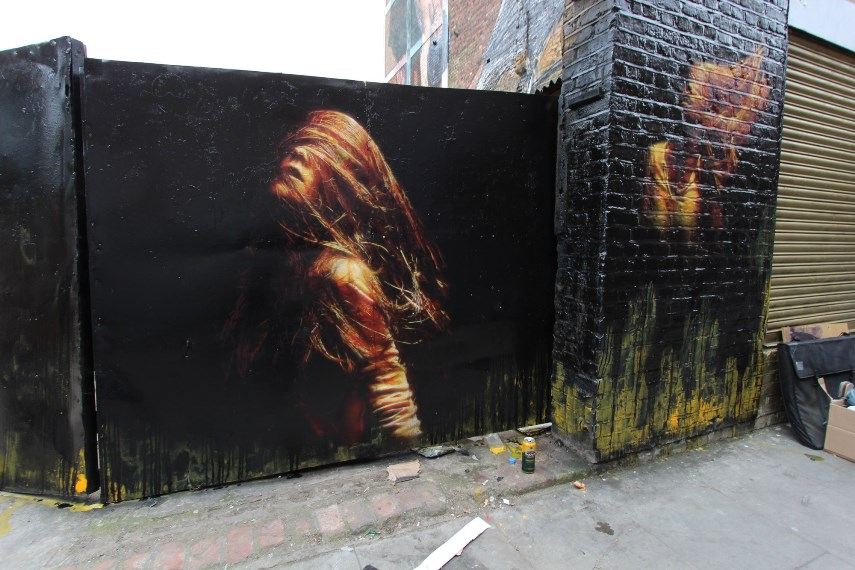 Finest Stencil Artists in the UK
Snik is an art duo from the United Kingdom who has been decorating the streets for more than 10 years. During this time they have developed their own bold and provocative style marked with vivid colors and an unbelievable amount of detail. The art duo begins its artistic process by cutting stencils and then looking for a place to paint. This can be a tricky task because stencils can be restricting in size and demand a massive surface to work on so the prospect of looking for a location to paint on can take quite a while.[2] When the surface is selected, the spray paint is applied in a quick and spontaneous way that allow the people to put a touch of exuberance to their work. The duo uses spray paint and carefully executed stencil to create vivid scenes full of energy and movement. Through the intricate play of light and shadow the art-makers capture the excitement of one moment in time.
Martin Whatson is a frequent collaborator and a guest on Snik's exhibitions
[caption id="attachment_360147" align="aligncenter" width="855"]
src="https://d2jv9003bew7ag.cloudfront.net/uploads/Snik-All-we-are-is-falling-colab-with-Martin-Whatson.jpg" alt="Artists use oil based paint to produce a painting, which has been their policy since 2017" width="855" height="421" class="size-full wp-image-360147" /> Snik - All We Are is Falling (colab with Martin Whatson)[/caption]
Snik Influences and Recent Works
The theatrical interplay of light and shadow has always played an important role in Snik's artworks. While drawing inspiration from the paintings by Caravaggio and the Italian renaissance the duo usually depicts a reverse perception to bring traces of light to the foreground. Their realistic portraits have shown subjects emerging from the darkness or from the depth of the see while conveying the intensity build up by the cleverly thought through compositions. Their subjects are often depicted in the moment of frozen action with heir eyes wide open and their hair twirling around them like a whirlpool.
A unique mix of realism and fantasy is known to leave viewers both confused and amazed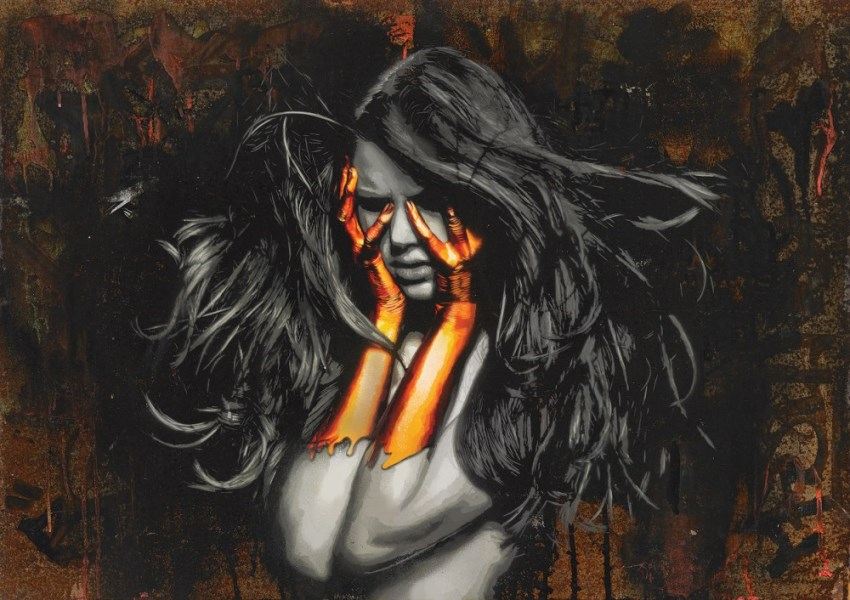 Snik Mixes Mediums and Techniques but Never Fails to Fascinate the Viewers
Snik works with different media and techniques to create colorful and inspirational body of work. The careful hand cutting layers of cardboard allow the artists to paint exactly the same thing on the large walls, on the streets, and on the small scale canvases. That's why the artist often reproduce their street artworks on canvas as they did with the What Your Soul Sings painting (pictured above). Their unique imagery that's just as captivating on canvas as it is on large walls, brought the duo many exhibitions in galleries in Europe and all over the world. Since their first solo show in 2011 till now, the artists have gathered an army of fans and admirers across the globe.
The art duo lives and works in the United Kingdom.
References:
Anonymous, (2012), About, Snik official website [March 24, 2017]
Anonymous, (2015), Interview - Snik, Street Art United States, [March 24, 2017]
Featured image: Snik working on a piece
Images courtesy of the artist