Alan De Cecco aka SODA is a graffiti artist. who also works in other artistic mediums like painting, graphics and sound. The artist is known for his exceptional abstract graffiti pieces that stimulate people's point of view by focusing their attention at the distance. His minimalist artworks are reminiscent of pieces made by the best Kinetic and Op art masters since SODA uses black and white shapes and an exceptional shadowing technique to create an illusion of a third dimension on the surface. Music, architecture and abstraction represent the main inspiration for the artist who likes to play with the complexity of the geometric elements and the letters layout.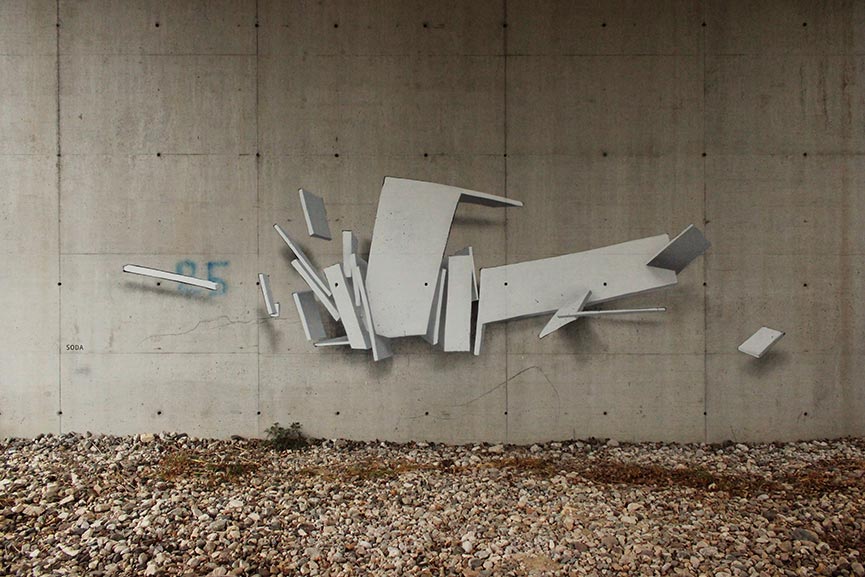 Geometrical Fragments in Motion
Alan De Cecco was born in Palmanova, Italy in 1977. He studied Architecture and Design in Italy and currently works as a designer in London. Since 1993 the artist has been embellishing the walls around the world with a variety of dynamic and seemingly weightless artworks. His pieces are composed of floating geometrical fragments that are either merging and colliding or moving away from each other much like pieces of an object shattered in an explosion. The spray paint artworks create an illusion of a third dimension achieved with a careful examination of the way sunlight hits a certain area followed by the careful shadowing of the elements with black paint and low pressure technique. Throughout his career, SODA participated in numerous live painting sessions and recently his graffiti works were included in a monograph entitled Graffiti Expressions Manifestes. Ce que le street art ne dit pas. The art book published in October 2016 represents an overview of the graffiti culture and gathers the works of fifteen international artists.
Skillful shadowing creates a 3D effect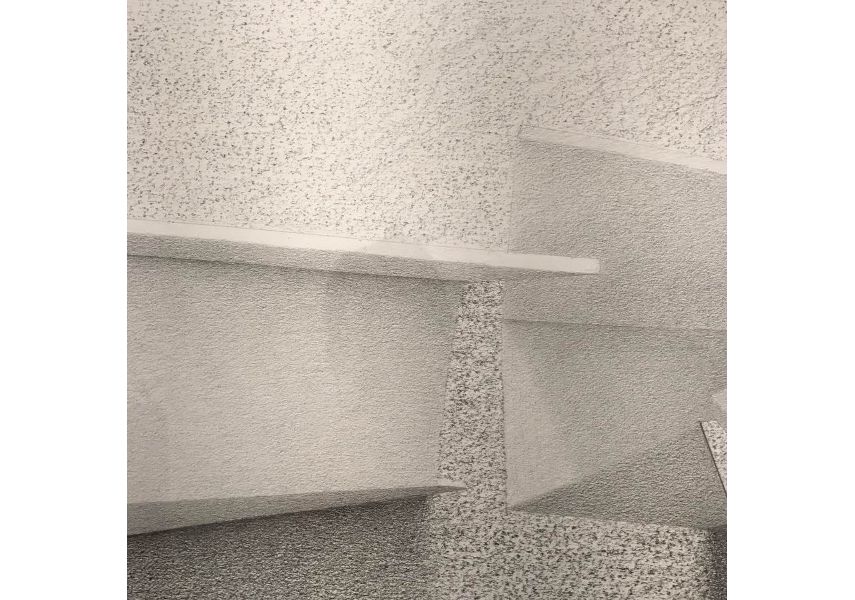 SODA's Graffiti, Video and Canvas Works
Apart from his graffiti artworks the artist also makes a variety of video and canvas works that represent a unique synthesis of visual elements and sound. SODA's style consists of removing everything that's redundant and reaching the viewer with his clean minimalist language. In his canvas pieces, the art-maker uses simple lines and curves to blur the line between two-dimensional and three-dimensional space much like Kinetic and Op art masters from the 60s. But his explorations don't end at the visual dimension and the sound is also quite important for his oeuvre. A majority of SODA's video artworks are created with 3D programs and accompanied by sound. A study entitled Papiers Colles is considered to be his best and in many ways pivotal artwork in that respect.
Video of Papiers Colles Project done in collaboration with Stefano Giust and Lorenzo Commisso
Three Artist Blur the Line Between Classical Music and Digital Sound
This 2004 project was done in collaboration with artists Stefano Giust and Lorenzo Commisso, who did the music for the artwork. Together they explored how sound models from different times blend with each other by combining fragments of classical compositions to create new music tunes. The artwork emphasizes the possibilities of digital sound by juxtaposing the active and static nature of the drums and the digital recording to create improvised compositions that question the conceptual habits of common sense. The music is accompanied by SODA's typical monochromatic design created on a vinyl record that once again sets in contrast the technology of the past with the possibilities of digital recording.
The artist is represented by Galerie Celal
Alan De Cecco aka SODA lives and works in London.
Featured image : Alan De Cecco aka SODA - Untitled
All images courtesy of the artist and Galerie Celal