The contemporary art scene in the United States is highly diverse comprised of established multitalented artists as well as fearless young creatives bursting with new ideas and visions. California-based and Korean-born Soey Milk is one of the young artists who has already made a name for herself not only in the United States but in the international art world. A graduate of Art Center in Pasadena, CA, Milk has carefully developed her inimitable style over the years becoming known for her portraits of truly alluring and beautiful women. Drawing a lot of inspiration from her South Korean heritage, she creates refined paintings and drawings which have the great balance between the sharp focus of the charming subjects and the vivid chaos of the background.
Between Realism and Abstraction
Born in 1989 in Seoul, Korea, Soey Milk moved to Southern California in the year 2000. At first, Milk's path was leading her to become a ballerina but after she was first introduced to painting she decided to pursue the artistic career. The versatile artist, Soey Milk works primarily with oils and watercolors creating an outstanding narrative universe that is at once tender and strange. Characterized by the high level of meticulousness, attentiveness to details and powerful combinations of colors and shapes, her work evokes a certain level of sensibility and mysteriousness, floating between realism and abstraction. The porcelain faces of her often nude muses reveal an interior less innocent and pure than lead on to believe at first glance.
Soey Milk creates an outstanding narrative universe that is at once tender and strange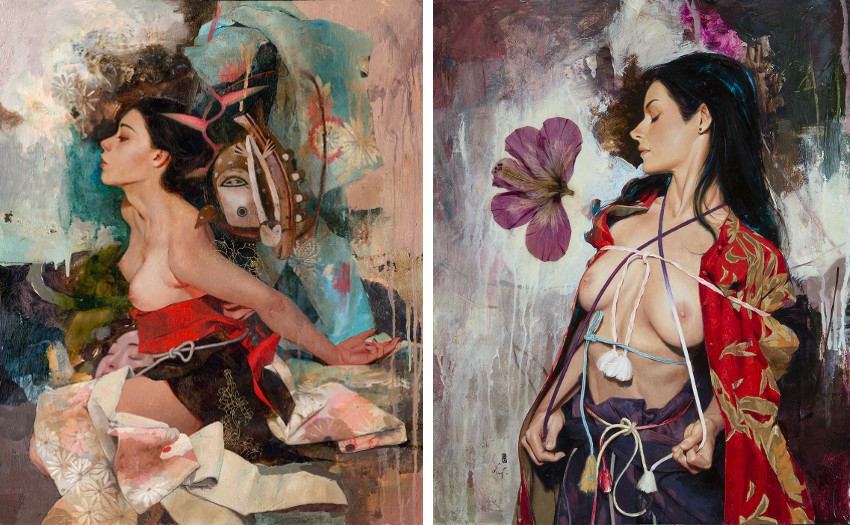 Mystical Paintings by Milk
The colorful imagery and intriguing figures found in the work of Soey Milk are made even more remarkable by the fact that she is only twenty-six years old. The young artist had her debut solo show at the Corey Helford Gallery, Culver City, in December 2014. Entitled Sinavro, the show featured a body of technically smooth pieces, with shiny, realistic faces surrounded by and interacting with such objects as masks, tiny animals, insects, monsters of Korean folklore or just large brushstrokes and large blocks of color. The Sinavro show was followed by the PIDA exhibition hosted by Hashimoto Contemporary in San Francisco, USA, in October 2015. For the exhibition in the SF-located gallery, the artist explored her own self through a series of alter-egos, in a process described as "a solitary dialogue".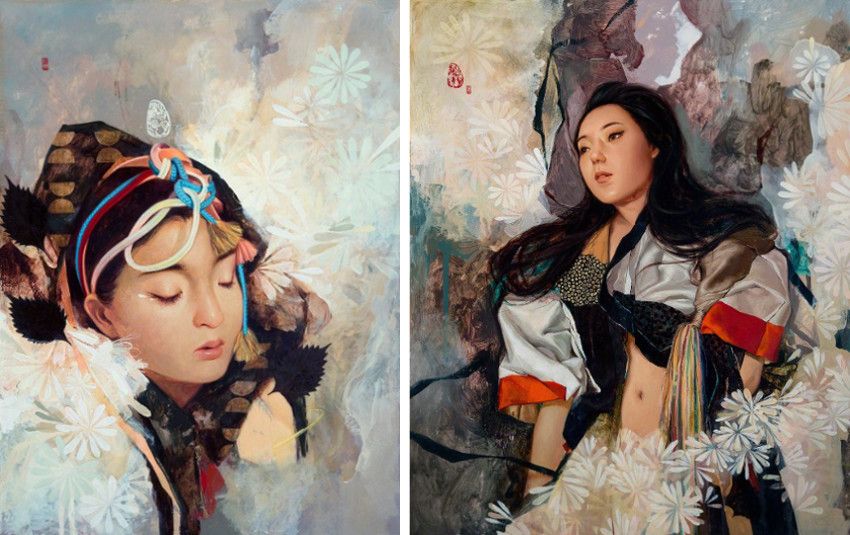 Temple of Art
Soey Milk - who achieved wide attention while she still was on her studies - has a great talent for a depiction of the dark and the romantic. Her appealing female figures portrayed in various erotic configurations continue to appear in galleries and art fairs throughout the United States. Her work will be featured in the upcoming documentary Temple of Art that looks at what it means to be an artist, how to fail beautifully, and proceed with courage. This extremely talented, skillful, and constantly evolving artist is for sure going to continue to surprise us in the years to come with her brilliant, fresh, and breathtaking work.
The artist is represented by Corey Helford Gallery in Culver City, CA.
Soey Milk lives and works in Hollywood, CA.
Featured image: Soey Milk in front one of her pieces, photo credits - Hashimoto Contemporary
Images copyright of the artist