Solo is an Italian street artist, known for his murals that focus on comics and pop icons, and the reinterpretation of superhero characters. He was born on January 1, 1982 in Rome. During his formative years (early 90's until 2000), Solo slowly started to shift form the writing movement to Street Art, which he practices to this day. He received his academic training at the Academy of Fine Arts in Rome, which he enrolled in in 2003, and later graduated from it with an outstanding success. He also published an anthology on an eminent American Pop artist, Ronnie Cutrone.
Solo's Murals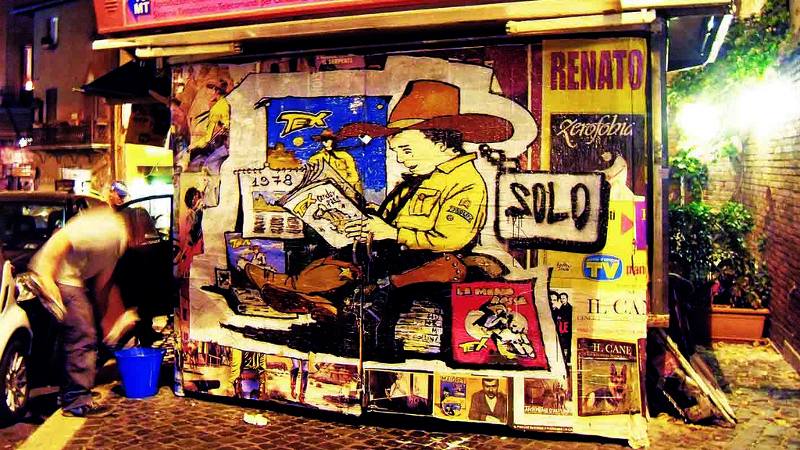 The main source of inspiration for Solo's artworks is comic books. His candid and lively style incorporates and elaborates various subjects and elements, like characters from comics, cityscapes, everyday objects, and even works of art from the past. Solo creates new versions of his subject's stories by expanding on their already existing ones. He believes that his audience will find themselves in his characters; that they can relate to them.
Superheroes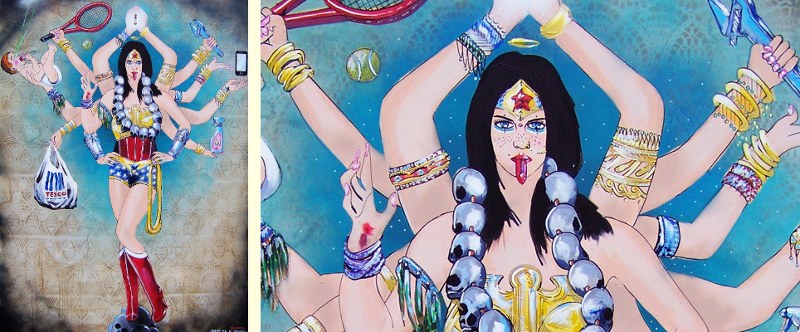 The process of creation usually begins with drawings in acrylic colors, followed by applying layers and layers of various media and materials, such as chalk, or oil painting. The materials may vary according to how Solo feels and where the flow is taking him. It is not unusual to see food and coffee as materials the artist uses. Solo's murals may vary in style as well, but the one thing that is pretty constant throughout his pieces is his subjects – he stays true to his world of superheroes. And just like the superheroes in comic books and on screen, their purpose is to "save us", or to "make us feel less lonely in an often harsh society".
Exhibition: Heroes in Crisis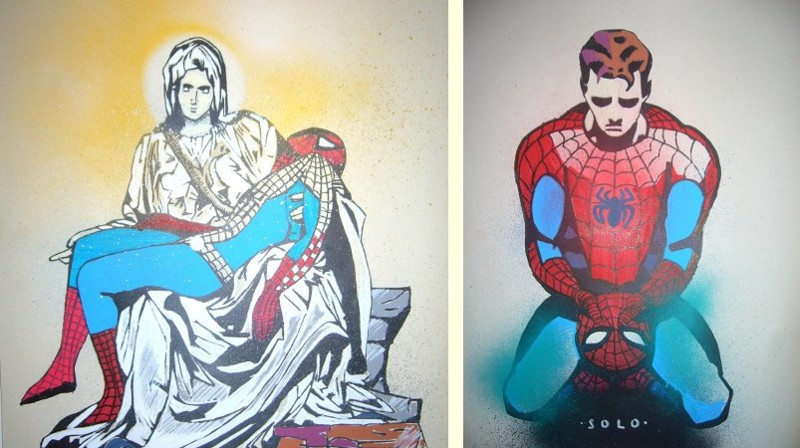 Solo's talent and imagery have been recognized by many, and his artworks have received both public and critical acclaim. He has participated in numerous group and one-person exhibitions, and was a guest of many festivals. In 2009, Solo traveled to London, where he worked on collaborative installations with videomakers, The Butchers. The installation was subsequently presented in 2010 at Dissonanze, a festival of electronic music. His works were also featured at Get Numb festival, and The Push festival. His most renowned one man exhibition took place in 2013 at Galleria Varsi in Rome, titled Heroes in Crisis. The purpose of the exhibition was to show the crisis that the society is facing nowadays. This crisis is mirrored on the superheroes, as they have lost their powers and are thus unable to cope with the changes. Adult Childhood is a joint exhibition with Stefano Bolcato, which was organized by Pink Zeppelin Gallery from Berlin in 2014. The most recent group show, Art in Mind: Absolution, took place in 2015 at Brick Lane Gallery in London.
Solo is represented by Galleria Varsi in Rome.
All images courtesy of the artist and Galleria Varsi.