Recognized by art historians for her striking use of color within abstract and geometric patterns, Sonia Delaunay was a Ukrainian author and designer whose innovative explorations opened up some of the most captivating creative chapters of the 20th century. Her career spanned all over the European continent, allowing her to reap the riches of the exciting advances by many avant-garde art groups of her time. Delaunay worked in an incredibly wide range of practices, but she never differentiated any of her mediums, as evidenced by her own statement: For me, there is no gap between my painting and my so-called 'decorative' work. I never considered the 'minor arts' to be artistically frustrating; on the contrary, it was an extension of my art.[1] It should also be noted that Sonia was one of the primary propagators of Orphism, an art movement founded by her husband Robert Delaunay. For the majority of her life, she went by the name of Sonia Terk Delaunay.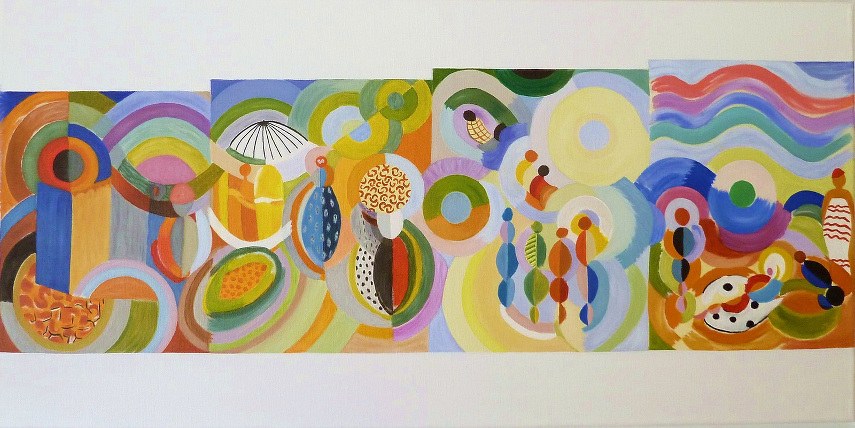 Early Life and Avant-Garde
Although there is no way of proving or disproving this, but it's accepted that Sarah Ilinitchna Stern was born on the 14th of November in the year of 1885. Her hometown was Hradyzk, a city which was a part of the Russian Empire back in the time of her birth. Her father was a foreman of a nail factory, which provided a fine living for young Sonia. Despite such circumstances, she moved to St. Petersburg at an early age as her mother's brother, Henri Terk, started taking care of her[2]. In the year of 1890, she was adopted by the Terks and took on their surname. Delaunay's new family traveled around Europe extensively, introducing the new member to art museums and galleries. In the meantime, Sonia loved drawing and that was a talent her teacher at St. Petersburg's school noticed first. The same teacher later suggested and organized Delaunay's enrollment at the art school in Germany where she attended the Academy of Fine Arts in Karlsruhe. She studied in Germany until 1905 when she decided to move on to Paris in order to be closer to best art works of the world. When she arrived at the City of Light, Sonia enrolled at the Académie de La Palette in Montparnasse. She spent her free time in local galleries, getting better acquainted with different artistic practices. Her own work during this period was strongly influenced by the art she was viewing there, including the post-impressionist art of Van Gogh, Paul Gauguin and Henri Rousseau as well as Henri Matisse's Fauvism[3]. Since her parents did not approve her dreams of staying in Paris, Delaunay married a German art gallery owner Wilhelm Uhde in 1908.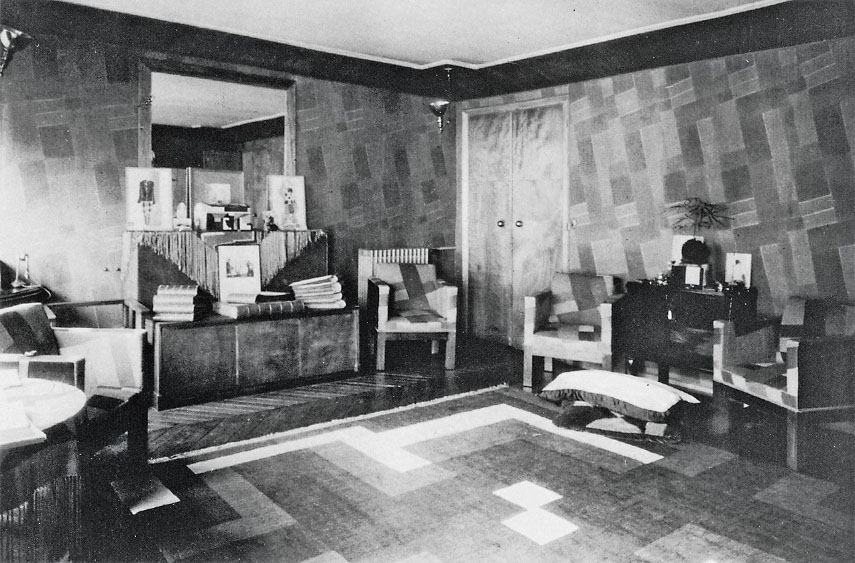 Exploring the Color and Concepts of Orphism
A year after she got married, Sonia met and fell in love with Robert Delaunay. It took her but few months to file for a divorce and marry the new man in her life. This will prove to be a critical moment of both her life and artistic career, as Delaunay said herself at one point: In Robert Delaunay, I found a poet. A poet who wrote not with words but with colors. Sonia got pregnant soon after she got married and gave birth to a son in the year of 1911. His name was Charles. Wishing to make a blanket for her newborn child, Delaunay made a patchwork quilt for Charles's crib - when she was finished making it, Sonia saw that the arrangement of the works was evoking Cubistic shapes[4]. Fascinated by the design, the author started applying such a visual effect to other mediums. This newly formed version of Cubism was further expanded by both Robert and Sonia Delaunay as the two worked on it a couple of years before their mutual friend Guillaume Apollinaire coined the term Orphism as an appropriate name for their new visuals. Contemporary art critics recognize this as the point where she moved away from perspective and naturalism in her art[5]. After the World War 1 started, the Delaunay family never returned to France from their vacation on the Iberian half-island. The couple sporadically stayed in Spain and Portugal as Sonia started designing costumes for local theaters, all the while staying true to her Orphism notions. She continued expanding both Orphism ideas and color concepts until the last day of her life, contributing massively to many artists and a few different movements. Her work was vital to the improvement of abstraction within the painterly medium and her designs had far reaching consequences to textiles, tableware, jewellery, furniture, fabrics, wall coverings and clothing around the globe.
Among other contributions to modern art, Sonia Delaunay established a vocabulary based on the intensity of the expression created with color on the surface of the canvas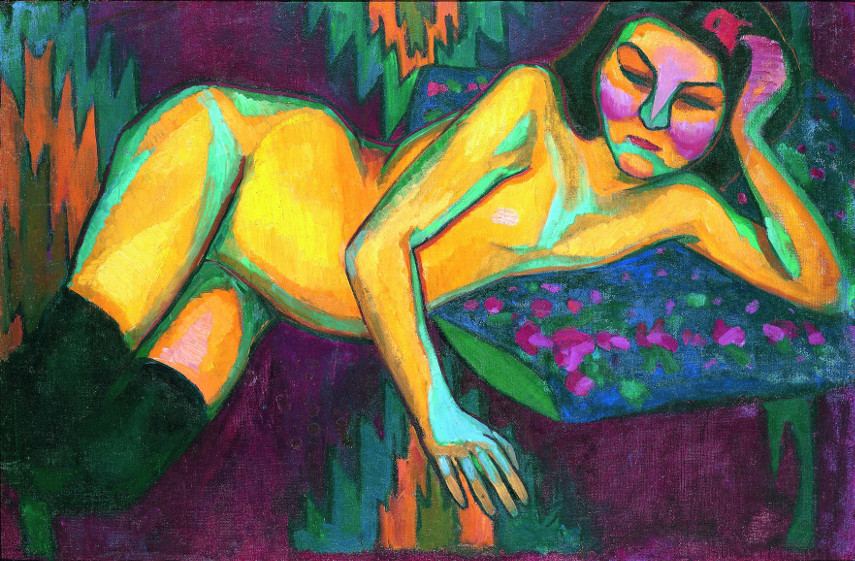 The Contemporary Value of Sonia Delaunay
Ultimately, Sonia Delaunay and her work can be observed as one of the pivotal moments in the history of abstraction. She took abstract concepts and extended its visuals to an exploration of limitations and potentials, testing it with a range of fields beyond painting. When she was done, her achievements were instrumental in developing modern art whilst her expressive color in the field of textile design set the stage of its crucial stages of development[6]. Delaunay taught the viewer to experience artistic pieces visually and without any other sense, allowing us to witness the piece of art on a most powerful way possible. By doing so, she effectively opened the door for most contemporary concepts concerning abstraction, which in return made Sonia's name imprinted in all modern art history books.
This artist is represented by Kunzt.gallery.
References:
Baron, S., Sonia Delaunay the Life of an Artist, Norton*(ww Norton Co; First Edition edition, 1995
Damase, J., Baron, S., Sonia Delaunay: The Life of an Artist, A Personal Biography Based on Unpublished Private Journals, Abrams; First Edition edition, 1995
Timmer, P., Leeuw-de Monti, M., Color Moves: Art & Fashion by Sonia Delaunay, Cooper Hewitt, Smithsonian Design Museum, 2011
Morano, E., Sonia Delaunay: Art into Fashion, George Braziller Inc.; 1St Edition edition, 1987
Delaunay, S., Sonia Delaunay Patterns and Designs in Full Color, Dover Publications, 1989
Madsen, A., Sonia Delaunay: Artist of the Lost Generation, Mcgraw-Hill; First edition, 1989
Featured image: Sonia Delaunay - The author in front of her door-poem in the Delaunays' home, Boulevard Malesherbes, Paris 1924 - Image via tate.org.uk
All images used for illustrative purposes only.