A notoriously controversial figure of the European scene and one of France's leading conceptual artists to date, Sophie Calle dedicated her career to the creative exploration of personal relationships, investigating both psychological and emotional terrains of all of us. With such goals in mind, she utilized multimedia works and counts mostly on conceptual and performance-like projects to get her messages from and across the audience. Sophie also relies heavily on photography, film and text as these practices seem to allow her the most speedy approach and the rawest artistic punch. All of Calle's artworks are meant to provoke a strong emotional reaction in the viewer, as well as to probe the ideas of control, vulnerability, freedom, gender, intimacy and distance in human relationships. Still active to this day, Sophie continues to live and work in the City of Light, tirelessly exploring the themes of intimacy, identity and the relation between the artist and her subjects.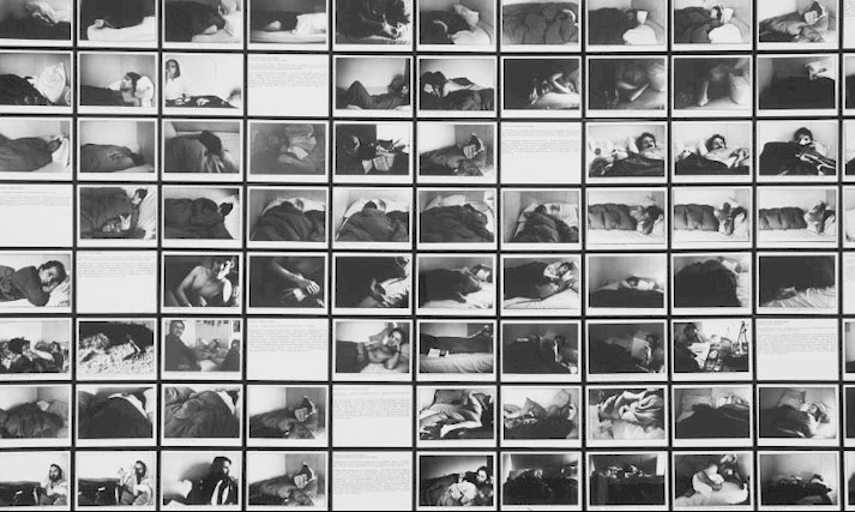 Stalking Her Way to Art
After she completed the schooling segment of her life, Calle traveled for the next seven years. She made a full circle and returned to Paris in the year of 1979, immediately starting a series of projects with goals of reacquainting herself all over again both with the city and the people living in it. Sophie soon discovered that secretly observing the behaviors and actions of complete strangers actually provided her with a tiny window into their most honest identities. After realizing that fact, Calle desired to construct their identities from scratch, relying on paparazzi-like made photographies to document the strangers' everyday life occurrences. Since the emphasis was on the artistic idea rather than the finished object, most critics and pundits described Sophie's activities as something heavily rooted in the tradition of conceptual art. In one of her more famed examples of such kind, Calle followed a man she met at a party in Paris all the way to Venice, where she disguised herself and followed him around the city, photographing every public move he made. These stalkerish endeavors were documented via black and white photographs which were post-produced with text. Another often cited artistic work from this period was The Sleepers (Les Dormeurs) - a project in which Calle invited accidental bypassers to occupy her bed whilst she photographed them every sixty minutes. Calle also asked her mother to hire a private eye any follow her all day long - these images were united in a series entitled The Shadow (1981) and were displayed in the Guggenheim Museum in Bilbao, Spain. The artist explained the project as evidence of her own existence. Although these early projects were rather notorious due to their spy-like methods, these will later prove to be nothing more than mild as Sophie's mature work will be that much more controversial in the eyes of the public[1]. These early series also show the everlasting fascination Calle had with the interface between our public lives and our private selves, establishing the focal point of her career.
Calle's early art was marked by a stalker-like approach to her subjects as she followed strangers like a private eye and documented their intimate lives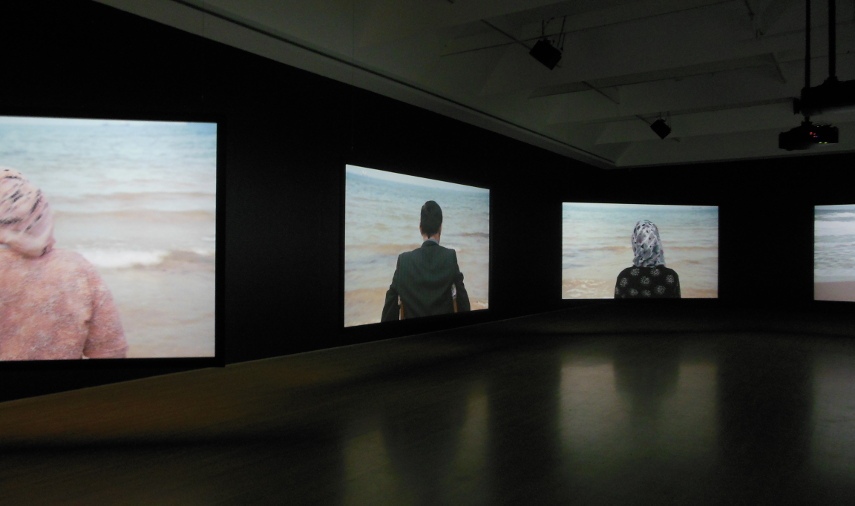 A Turn Towards Controversy
After she was already well-recognized for her unique work, Calle executed her The Hotel (1981) project. She was hired as a chambermaid at a hotel in Venice where she was able to explore the writings and objects of random hotel guests. Already a famous artist at this point, Sophie was in a position to explain the idea behind the project with the following statement: I spent one year to find the hotel, I spent three months going through the text and writing it, I spent three months going through the photographs, and I spent one day deciding it would be this size and this frame...it's the last thought in the process. This explanation served as an excellent insight into seeing just how Calle' mental process looked like from her own perspective. However, her career was about to take a sudden turn towards even more controversy than the use of her stalkerish ways provided her so far.
One of Calle's first projects to generate a full-blown controversy cry from the public was The Address Book (1983). After Sophie accidentally stumbled upon an address book on the street near her home, the artist decided to call some of the telephone numbers from the book and speak with the random people she might get a hold of. Accompanying the transcripts of these often weird conversations, Calle added photographs of the arbitrary man's favorite activities, creating portraits of persons she never met by exploring the insights of their personality. The articles were published in a French newspaper, but after the release, some threats of suing the artist loomed around the completed project. The actual owner of the lost address book saw this as a valid invasion of his privacy. Although his claim was more than justified, the owner did take it a step further than necessary by threatening to publish Calle's nude photograph as a way of retaliation[2]. Another of Calle's noteworthy projects from the 1980s was titled The Blind - for its purposes, Sophie interviewed blind people and asked them to define what they believe beauty actually is. Their responses were accompanied by her photographic interpretation of their ideas of beauty and portraits of the interviewees, as was already well-established practice of Calle's art.
Some later projects Sophie introduced us to were rather similar to her early paparazzi-like endeavors, only taken to new creative levels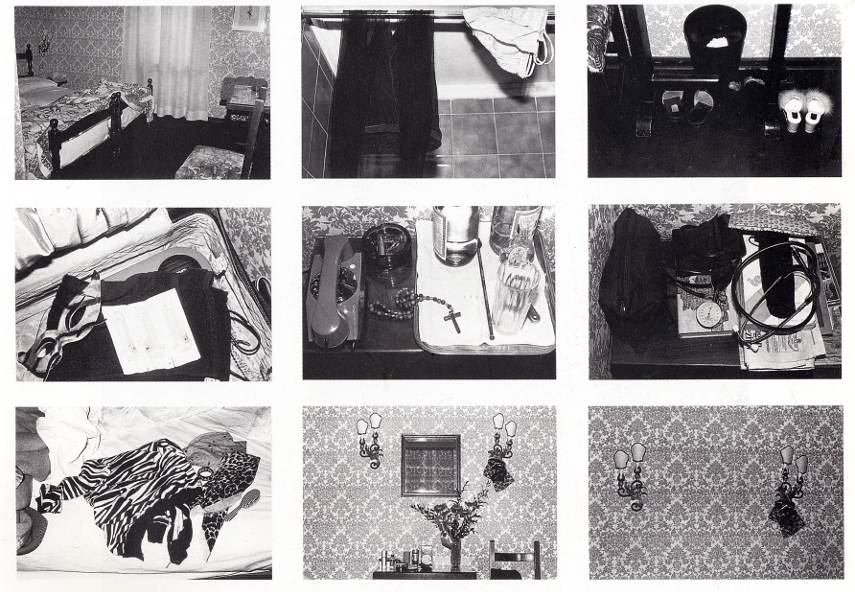 Mature Art of Sophie Calle
As both herself and her art entered more mature phases of their existence, Calle was taking her work down new roads. During the year of 1996, Sophie asked Israelis and Palestinians native to Jerusalem to take her to public locations that became a part of their private lives, exploring how one's personal story can create an intimacy with a certain place. This time, the public was shocked not by the concept behind the project, but by the sheer bravery the artist displayed by venturing to such highly dangerous locations in order to put her work into motion. During the same year, Calle released a film titled No Sex Last Night which she produced in collaboration with the US photographer Gregory Shephard. The film documents their road trip across the United States of America, which ends in a wedding chapel in Las Vegas. Instead of following already familiar concepts established by the moviemakers, the film is designed to document the result of a man and woman who barely knew each other, embarking on an intimate journey together despite being utter strangers. In 1999, Sophie exhibited the installation called Appointment, specifically conceived for the Freud Museum in London and working with the ideas of her private desires. Similar kind of work was titled The Room with a View (2002) - in it, Calle spent the night in a bed installed at the top of the Eiffel Tower. She invited people to come to her and read her bedtime stories in order to keep her awake throughout the duration of the night. The later years of the third millennium were marked by all sorts of new ideas Calle put in motion, as well as numerous republishing and updating her previous projects.[3]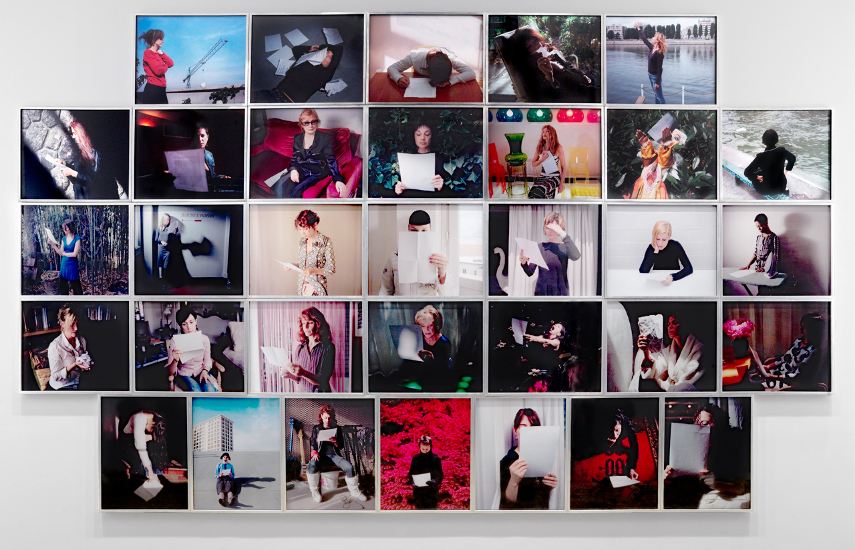 A Completly Unique Artist
Since 2005, Sophie has been teaching as a professor of film and photography at European Graduate School in Saas-Fee, Switzerland. This expanded her field of work even further, underlining her entire career by adding a whole new regular activity. Ultimately, it's not easy analyzing Calle's career, especially if you take a more traditional artistic standpoint. Observed from such a perspective, it becomes immediately clear that there really are not any logical parallels between Sophie and any other artists out there. One sure fact concerning her art is the everlasting fascination with the difference between one's public and private personalities - by pursuing her interests, Calle investigated numerous patterns of behavior using techniques more akin to those of a private investigator then some painter. By doing so, she also explored many dark corners of her own self. Maybe the best definition of what Sophie desired to achieve with her art was given by the Christine Macel[4] who explained that her work is a rejection of the Poststructuralist notion of the death of the author by working as a first-person artist who incorporates her life into her works and, in a way, redefines the idea of the author.
Sophie Calle lives and works in Paris, France.
References:
Bois, Y., Character Study: Sophie Calle., Artforum, 2000
Anonymous, Sophie Calle, M'as-tu vue, Munich: Prestel Publishing, 2003
Calle, S., Sophie Calle: Take Care of Yourself , Dis Voir/Actes Sud, 2007
Macel, C., Bois, Y., Rolin, O., Sophie Calle: Did You See Me?, Prestel, 2004
Featured image: Sophie Calle - Secrets, 2014. Two safes, engraved plaque, framed contract. Each safe: 20 x 25 x 20 cm. Label: 7 x 10 x 0.3 cm. Contract: 35.2 x 47.5 x 2 cm. Photo courtesy Perrotin
All images used for illustrative purposes only.