Sowat is a French artist - a screenwriter, film director and graffiti artist best known for his calligraffiti style and as a member of Da Mental Vaporz crew.
The Influence of Chaz Bojorquez and Cholo writing
Sowat grew up between Southern France and Los Angeles, California. Majority of his family lives in California where he discovered quite early Chaz Bojorquez's work and Cholo writing, a calligraphy created in the 1940s and intended to mark out the territories of Latino gangs. The mystery that surrounded it back then made a real impression and helped him develop a taste for calligraphy, inks, brushes, and other artworks that weren't necessarily made with a spray can. This atrist started spraying when he was 15 or 16 and he matured artistically in the surroundings of Marseille and Los Angeles – he made his first paintings on the railways, highways and wastelands of Marseille.
"I didn't draw before, so these first nights spent painting along the train tracks behind my high school were my true gateway to the world of arts."
Sowat was most influenced by the streets of his Mediterranean hometown, people like Abel, Seek or Cam from the 313 Crew and the book 'Paris Tonkar' - through its pages he discovered the work of BBC's, Mode2, Bando, Number 6 and so on…
Da Mental Vaporz Crew
After studying political sciences Sowat wrote a book 'La France d'en bas' with Gris1, in 2003. The book documented the rise of the graffiti movement in the south of France. After that, Sowat moved to Paris to work in the video game industry as a writer, where he lingered on for a few years, painting as much as he could in his free time together with Bomk, Kan and Blo.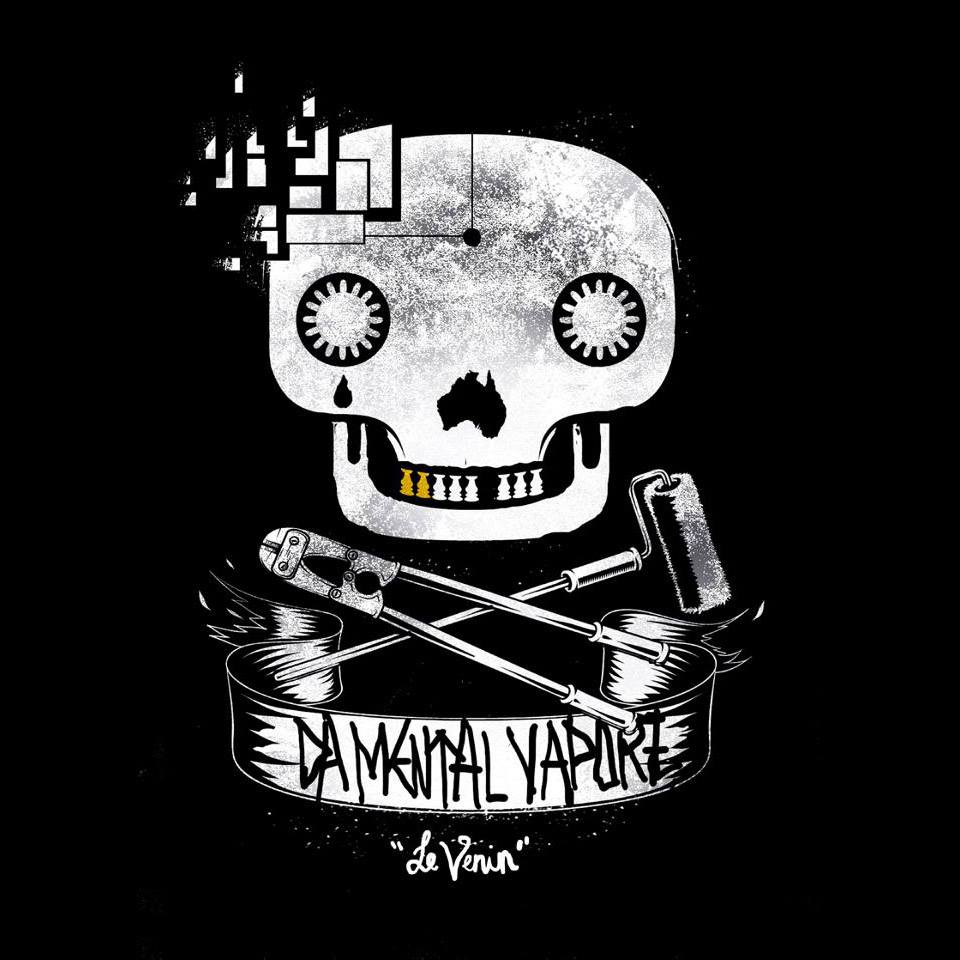 Sowat finally managed to quit his day jobs to focus back on painting in 2009. He is an integral part of the celebrated European crew DMV (Da Mental Vaporz) with whom he has travelled the world. DMV is a French graffiti crew consisting of Bom.K, Blo, Brusk, Dran, Gris1, Iso, Jaw, Kan, Sowat & Lek. The crew was created in 1999 by Bom.k and Iso in the Paris suburbs and it stood out by making huge murals in sordid lands within the southern suburbs, showcasing different subjects from traditional graffiti.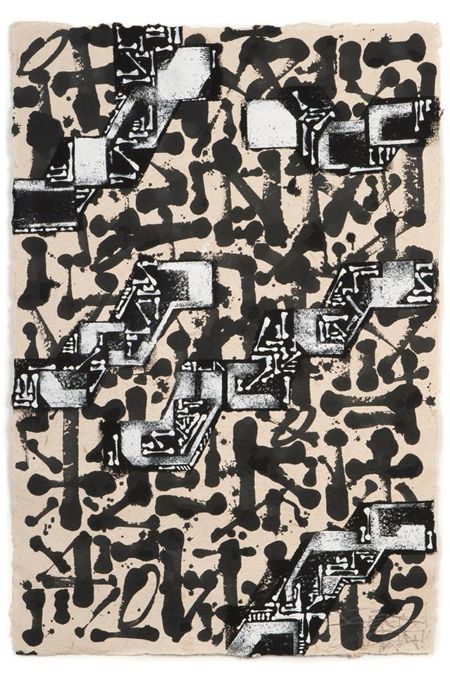 Their artworks span over tens of meters high and wide, depicting monstrous characters, madness and the imminent end of times. Sowat successfully joined the team in 2008, with his throw-ups and calligraffiti… DMV crew successfully manages to maintain the aesthetical unity of the group while strengthening their own individualities.
Sowat and Lek: Mausolée
In 2009 Sowat met Lek, a Urbex legend – the practice of taking over places that are derelict but with a powerful history. his teaming up with Lek marks the beginning of their Mausolée project that took place in a disused supermarket in the Parisian outskirts, which they invested with forty French Graffiti artists, from the first to the last generation of the graffiti movement.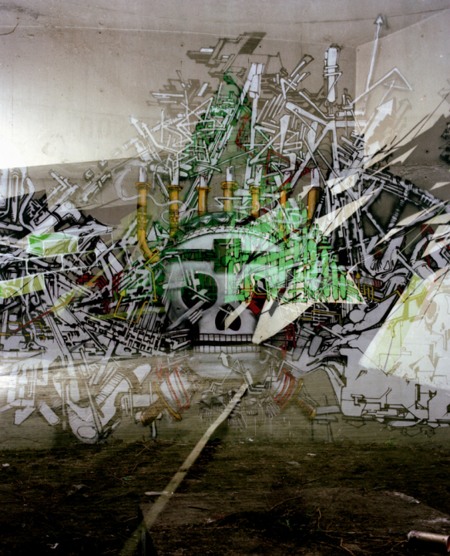 For a year, all artists continuously wandered in this 430,000 sq ft monument to paint murals and organize an illegal artistic residency. Together they created Mausolée, a temple dedicated to the disappearing of underground culture that is slowly being replaced by street art and its global pop aesthetics. Following the success of this Mausolée project, Lek and Sowat put together two major group shows at the Palais de Tokyo in 2013, Dans les entrailles and Terrains Vagues.
Lek, Sowat, Mode2 and the Futura 2000 at Palais de Tokyo
When their two years residency at the Palais de Tokyo ended, Lek and Sowat invited Graffiti's living legends Mode2 and Futura2000 to work with them inside one of the institution's most unusual spaces.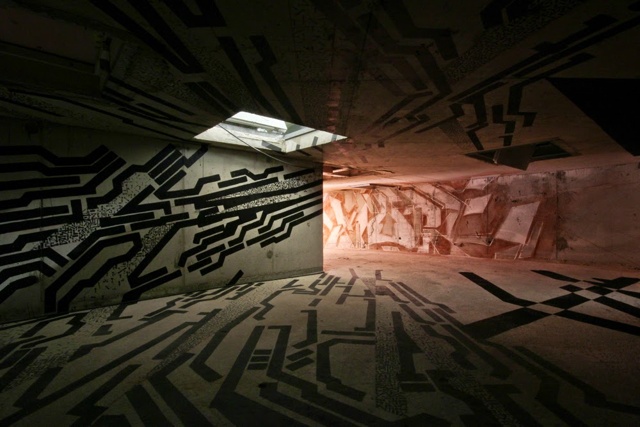 So, Lek, Sowat, Mode2 and the Futura 2000 teamed up in Paris to work on a series of new pieces inside the Palais de Tokyo. Organised by Hugo Vitriani, the all-star team went deep under the Palais de Tokyo to work on the pieces inside a crypt inaccessible to the public. Using a catchphrase (Underground doesn't Exist Anymore) works are executed with chalk, pastel and water by Mode2, and are framed by Lek and Sowat's graphic lacerations and Futura's 2000 aerosol signature moves. During that time him and Lek secretly shot a film titled Direct Traces, a project about the apparition and destruction in graffiti culture, discreetly inviting twenty artists to draw on a blackboard. They have participated in a roundtable with Jacques Villeglé at the Centre Pompidou, the project les Bains Douches, the Tour Paris 13, and also an exhibition at Agnes B's at Galerie du Jour in 2013 where he worked on a collective work with Jonone and Lek.
Contrebande at Galerie David Bloch
In 2014, the exhibition Contrebande was held at Marrakech's Galerie David Bloch. Within that show, Sowat, Lek and Arnaud Liard occupied a street of Guéliz to make 10m-long monumental mural, where they integrated Arab patterns to their geometrical style to set into perspective the local architecture.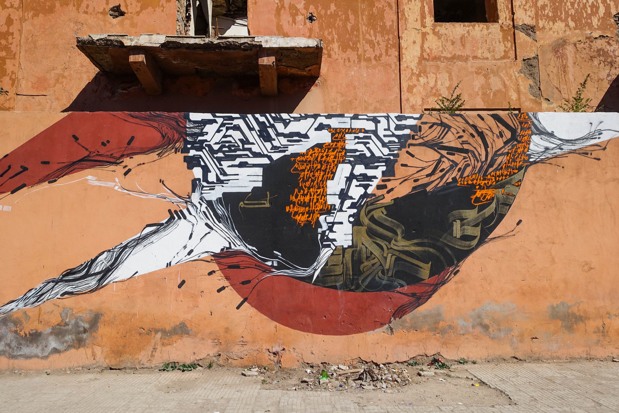 They completed two murals in Marrakech - one in Medina and a second one in the new town with local artists. Graffiti is seen as an urban pollution, so the trio chose to confront themselves to the prestige of Moroccan ornaments, the treasures of the country's history and its tourists' clichés. What is special about it and particularly important is that street art doesn't exist in Morocco; therefore, this was an extraordinary moment for both the artists and people living there.
Le Mur Saint Etienne
In 2015, Sowat and Lek made a piece for Le Mur Saint Etienne, France. The idea behind that work was to create a modern and abstract war banner.
So, he spent the first night tracing black bits and pieces of deconstructed letters with dripping paint brushes that Lek covered the next day with gold circles and lines.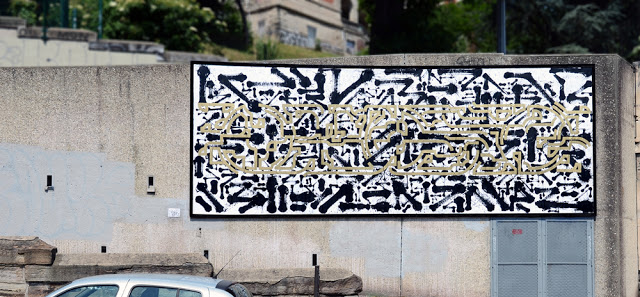 Sowat is an artist for whom graffiti represents only the tip of the iceberg in his love of expression & creativity. He is always looking for new calligraphy styles, on canvas or paper, with a bamboo stick or a spray can...
Sowat surrently lives and works in Paris, France.