Originally from Normandy, France, SP38 has lived and worked as a prisoner of Berlin since 1995, but that hasn't kept him from travelling the world and sharing his work. SP38 has a specifically defined palette and he works almost exclusively in blue, yellow, red and green colour. His graffiti have to be made out of a very small collection of symbols, including a blue plane and gold rabbit. He writes with a unique font that he created by himself. He also has specific statements that repeat in his work, phrases that look like slogans, such as Made in dream, Art must be outside, or I don't want to be u're friend on facebook. By putting these elements together, he invests into his poignant work and hopes that it will touch people and provoke reactions. Words are his strong game and his goal is to provoke an emotional reaction and concrete action.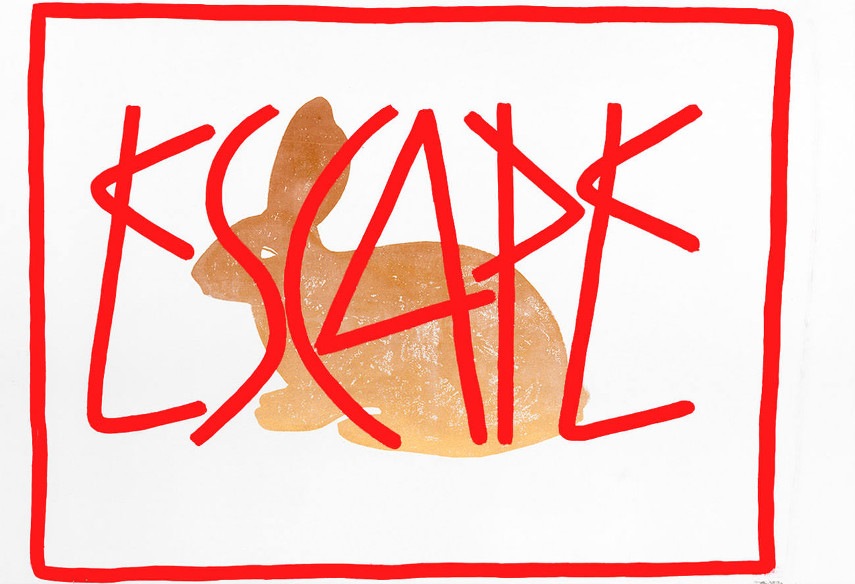 Human Copy Machine
While living in Paris, SP38 started painting. He even studied art for a while. He began painting on canvas, but shortly after met people from big studios and big collectives, and decided to leave his canvas painting and join them for an adventure. His creativity led him to work with street posters. His method is precise, quick and repetitive. SP38 defined his style as human copy machine. This copy machine produces and reproduces the same motifs, text, and posters, and copies them in great numbers. He pastes them all over the city walls, in various places and countries. What separates him from the copy machine is his human touch. There is a unique mark on every single piece of his work, like in a fingerprint, no two are unlike. Not being entirely identical, his posters have tiny imperfections specific for handmade works.
SP38 reproduces the same motifs, text, and posters, and copies them in great numbers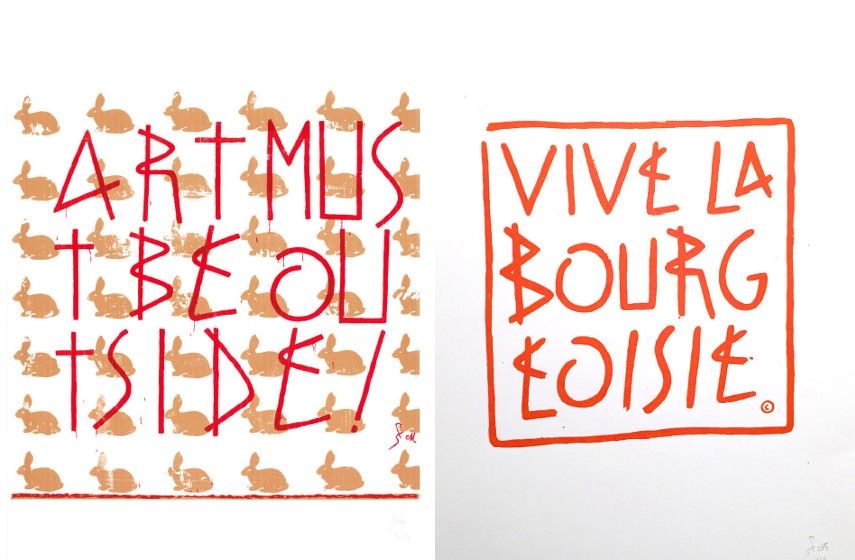 The Power of Outdoors
SP38 deeply believes that art belongs outdoors, where it's left open to the viewer. His posters sometimes resemble children's wallpaper or funny, comic book like writings, but his message is often intended to social and political causes. With urban poetry, he criticizes the modern society. When he scrutinizes the contemporary lifestyle and universal social norms that majority of people follow blindly, he does it in a subtle and elegant way. For 20 years he has been working and painting in Berlin. When he first moved to Germany, Berlin was a creative mecca, where everyone could or, at least, try to be part of the art world. Things have changed much since he started working there, but the eagerness and willingness to share and explore the creative world for SP38 stayed unchanged.
SP38 uses humour and sarcasm when he fights for his goals
Witness of Transformation
Throughout his fruitful career, he had witnessed many changes in the creative world. People exchanged analogue for digital, principles for paychecks and they changed their life priorities. Inspired by all these changes he organised an exhibition called Vive SP38! where he showed his work from his two decades in Berlin. Even when his words seem harsh, his intentions are not. He wants to provoke and maybe induce some involvement. When he makes his posters he mixes silk-printing and painting, and when he exhibits them and places them on city walls, he uses his performance skills. This multitalented man uses humour and sarcasm when he fights for his goals and his objective to legalize freedom.
The artist is represented by Open Walls Gallery
SP38 lives and works in Berlin, Germany.
All images used for illustrative purpose only © SP38.