Speedy Graphito is the pseudonym of a Paris-born contemporary artist Olivier Rizzo. He is widely recognized as one of the most important and influential figures in the French Street Art movement. His oeuvre is striking, vigorous, and controversial – and while the most of his work is paint-based, he is also regarded for his work in other media including sculpture, installations, video and photography.
Graffiti Addict Series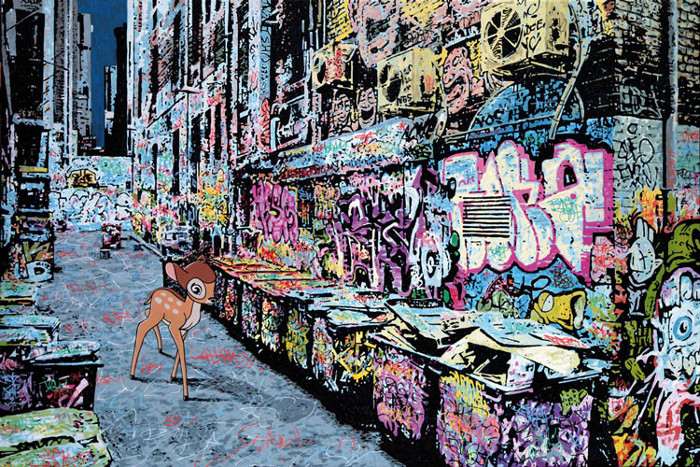 Background and "Style Graphito"
Olivier Rizzo graduated with honors from the School of Art Estienne in Paris in 1983, receiving his formal education through a seven year arts program. The following year, he started signing his works as Speedy Graphito. His reputation has been growing steadily since the early-1980s, leaving a mark on a generation of artists and contemporary art.
The artist who never ceases to explore all media in order to create an ongoing dialogue between the past, present, and future of art, began his artistic career as a member of the short-lived art collective X–Moulinex in 1983 creating dynamic paintings and street murals using spray paint and stencils. Over the years he has developed his own inimitable style that explores the tragedies of consumer seduction while referencing pop culture icons and street art influences.
Street Art by Speedy Graphito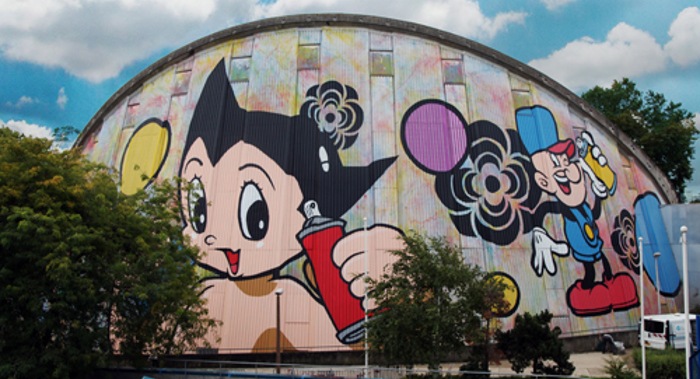 Joyful, Profound and Unique Art by Speedy Graphito
Particularly inspired by the iconography of animated characters from movies and television, his original and forceful art style incorporates schematic and charismatic subjects, cartoons and manga as well as contemporary commercial brands, advertising logos, and pop culture imagery.
Using all mediums - from paint brushes, sculpture, installations, spray paint, video and more - he plays on pop and media culture. Over the years, his art has been permanently evolving, always in harmony with his time, making pictorial languages, iconoclastic and satiric depiction of our society.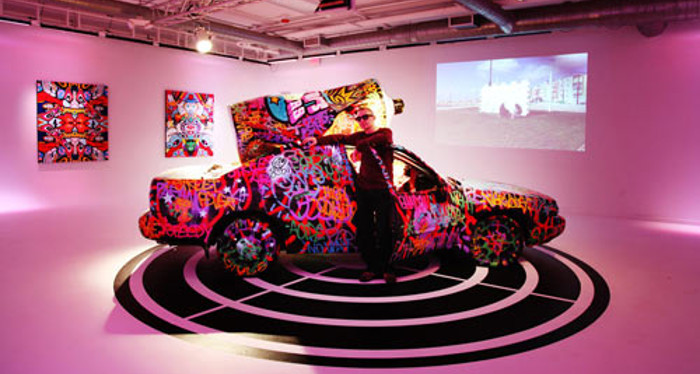 Disney Characters
Speedy Graphito also draws inspiration from childhood memories. He investigates the world of cartoons, reinventing a selection of Disney characters. As a case, in his piece Stars in My Head, the artist transformed the protagonist of one of the greatest animated films of all time – Pinocchio, while Temptation (Enhanced) elements Disney's Snow White captivated with the half-eaten logo of Macintosh Apple, making a sagacious and sarcastic message about purchaser enchantment.
Disney Inspired Artworks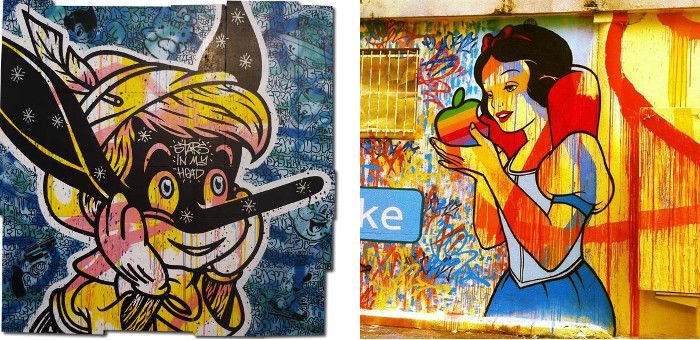 Exhibitions and Gallery Representations
Speedy Graphito has participated in numerous individual and collective exhibitions throughout the world. Some of his solo shows were held at Galerie Polaris, Paris, France; Institut Français, Naples, Italy; Galerie Punto, Valencia, Spain; Galerie Anne Vignial, Paris, France; Art Partner Galerie, Bruxelles, Belgium; Opera Gallery, Londres, UK; New Square Gallery, Lille, France; and Castanier Gallery, Miami, USA, among others. His work has been included in group shows at Galerie Mathgot, Paris, France; Institut Français, Prague, Czech Republic; Art Partner Galerie, Bruxelles, Belgium; Galerie Kahn , Strasbourg, France; Galerie Punto, Madrid, Spain, to name a few. His art can be found in many notable collections.
Graphito's Exhibition at Opera Gallery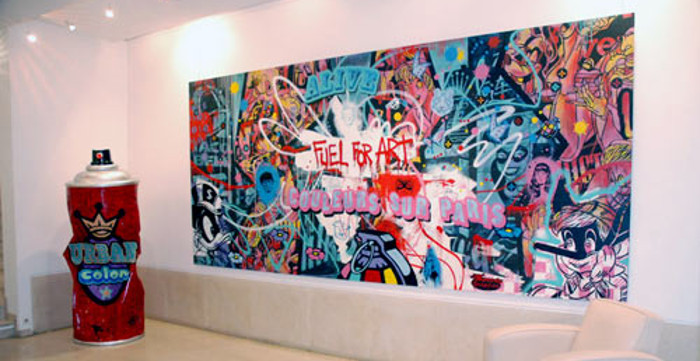 He is represented by Fabien Castanier Gallery in Culver City, CA and Opera Gallery, Paris.
He lives and works in Paris, France and Los Angeles, USA.
Images courtesy © the artist