Nudity has been used in visual arts in so many different ways that it became quite complicated to create an artwork that will show or explore something unusual and unique about naked human skin. Spencer Tunick, New York-based photographer, succeeded in making a different approach to nudity, trough his exceptionally complex and breathtakingly beautiful mass nude photo shoots. For over twenty years, Tunick has been gathering large groups of volunteers, hundreds or thousands of them and creating controversial human installations worldwide. His goal is to create architectural masterpieces made of human skin, perfectly blended with various surroundings.
Photographer Puzzled by Installation
Tunick was born in Middletown, New York in 1967 and from the earliest childhood he was surrounded by cameras and photo equipment. His father owned a keychain photo-viewer store where Tunick used to play as a kid and ask his father a lot of questions about photography. What is really intriguing about Tunick is that nude photography became the main and only focus of his work quite early. In 1986, when he visited London for the first time, he took some nude photographs at a bus stop and became deeply intrigued with this genre of photography, wanting to explore it as thoroughly as possible. Tunick graduated with a BFA from Emerson College in 1988 and already in 1992 started to document nudes in public places in New York. At that time, he was working primarily with photography and video. His pieces were focused more on nude individuals and smaller groups of nudes. However, in 1994, he decided to try working with larger groups and took photos of around thirty nude people in front of the United Nations building in Manhattan. This was a turning point in his career, when he started thinking about working with groups of people through performance.
Nude photography became the main and only focus of Tunick's work quite early in his career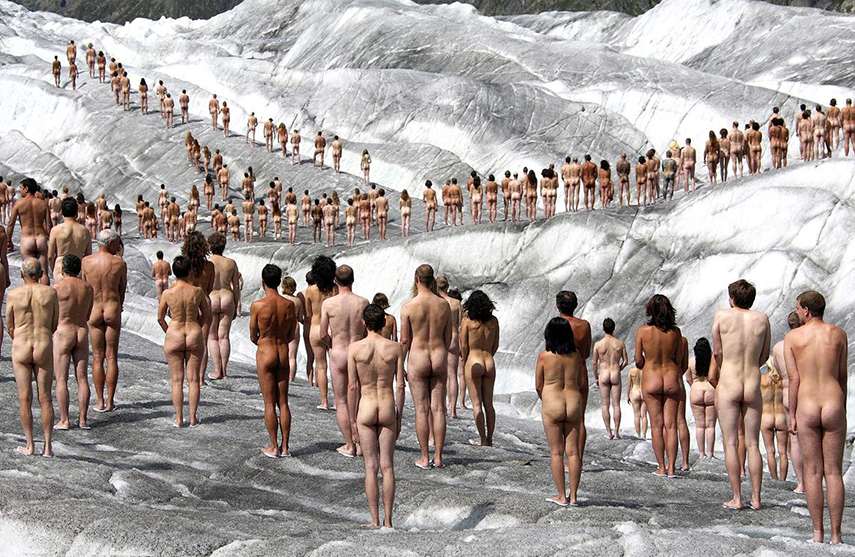 Nature Versus Culture
The main goal of Tunick's work is creating mass scenes which personify the battle of nature against human culture. Human flesh placed against various improvised backdrops, such as urban areas, deserts or even cold, snowy mountains is the perfect metaphor for returning to pre-industrial era despite our current modern and digitalized world. Tunick wanted to spread his enthusiasm for human installation worldwide and he has traveled to many countries in Europe and Asia to present his ideas in the most diverse public settings. He invested enormous efforts into organizing volunteer participants counting up to ten thousand people. His work is beyond living sculpture and performance, making a category on its own. Tunick investigates various social, political and legal issues related to nudity in public domain. Also, his philosophy is that naked human bodies, when put together, go through a metamorphosis and obtain a new shape, which depends on their natural or urban surroundings. Tunick carefully chooses his models by gender, hair, age, skin tone and highly appreciates diversity. He is also interested in the contrast between the natural and the artificial and this is the reason why he chooses well-known urban areas to place his installations.
Tunick is creating mass scenes which personify the battle of nature against human culture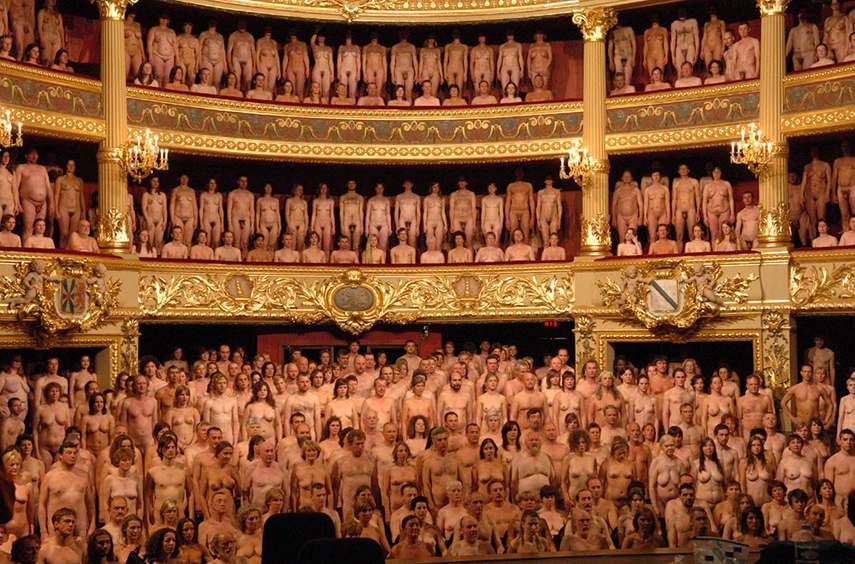 Controversies Followed by Success
Having in mind the nature of his work, it is not surprising that Tunick has been arrested five times since 1992 while trying to set up his work in New York City. It wasn't until May 2000 that the U.S. District Court recognized that Tunick's work is protected by the First Amendment of the U.S. law. However, this wasn't the end of his troubles - just four months after his ideas were deemed protected by the First Amendment, Tunick applied for his first New York City permit to organize a mass nude shoot and was denied again. At that time, he decided to start working solely abroad and hasn't tried to organize exhibitions in New York in over ten years. Since 1994, he set up over 75 human installations worldwide and his most prominent photographs have been commissioned by many galleries and museums, including Art Basel (1999), Institut Cultura Barcelona (2003), The Saatchi Gallery (2003), MOCA Cleveland (2004). Also, a dozen of documentary movies have been inspired by Tunick's work, such as BALTIC (produced by BBC), Positively Naked ( produced by Helen Hood Scheer in 2004), Naked States ( by Arlene Donnelly) and Naked Pavement (by Joshua Tunick).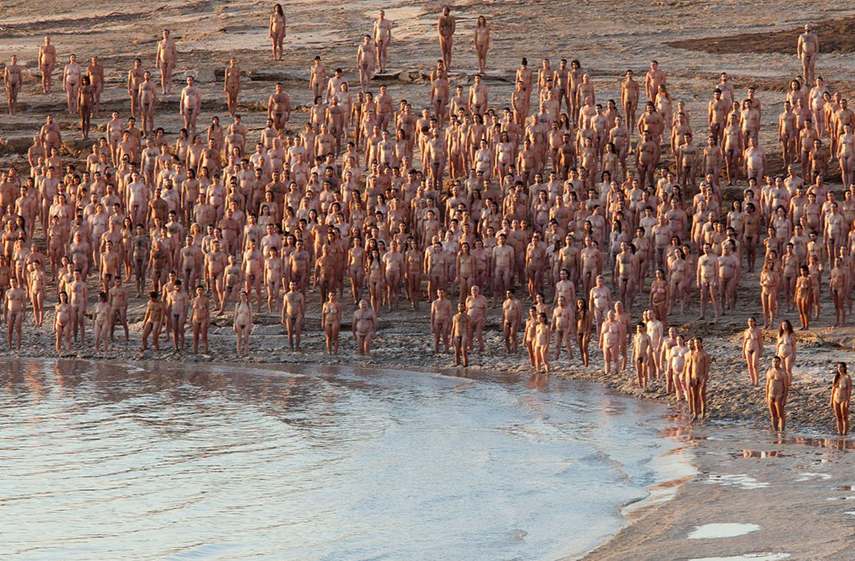 Important Projects
When it comes to his biggest projects so far, three of the most significant ones all happened in 2007. On June 3, 2007 he photographed a gathering of 2000 people in Amsterdam. Some of the people were in a car park, others at a nearby gas station or riding bicycles. Also, a smaller group of people was photographed on a canal with a temporary bridge construction. This gathering was particularly beautiful because of Tunick's idea to make the optical illusion of people floating above the canal, since he used an extremely thin temporary construction to play the part of the bridge. Another event was held on May 6, 2007 in Mexico City, at Zocalo square, where even more participants gathered – roughly 7000 of them and this was the new record for Tunick. At the same time, he became aware of the particular issues which arise when photographing large numbers of people, such as the difficulty to frame them all at once. Some of the buildings around the square were public and administrative institutions, so Tunick couldn't get a permission to climb these buildings and shoot the participants from the rooftop. Lastly, the most beautiful Tunick's shoot also happened in 2007 – it was the Aletsch Glacier gathering which was organized to raise the awareness of global warming and shrinking of glaciers. The temperature during the shoot was very low and it was challenging for participants to follow Tunick's directions. However, this event turned out to be a great success and it has received the AME Grand Trophy for Public Service.
Tunick waged the war for his art until the grand victory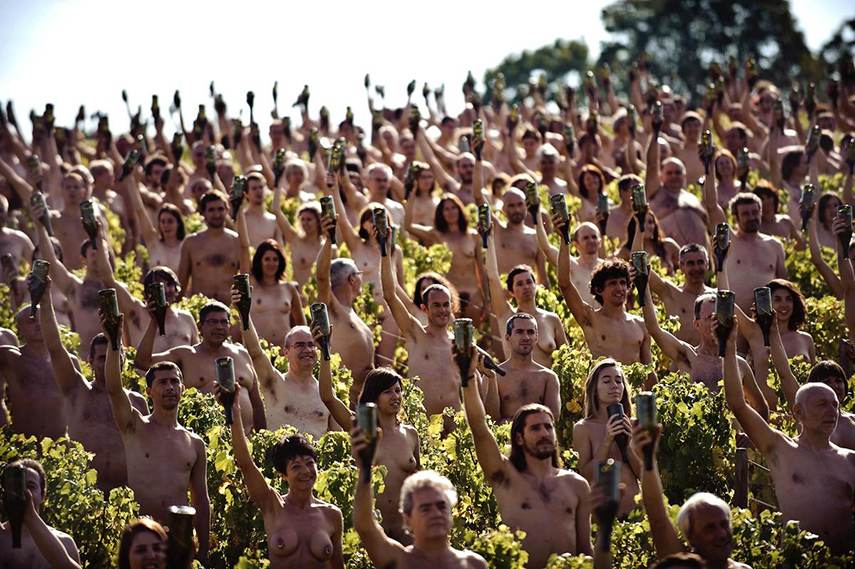 Staying True to the Plan
Tunick's road to success has been long, hard and unpredictable. Even in this modern world of ours which seems to be much more open-minded and uncensored than the world of our parents and grandparents, the artists like Tunick are bound to have hurdles when it comes to the freedom of self-expression. Yet, Tunick stayed true to himself from the very beginning and never gave up trying to make his projects accepted worldwide. Since the large groups of volunteers from many different countries agreed on participating in Tunick's controversial installations which are now widely accepted and appreciated, it is safe to say that Tunick waged the war for his vision until the grand victory.
Spencer Tunick lives and works in New York.
Featured image: Spencer Tunick with one of his artworks
All images copyright ©  Spencer Tunick