Drawing inspiration from the outstanding beauty of her hometown of Marin County in California, American artist Stacey Kamp creates striking oil paintings that reflect her love of the landscape and the beauty that surround her. Fascinated by textures and colors found in our natural environment - from the wings of a butterfly to the bark on trees – Kamp makes artworks that test the balance between reality and abstraction. Although she has been painting since an early age, it wasn't until 2009 that she opened up to the idea of exhibiting and selling paintings when a friend of her suggested to participate in a local art show. She accepted it and ended up selling five of seven paintings. The feedback the artist received was so positive that it motivated her to show her work everywhere she could.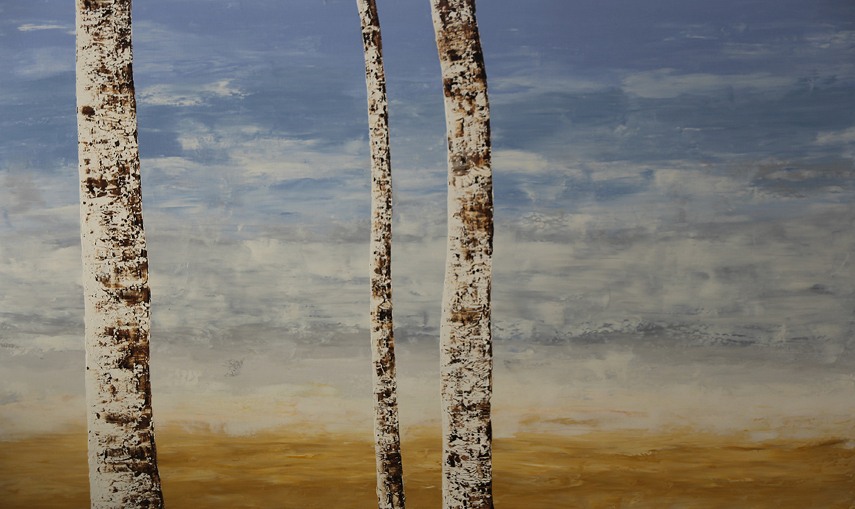 A Tribute to Kamp's Grandmother
Stacey Kamp was born and raised in the Bay Area where she spent time as a child with her artist grandma, learning artistic skills. She spent almost every day in the basement of her grandmother's home that was dedicated to the arts. There were a dance hall, woodworking shop, printing press, photography dark room, pottery studio and Stacey's favorite painting studio where her grandmother nurtured her with lessons in oil painting, pottery, photography and more. Although her grandmother passed away in 1985, the artist says all her paintings are a kind of tribute to her grandma.
Kamp's grandmother nurtured her with lessons in oil painting, pottery, photography and more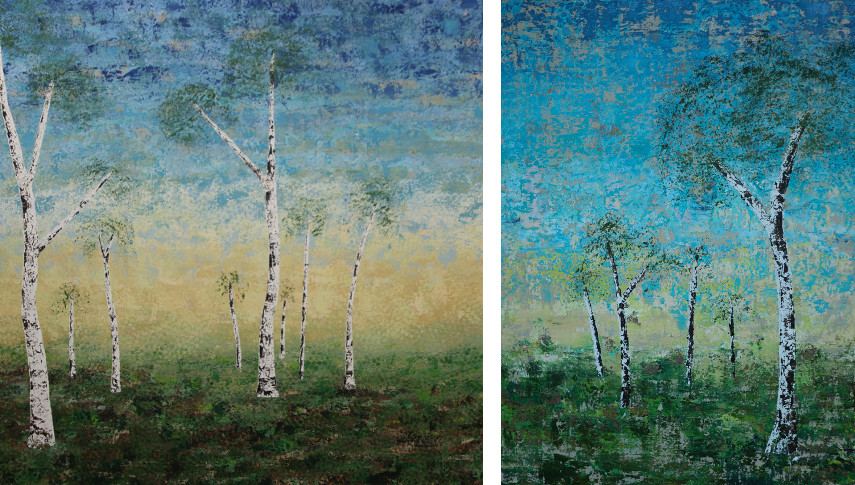 Calming Effect of Painting
The artist never took painting classes in college and ended up getting her BA in Psychology and MA in Counseling, both from the Dominican University of California, San Rafael, CA. However, over the last ten years, painting has become a growing source of personal, creative, emotional, and spiritual expression in Stacey Kamp's life. In 2009, upon her father death, she spent a plenty of time in her studio's sanctuary creating numerous works as an expression of her grief, but also of a relaxing, quiet focus. Painting has been her safety blanket and a way of calming the mind. The theme in her pieces is always a tranquil natural environment with vivid textures and colors.
The theme in her pieces is always a tranquil natural environment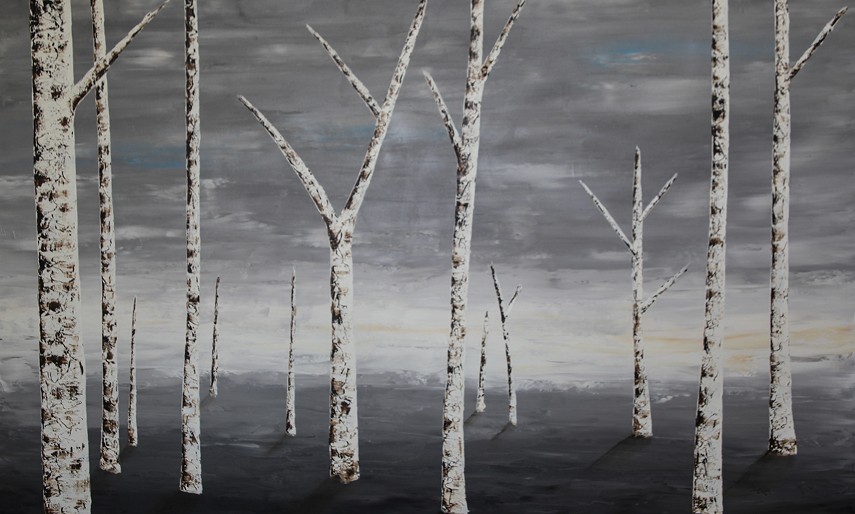 Pairing Poetry and Painting
Best known for her Birch tree series, which focuses on the light and texture of the bark, Stacey Kamp paints mainly with oils, emphasizing color and textures by using only palate knives. She currently works on a series of abstract paintings with the theme of reflections. Fascinated with poetry, she is also experimenting with the idea of pairing poetry with painting, as she would love to base abstracts on her favorite poems. Amongst painting career, Stacey is a founder of Local Art Productions, a pop-up one-night art show with DJ, cocktails and food trucks that draws crowds to see the work of up to forty creatives. She has also held a seat on the San Anselmo Arts Commission for three years, been a seven-year member of RAW Natural Born Artists, and she's been the events manager of the historic Log Cabin since 2004.
Stacey Kamp lives in San Anselmo, California.
Featured image: Stacey Kamp - portrait
All images courtesy of the artist