From Rome and Taranto in Italy, comes a duo of street artists, by the name Sten Lex. Famous for their style which can be considered as a crossroad between Op Art (Optical art), photography and stencil, their work is characterized by a highly developed technical finesse adapted to a monumental scale. Both Sten and Lex were born in 1982, and have been making stencils together since 2000. Becoming a duo, they are most famous in the history of stencil for introducing the halftone technique, in which the main part of their stencil portraits is composed of thousands of lines. It is worth mentioning that they are also considered to be pioneers of the urban stencil in Italy, only to become one of the most internationally renowned Italian street artist. Monumental portraits made of paper slips show perfection in utilizing stencil technique with optical illusion. Their work can be seen worldwide, from the USA to China.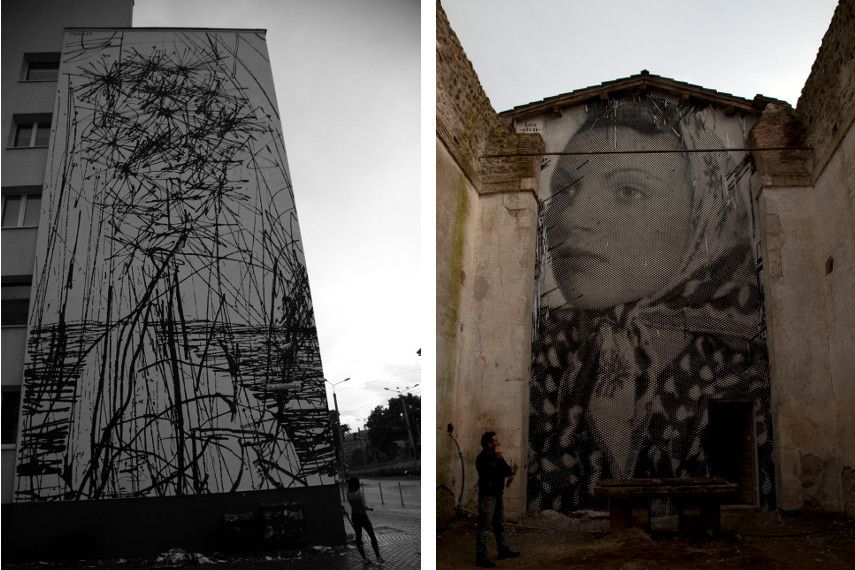 The Modern Day Impressionists
Distant from any form of institutionalized education, this duo creates their own path to walk on. Composing their work out of portraits of famous as well as completely anonymous people. Usually, those whose portraits they have personally photographed or those found in their family albums. The playfulness of light and shade reveals a deep impressionism influence. This manipulation of light is what captures the painter's feelings, sealing them to the canvas. One other legacy from the impressionists is the en plain air making of the artwork. Gone are the days of the impressionists, and Sten Lex take advantage of the modern times, finding silk-screen and pixel-based printing to be a threshold in their artistic expression, thus positioning software development as one of the key ingredients to their art. Technology allows them to create portraits by working on shadows in the photo. These techniques are what we have to thank for in regards to immense stencils of historical and religious figures Sten Lex have created.
Immense stencils of historical and religious figures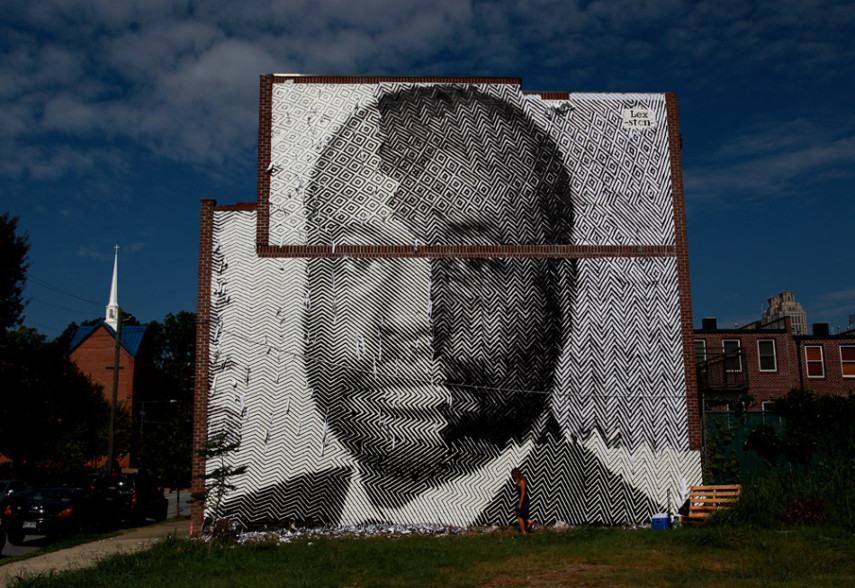 Poetic Lines
It was in 2013. when the duo did a show at Magda Danysz Gallery in Shanghai, when they first did abstract compositions. As they say in the interview, they decided to work on small sketches which they would enlarge. It was about at the same time when they did an abstract mural in the French district. This show in Shanghai was a turning point for the duo, changing the language they work in, with lines becoming chaotic, and the pencil sketches becoming an inspiration for the murals they did later on. It is this abstract line that presents the milestone in the traditional street art. Sten Lex agrees that their infatuation with the process of making dates back to the show they did in Rome in 2010 when they tried to paste a stencil on wood. This mesmerizing process made them feel an aesthetic sense of stupor, and ever since, they consider their process to be part of the artwork. Not only are these artworks majestic, they own a hidden magic which shows through time, as the work of art mutates, changing with the weather, at nature's will, revealing its true self, one line at a time.
The artists are represented by Wunderkammern Gallery Rome, Wunderkammern Gallery Milan and Magda Danysz Gallery - Shanghai.
Sten Lex live and work in Rome, Italy.
Featured image: Sten Lex - portrait
All images copyright of the artists