Steph Cop (sometimes spelled Steph.Cop) is a French sculptor, best known for his series of sculptures called Wooden ARO (short for Obsessive Reflex Analysis).
Born in 1968 in France, Steph Cop grew up in Paris, where he first made contact with graffiti art. During his formative years in the 80s, Steph rose to prominence when he, together with his crew Control of Paris, painted the fences of the Louvre. Very soon he became one of the most important artists in the Street Art movement. In 1996, Steph pushed the boundaries even further, when he traveled to New York, where he worked with the famous Cope2. Several years later, Steph Cop felt the need to translate his two-dimensional images into three-dimensional figures. He engaged in the world of Designer Toys, and in 2000 produced a series of five figures, titled Imaginary Friends. These figures would later serve him as the basis for his famous AROs.
Wooden ARO sculptures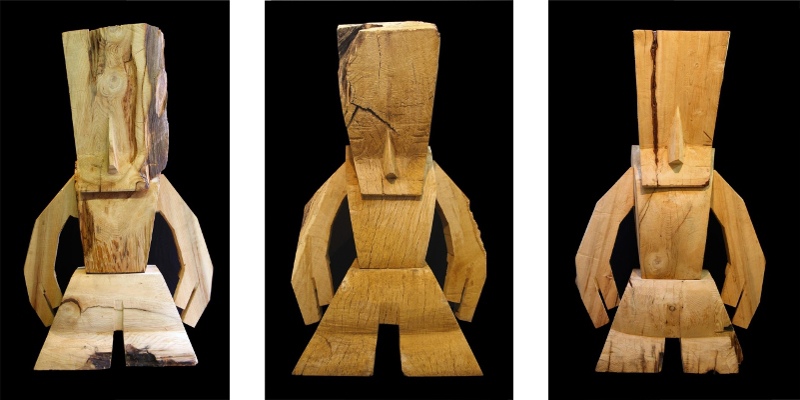 Steph Cop has made a change of scenery, as the streets of Paris are no longer his "studio". The artist turns to nature in search of inspiration – more precisely, he turns to the Morvan forest. He now uses a chainsaw as his primary tool to create his signature Wooden ARO sculptures. Carving them in wood, Steph brings forward all the imperfections in the wood, and creates beautiful forms. The artist searches the forest for damaged wood. The search can be long sometimes, but it doesn't matter because, as Steph says, in order to best understand yourself, you need to lose yourself in a forest. ARO also represents the artist himself. It stems from his mistakes and flaws. It seems like the flaws are not his own, that they belong to us all. And to nature itself. Steph carves our imperfections.
Root Wooden ARO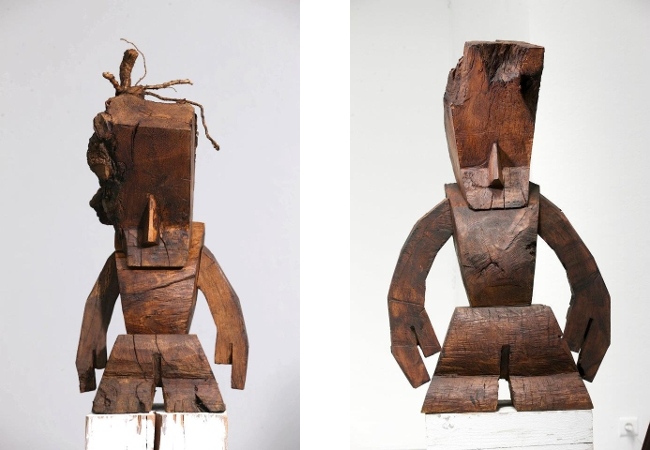 Praised for his work, Steph Cop goes even further. He now produces his AROs in various different materials besides wood, such as steel, porcelain, concrete and vinyl.
Apart from having his artworks displayed in one-man shows, Steph Cop has participated in numerous group shows across France, as well. His two most notable solo exhibitions include Neurogamie, a 2012 exhibition organized by the David Bloch Gallery in Marrakech, Morocco, and more recently, Characters, held at the Percept Gallery in Lyon in 2014. He is represented by the David Bloch Gallery and the Kolly Gallery from Zurich.
Steph Cop currently lives and creates in France.
All images are © Steph Cop, courtesy of David Bloch Gallery