Stephan Doitschinoff, also known as Calma, is a Brazilian painter and muralist. His street alias Calma means "calm" in Portuguese and "soul" in Latin. He was born Stephan Prado Marcondes Doitschinoff in São Paulo, Brazil, in 1977. Doitschinoff is a self-taught artist and one of the leading Brazilian talents. São Paulo Art Critics Association named him Most Promising Artist. The artist is known for his urban art and human figure painting, focused on cultural commentary, politics, religion, symbols, cross-cultural dialogue and anthropomorphism. He has developed a unique language and imagery.
Acrylic paint on canvas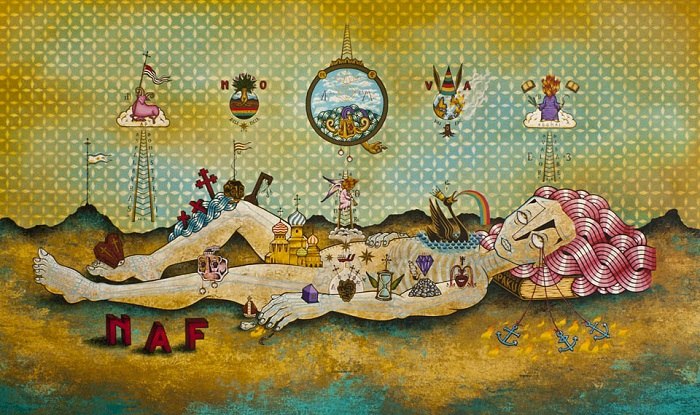 Work
From the higher education dropout to one of the leading young artists of the Brazilian art scene, Doitschinoff's work is both on the streets and in major galleries and institutions, fine art and urban art which contains both Western influences and indigenous traditions. Stephan is the son of an Evangelical minister, so he absorbed the imagery of religious art a child and learned about Eastern religions, sacred art and alchemy from his grandmother. However, the artist believes that the church is an archaic institution and a symbol for corruption, just like big corporations, governments and media channels. He sees the church as an institution which tries to control the masses. Christian fundamentalism and Brazilian long military dictatorship brought about the artist's responsiveness to poverty, corruption and violence. Stephan incorporated his childhood experience, symbolic code language, folklore and religious elements into his delicate paintings, so now Doitschinoff's work is a skillful blend of Afro-Brazilian ritual practices, Baroque religious elements and Pagan symbols. In addition to that, his works include Latin text and graffiti writing from his hometown São Paulo, called pichação. His artworks are a critique of contemporary society, opening a philosophical and political debate.
In 2006, the artist illustrated metal band Sepultura's album Dante XXI, and in 2010 made an animation for the hip hop group NASA's song Strange Enough.
Teaching
He has been also teaching courses and lectures at universities and museums in Brazil, in institutions such as MASP, MAM, FAAP, and abroad in Prague College in Czech Republic, Faculty of Fine Arts in Lisbon in Portugal, What Design Can Do conference in Amsterdam, Netherlands and Design Center in Kiev, Ukraine.
Commissioned Mural for Museum of Contemporary Arts in San Diego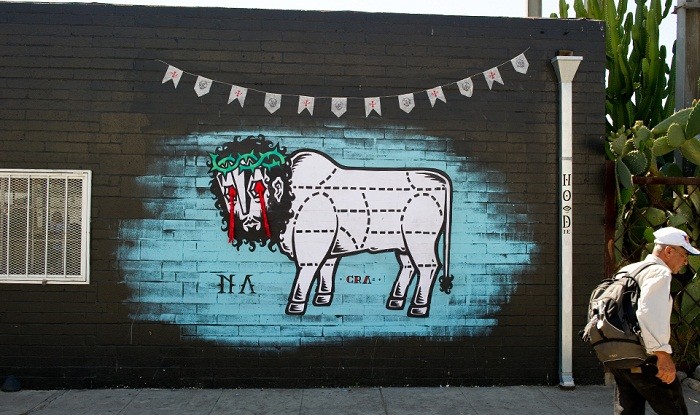 Journey Through Bahia
Doitschinoff traveled for three years, from 2005 to 2008 through rural Bahia in Brazil, and inspired by the beliefs and stories of the local people, he spent the time creating murals on adobe houses, chapels and cemeteries of the small villages with local craftsmen and artists. This journey is portrayed in his book Calma:The Art of Stephan Doitschinoff, which was published by Gestalten, an international publisher and creative agency. The trip was also the subject of TEMPORAL, the short documentary film from 2008, which focuses on his village murals, African animism, folklore and religion. In 2012, German published Gestalten also released his second book, a monograph entitled Cras.
Cras
Cras comprises the artist's sculptures, paintings, public performances and installations, created between 2008 and 2012. It features stunning close-up images which show how complex and detailed his works are. Apart from that, Cras includes a series illuminated texts, which Stephan Doitschinoff did specifically for the book. The illuminated texts represent Stephan's symbols and philosophy. The official release happened in Berlin, in Gestalten's headquarters, and was followed by a promotional tour in Amsterdam, Netherlands; Kiev, Ukraine; Zurich, Switzerland; Prague, Czech Republic and other cities in Europe.
Ceramic sculpture in the Afro Museum in São Paulo, Brazil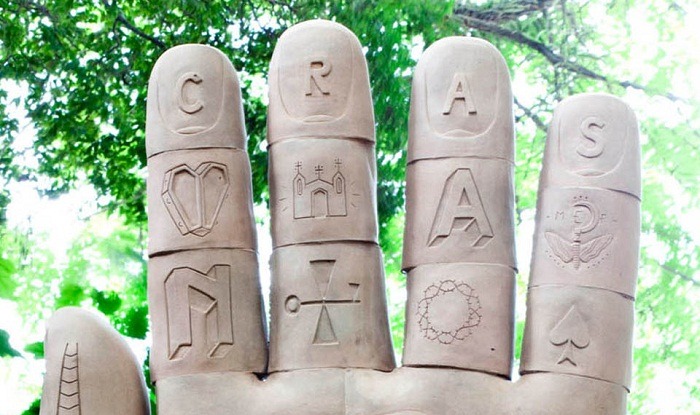 Exhibitions
Stephan Doitschinoff had his works exhibited in galleries and museums throughout Brazil, United States and Europe. The institutions and galleries where his works were on display include the Museo de Arte de São Paulo (MASP) in Brazil, Museum of Contemporary Arts in San Diego (MACSD) in United States, the Afro Museum in São Paulo, Brazil; Galeria Choque Cultural, also in São Paulo, Brazil; This Way Up in London, United Kingdom; Diesel Art in Tokyo, Japan; Gestalten Space in Berlin, Germany; and White Walls in San Francisco, United States. He had two solo exhibitions in New York, in 2008 and 2011. They were both hosted by Jonathan Levine. The artist is featured in The Isabel and Agustin Coppel Collection, one of Mexico's most comprehensive contemporary collections.
He is represented by Jonathan Levine in New York, United States.
Stephan Doitschinoff lives and works in São Paulo, Brazil.
Featured image: Stephen Doitschinoff - Making of Capela de Santa Luzia
All images copyright © the artist