With 10 years long experience in graphic design, inspired by the street art movement and alternative music scene, Stephane Koyama-Meyer, also known as Traz, creates interesting visual combinations of bright colors and drawings. He likes to play with letters and chose sentences, so-called motivation quotes, borrowed from philosophers, poems or even hip hop lyrics. With the aim to spread the positive mindset, Meyer wants to give the public the break from their everyday routine.
Charity exhibition for children needs, Basel, 2015
Hanging Graffiti and Detail as a Whole
Inspired by the great master of mobiles, Alexander Calder, Meyer's project Street Mobiles consists of hand-made mobiles created from reclaimed materials such as plastic and metal, painted with different color. With a kinetic interpretation of urban writings, mobiles were put on the streets to surprise, inspire or motivate the people. Passing the message is also the theme of his project Glowing Memos. Interesting sentences are now emphasized with background lighting. But in the Side Project, Meyer was giving the primacy to the symbol.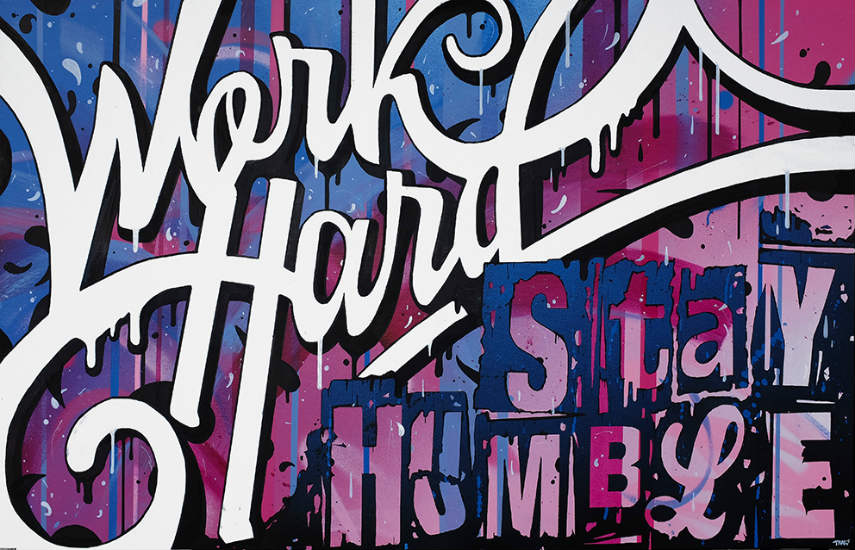 Experiments with Creativity
His paintings are made of parts of his graphic design creations. Paying attention to detail, Meyer cut it out and reproduced it on a canvas. He is transforming the graphic design into abstract work of art. Led by a strong desire to constantly improve his visual style, Meyer explores alternative mediums, experimenting with his own creativity. Born in Mulhouse in France and a graduate of Visual and Graphic Arts from Strasbourg and Besancon, Stephane Meyer now lives and works in Basel. He has exhibited all over the world, won an international art contest organized by the rapper Snoop Dogg and his work has been published in various books, including Book of Creation and Generation T. He's also co-founder of the Back To Type art collective.
Motivation quotes are borrowed from philosophers, poems or hip hop lyrics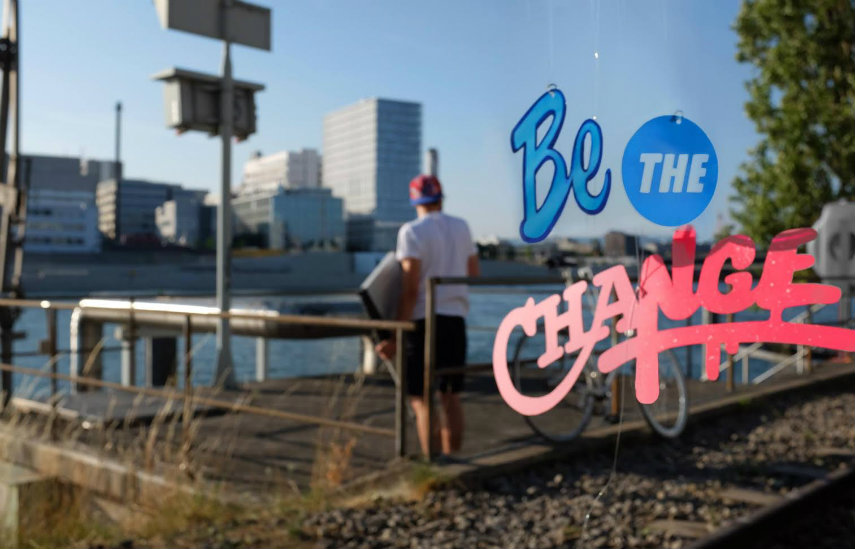 Sending the Message
Stephane Koyama-Meyer is using words and images to send his message. Involved in the underground nature of the hip hop and graffiti art, he never lost the interest in urban expression. Transferring the positive and universal message that anyone can use, Meyer is trying to bring a touch of life and poetry into the streets. His intentions are that, through his work, inspire action, provoke thought and motivate change. Mixing the best of graffiti art and graphic design experience, he brings the small detail into the center of his interest.
Stephane Koyama-Meyer lives and works in Basel, Switzerland
All images curtesy of the artist