Stephen Ives is an England-born Australian multidisciplinary artist known for his polished sculptures made of recycled children's toys.
Stephen Ives' Background
Stephen Ives was born in England in 1970 to an Australian mother and English father. He was raised in Lewes, a town rich in history and full of life located in East Sussex, a county in South East England. At the age of 12 he moved to Melbourne, Australia.
Ives' childhood was filled with many challenges and opportunities to be creative whether it was drawing, cooking, sculpting, Lego, making model kits or running around on the South Downs having adventures.
During his teenage years in Australia, Stephen practiced drawing as well as making model tanks and planes.
He completed his High School Certificate with distinction but was rejected from major art college in Melbourne.
Before starting his career as a professional artist in his mid-twenties, Ives changed many different jobs, he worked as a chef, barista, barman, waiter, market porter, grocer, cheese hand, paste up artist, in a small advertising agency, food stylist's assistant and forklift driver, among others.
Stephen Ives' Deconstructed Toy Sculptures
With a wide array of inspiration, ranging from the works of artist such as Dali, Rodin, Van Gogh and Gaudi, to the history, music, nature, and anything edible, Stephen Ives' work is about contrast and balance and the juxtaposition of the two. His ideas derive from a mix of experiential, mental, historical and cultural concepts made from recycled children's toys, scrap, trash and bought materials which are collected, deconstructed and used as a building blocks for his surreal visions.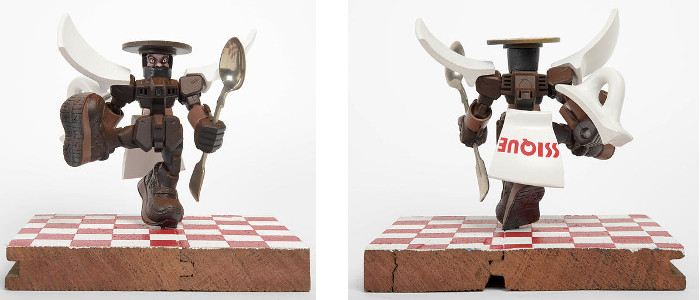 Each piece he creates is surprising and humorous; playful and mysterious.
The recognizable traces of baby doll heads and cartoon character action figures add a sense of lightness to his creative pieces that can sometimes be disturbing but always imaginative and inspired.
Mr. Dictator Head and Bleak
Mr. Dictator Head (2010) is Stephen Ives' irresistible series of sculptures that depicts various dictator figures as the popular children's toy, Mr. Potato Head. Well-known political characters such as Stalin, Lenin, Thatcher, Saddam Hussein, and Kim Jong Il are presented as a toy, characterized by multiple removable parts, achieving uncanny resemblance through eyebrows, hair formation, and, in some cases, the character-defining mustache.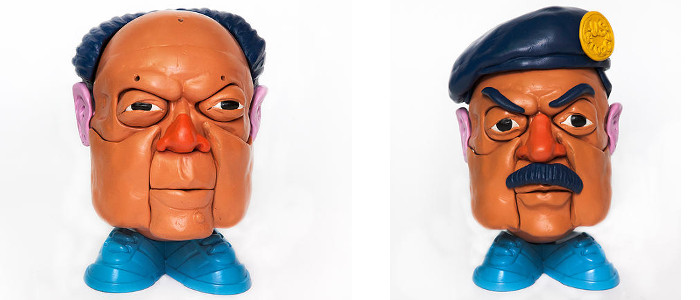 In Stephen Ives' latest series of work entitled Bleak (2015), the artist attempts to create moments of truth expressing the corruption and purity of the human situation as well as the diminutive nature of our endeavours.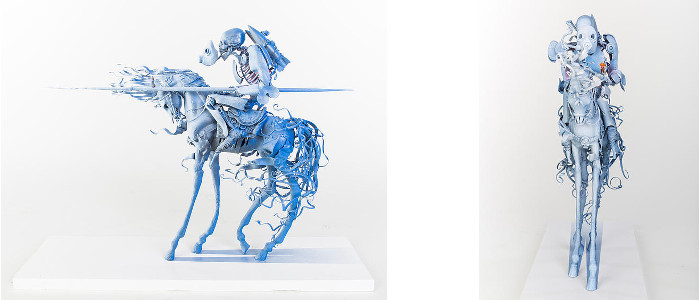 Exhibitions and Collections
Stephen Ives' work has been included in many individual and collective exhibitions in Melbourne at Backwoods Gallery (2015; 2013; 2012); No Vacancy (2011; 2008); Brunswick Street Gallery (2010; 2009); Fitzroy Gallery (2005); Gamma Space (2002); The Hang Suite (2000); and Zartowa Gallery (2000; 1999; 1997), among others, as well as in Denmark (where he lived for several years) at ADCO:VENUE, Copenhagen (2010; 2009) and Oksnehallen, Copenhagen (2009), among others.
He has participated in numerous art fairs including Art Brussels, Affordable Art Fair (London, Paris, New York), Santa Fe Contemporary Art Fair, and Copenhagen Art Fair.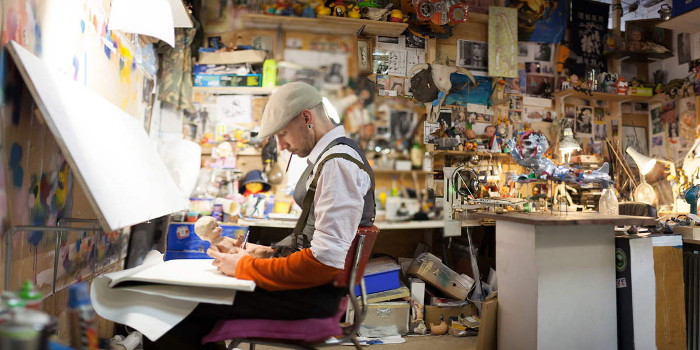 Stephen Ives' work is in many notable collections in Australia, UK, USA and Germany as well as some of the foremost art collectors in Denmark including Christian Stadil (Hummel Sport), Lars Christian Brask (EFG International) and the Danske Bank.
Stephen Ives is represented by Backwoods Gallery in Melbourne, Australia.