Widely regarded as a leading light among his contemporaries, Steve McQueen is without a doubt one of the most significant British artists. By employing simple aesthetics, with a preoccupation for elemental movement and motion, he disseminates his ideas through painting, filmmaking, and sculpture. Principally focusing on subtle actions, light and darkness, the artist unveils greater possibilities in film. McQueen's early works are characterized by an experimental approach to cinematic history and the dynamic between black and white, particularly in the aesthetic of silent film. Over the past decade or so, this aspect of his work has been joined by an exploration of the boundaries between the documentary and the narrative.[1] A broader audience was familiarized with his work after hugely successful 12 Years a Slave, but his other works deserve at least an equal amount of attention.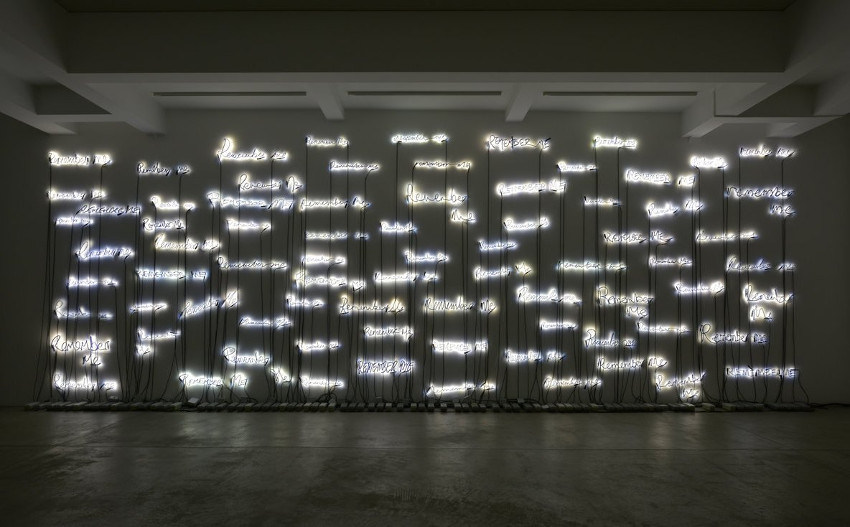 Early Life and Education
Born in west London, McQueen moved from the White City estate to the more comfortable suburban environment of Ealing when he was a small boy. He experienced institutional racism in school – being dyslexic and needing to wear an eye patch due to a lazy eye, he was placed into a class for students believed best suited for manual labor. Encouraged by his mother, he turned to art, studying at Chelsea College of Arts and Goldsmiths College, before moving to New York to take a film-making course at Tisch School of the Arts, where he found the strictures of the teaching quite frustrating. McQueen went to New York "…because I wanted to make feature films. I had had it with art and I wanted to go off and make films so I went to America where I quickly discovered that film school was not the place I wanted to be. I just wanted to just get on with it. At NYU, everybody wanted to be Scorcese or Spielberg, whereas what I wanted to do was throw a camera up in the air and catch it but no one was letting me do that. So I came back to London and started to make films."[2] The broad audience knows McQueen primarily as a Hollywood director, but he is first and foremost – an artist. It is quite rare for a video artist to venture out into something so commercial like Hollywood (Sam Taylor-Johnson comes to mind, but not many others), but McQueen doesn't find it unusual: "It is not as if I am jumping into different states of mind. It is all about finding what you want to say, and then how you want to say it."[3]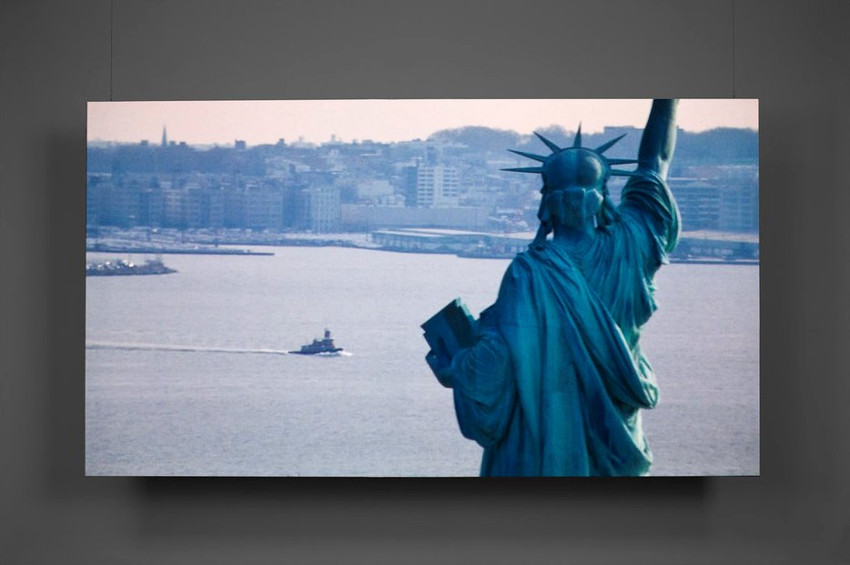 Short Films
Presented at the Royal College of Art in London, Bear (1993) was McQueen's first major film. Not an overtly political piece, but for many, it did raise questions about violence, race, and sexual attraction to men. The film shows a wrestling match between two men who alternate ambiguous relations and gestures of aggression and erotic attraction. The film's protagonists, one of them McQueen, are both black, but issues of race, he has said, do not take priority in his work. Similarly to his all early films, Bear is black-and-white and was shot on 16-milimetre film. Five Easy Pieces (1995) follows a woman across a tight-rope, and the director said that he finds a tight-rope walker to be the perfect image of a combination of vulnerability and strength. Just Above My Head (1996) shares close ties with McQueen's preceding film with the key theme of walking. A man – played by McQueen – is shot in a way so as to crop out his body, but his head appears small at the bottom of the image, rising and falling with his step and coming in and out of frame according to the movement of the camera. Deadpan (1997) is four-minute B&W short film directed by and starring McQueen showing a multitude of angles on a reenactment of the classic Buster Keaton house-falling stunt.
Exodus (1997) is a 65-second color film that takes the title of a record by Bob Marley as its starting point. It records a found event, two black men carrying potted palms whom McQueen followed down a London street, the greenery waving precariously above their heads. Then they get on a bus and leave. Western Deep (2002), commissioned for Documenta 11, the once-every-five-years German show considered one of the world's most prestigious exhibitions, surprised the audience with its sound. The disturbing, almost deafening effect contradicts McQueen's impressive use of silence in his works of the 1990s. A color film, Western Deep follows the artist as he descends into the world's deepest gold mine – the 3.9km-deep TauTona Mine, in Gauteng Province, South Africa – with a Super 8 camera, depicting the claustrophobic conditions in which workers extracted precious metals. For long stretches, the screen is nearly or totally black, since McQueen filmed without additional light sources. But the soundtrack carries the film: the elevator rattles into the earth, whirring air conditioners cool down the hellish temperatures, pneumatic rock drills shudder across the mine walls.[4]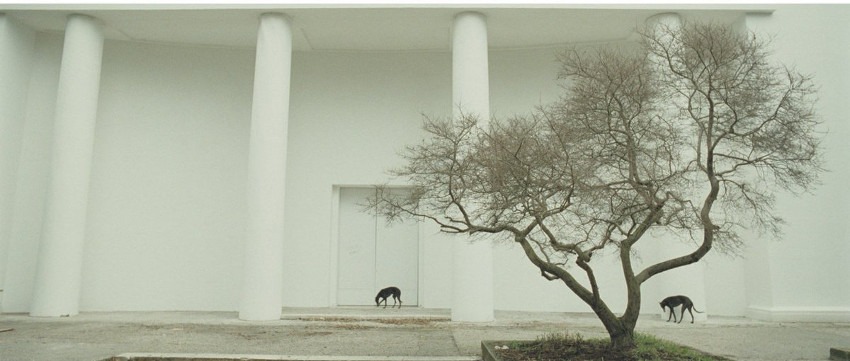 Larger Scale - Feature Movies
After establishing himself as a video artist and creating some astonishing short films, McQueen made a step into the world of movies, creating several feature movies that showed his ability to adapt to working on a larger scale. Of course, the change of work environment and complete change in the premise of the work itself raised questions of the true nature of McQueen's films. Some argued that his previous efforts were nothing else than a practice and a base for working on a grand scale – the Hollywood. Others claimed that McQueen is an artist and that his movies are simply a continuation of his artistic practice. While the featured movies reached a wider audience, it would be unfair to say they are better than his short films. His first feature movie was Hunger (2008) – a story about the 1981 Irish hunger strike and its leader Bobby Sands. The leading role was given to Michael Fassbender, an actor who became McQueen's friend and has also starred in his other two movies. Hunger premiered at the 2008 Cannes Film Festival, and while the story of Bobby Sands was told before on screen, it was never with such raw intensity and unrelenting artistry. The director had his second major feature movie in 2011 with Shame. Set in New York City, the lead role was once again given to Fassbender, who this time played a sex addict whose life is suddenly turned upside-down when his estranged sister reappears. The movie successfully dives into the life of a man living with an addiction to sex, and for the first 10 minutes Fassbender, his addiction and relationship with humanity are being introduced, and with barely any words used. The emotions are conveyed with facial expressions, the cinematography is effective, and the editing is great, resulting in another diamond of contemporary cinematography.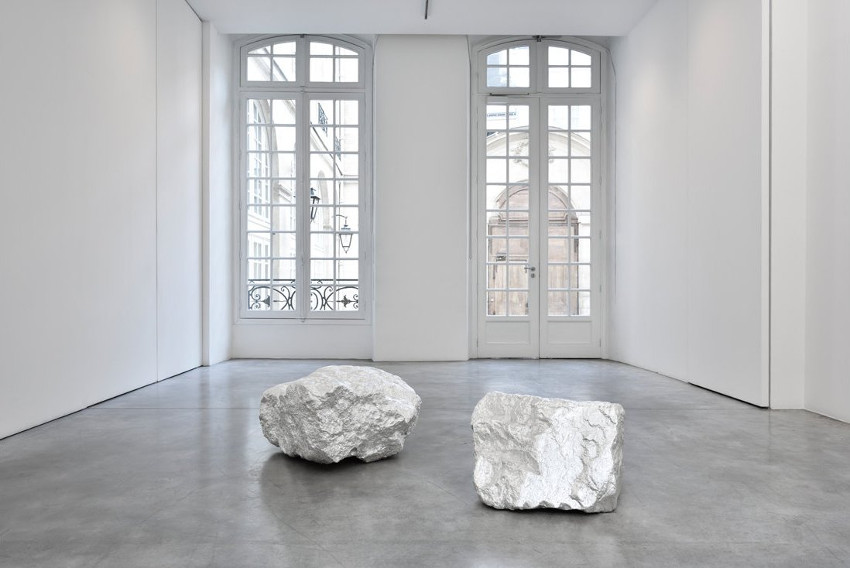 Steve McQueen and 12 Years a Slave
In 2013, McQueen reached the biggest yet audience with masterpiece 12 Years a Slave. Taking place in the antebellum United States, the story follows Solomon Northup, a free black man from upstate New York, as he is abducted and sold into slavery. Based on the 1853 Northup's autobiography and directed by McQueen, the movie went on and won 3 Oscars, while being nominated in 6 other categories. Northup was played by Chiwetel Ejiofor. Unable to speak his mind openly (unless he is prepared to be punished), Ejiofor utilized body language and his eyes, which became enormous pools of emotion to express himself to the audience. Forced to endure terrible things, he always maintains a certain dignity and nobility that makes his plight even more affecting. It's a performance of incredible subtlety that left the audience speechless and in complete awe. Playing Edwynn Epps, Fassbender portrayed a vicious and demonic slaver and perhaps the most loathsome and disgusting character ever put on screen. By turns pathetic and terrifying, he embodies the ultimate nightmare of a deeply flawed man given absolute power over other human beings. Through that absolute power, he finds only madness, which drives him to deeper cruelty. It is arguably Fassbender's best role up to date.
There were also other amazing roles in the movie (Paul Giamatti, Paul Dano, Benedict Cumberbatch, Sarah Paulson, Alfre Woodard were all great in relatively small roles), but Lupita Nyong'o, playing the pretty young slave Patsey, stands out. As an object of Edwynn Epps' demented and horrifying affections and the emotional epicenter of the entire picture, she gives one of the most devastating performances ever seen on screen. A portrait of unbearable sadness, her character is a mirror image of Solomon - while Solomon is a man who refuses to break and give up the dignity which he's known since birth, she is one who has long since been broken, and who never knew dignity in the first place. With uncanny eye for imagery and contrast, McQueen takes a theme as distasteful and tragic as slavery and gives the viewers another perspective. Unlike some of the previous movies that shared the theme and that were focusing on a single perspective, McQueen avoided the easy way where he would be limited to exploring the slaves solely and chose instead to increase the scope and also show how slavery affects those who profited by it. In his Oscar acceptance speech, the director emphasized that, even though slavery has been formally eradicated, in many parts of the world people still live as slaves.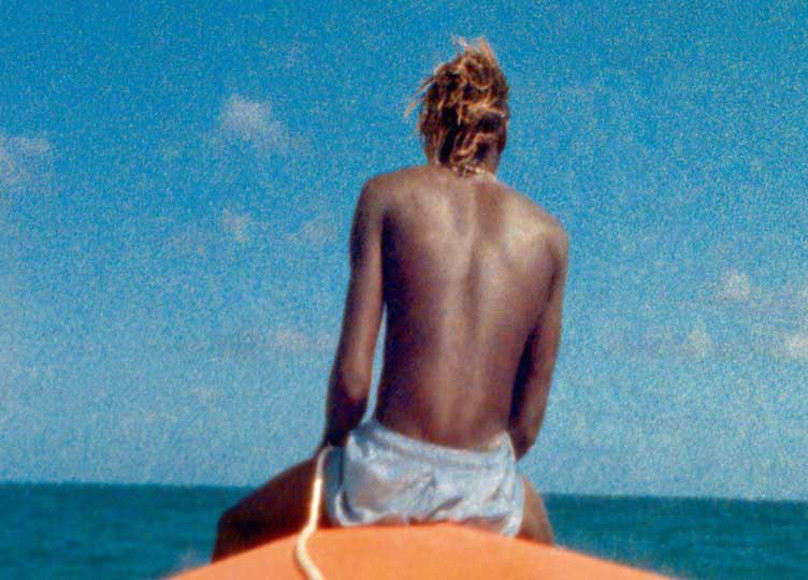 Ashes and McQueen's First Sculpture
Several months after winning an Oscar, McQueen returned to the artistic world with a new film and sculptural installation spread across two sites at Thomas Dane Gallery. The film is titled Ashes, and is a looping sequence featuring the eponymous figure, a young black man stood in a small orange boat at sea in the Caribbean. Shot with a Super 8 camera, the vibrant images maintain a powerful sense of nostalgia – like an old home video of a fishing trip – with the sunlight and splashes of water dappling our view.[5] The captivating visuals are complicated by the film's voiceover, in which two of Ashes' friends recount his violent death. As the story unfolds, the viewers learn of Ashes finding some drugs on a beach, only to be hunted down and shot as a consequence. In a strange way, the investigation carried out by his killers, who in search of the drugs drove around Grenada asking, 'Who is Ashes?' mimics the audience's own attempts to assimilate the smiling man on-screen with the tragic victim of the voiceover. The footage is from 2002 when Dutch cinematographer Robby Müller photographed McQueen's film Caribs' Leap in Grenada. When McQueen returned to the island in 2013, he heard of Ashes' death. The old footage was resurrected and the aural accounts recorded as an accompaniment. Entitled Broken Column, the second work in the show constitutes McQueen's first venture into sculpture, and it comes in two parts. The first, nearly seven feet tall, is a round black granite column, the top of which is abruptly severed, sat on a pedestal and displayed on a wooden packing crate. The second part of the sculpture, shown in a separate room, is identical in form but a quarter of the size, and is presented within a Perspex box. Broken Column seems to stand as a monument to Ashes, and perhaps to the curtailed lives of other young black men, forging an emotional connection between the sculpture and the film.
Steve McQueen has certainly proved his right to be considered one of the greats of the contemporary art scene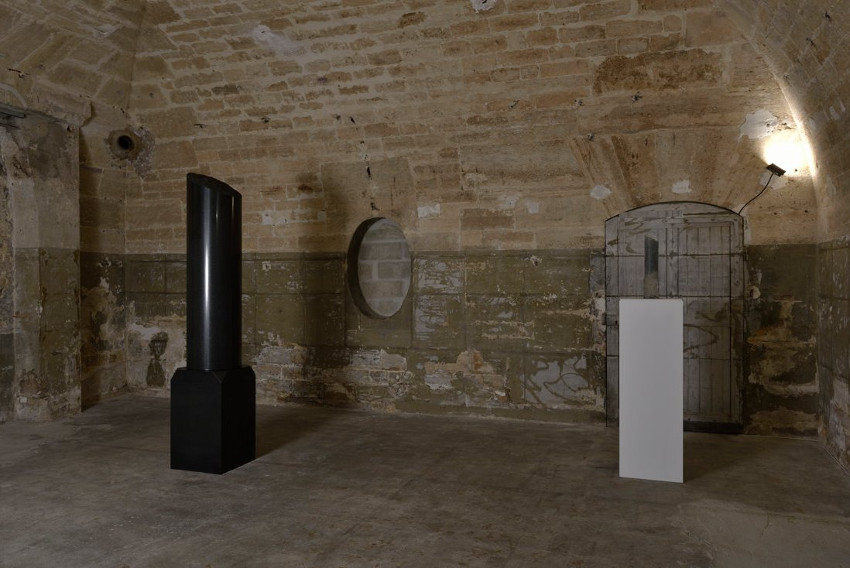 Awards – From Turner Prize to Oscar
In 1999, Steve McQueen won the prestigious Turner Prize for his video based on a Buster Keaton film. Other nominated were Tracey Emin, Steven Pippin, and collaborative sibling duo Jane and Louise Wilson. The artist received the Caméra d'Or Award at Cannes for Hunger, becoming the first British director to win the award. The film was also awarded the inaugural Sydney Film Festival Prize. Hunger also won the Los Angeles Film Critics Association award for a New Generation film in 2008 and the best film prize at the London Evening Standard Film Awards in 2009. McQueen represented Britain at the 2009 Venice Biennale. 12 Years a Slave became the first film directed and produced by a black filmmaker - Steve McQueen, and also the first to be written by an African-American - John Ridley, to win the Academy Award for Best Motion Picture of the Year.
Steve McQueen lives and works in Amsterdam.
References:
Enwezor O., Fisher J., Didi-Hunerman G., Steve McQueen: Works 1993–2012, Kehrer Verlag (2013)
Bickers P., Let's Get Physical, Art Monthly [December 12,2016]
Aspden P., Interview: Steve McQueen on telling the truth in Hollywood, Financial Times [December 12,2016]
Farage J., Steve McQueen: His art before 12 Years a Slave, BBC [December 12,2016]
Martin R., Review: Haunting new work by Steve McQueen at Thomas Dane Gallery, Apollo Magazine [December 12,2016]
Featured image: Steve McQueen – Artist's portrait – Image via tvdaily.com