Stik, is an artist from London whose simplified black and white figures have graced the buildings from New York, Jordan, to Norway and Germany. Unlike many of street art creatives who use their art to express personal views and experiences, Stik's art is much more focused on the community. Whether he is painting a mural depicting a family on a house in Jordan or anti-gentrification mural in London Stik's work is always turned towards local neighborhood reminding companies and authorities that public space belongs to the people. As a firm believer in human rights and the freedom of speech, Stik has made his artworks both aesthetically appealing and socially relevant.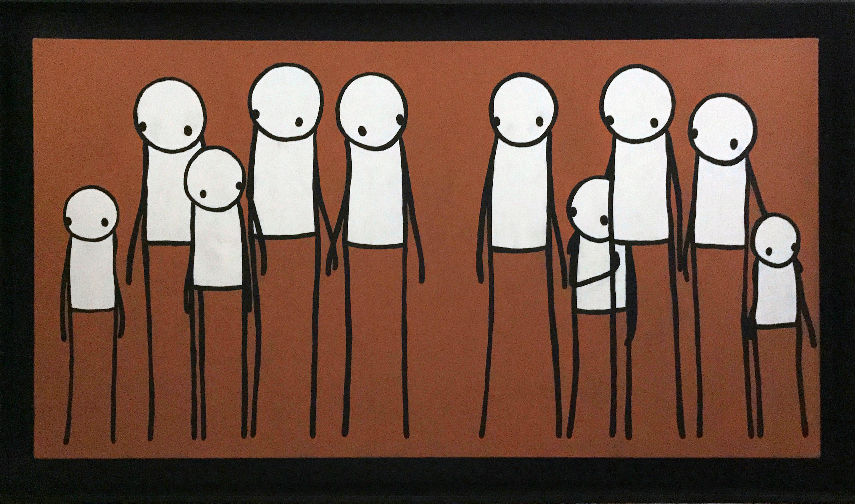 From Living on the Streets to Street Art Celebrity Status
Stik was born in Hockney in East London. After spending several years of his life in homeless shelters and cleaning the toilets in his hometown, the artist finally began to paint on the streets in the UK in 2001 and quickly became one of the fondest name of London's graffiti culture. Stik began creating his art as a way of making himself visible to the world, but he always kept his mind on the communities he was working in. Even when he makes his guerrilla works close to his home, the artist always takes the time to ask locals what they think about their home and how they want it to look like. His prices are always site-specific and made to appear as if they belong where they are painted. The artist believes that their distinctiveness contributed to the longevity of his pieces since the more integrated they are in the surrounding space, the longer they tend to stay undisturbed on the wall. [1]
Stik's Piggyback artworks explore people's relationships with their home and strength of the local community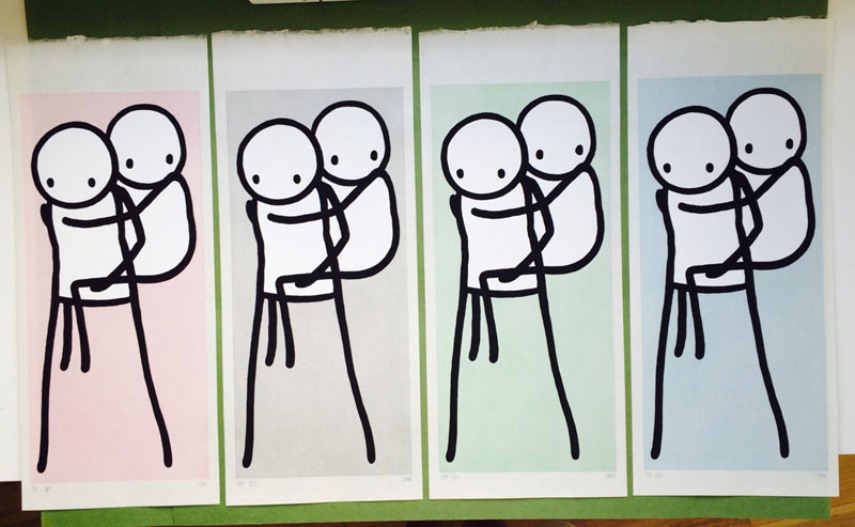 The Simple and Effective Aesthetics of the Artist
Stik's recognizable black and white figures were the first thing he painted and in time these characters have become the trademark of his work. However rather than from personal inspiration these characters were created from necessity. In the time when graffiti and street artists are a target of constant persecution, drawing six lines and two dots was the quickest way to draw a human figure without getting caught. The black and white scheme helped with the funding since it only required a set of black paint and a nice big white wall surface. In time these simple, recognizable figures become something that people all over the world can relate to which brought the artist worldwide fame. It turned out that six lines were more than enough for a talented street artist such as Stik to convey a variety of pleasant and ugly emotions and events inspired by the latest news, personal experiences and the people around him. These childlike figures appear clean and fresh but despite their simplicity, they are packed with sensibility and symbolism. The universal "stik figures" show no sign of gender, class or age which makes them perfect for depicting the equality of people regardless of these traits.
Sleeping Baby artwork depicting a sleeping figure of a child set against the blue background was sold at Christie's auction in London to aid Homerton Hospital Charitable Trust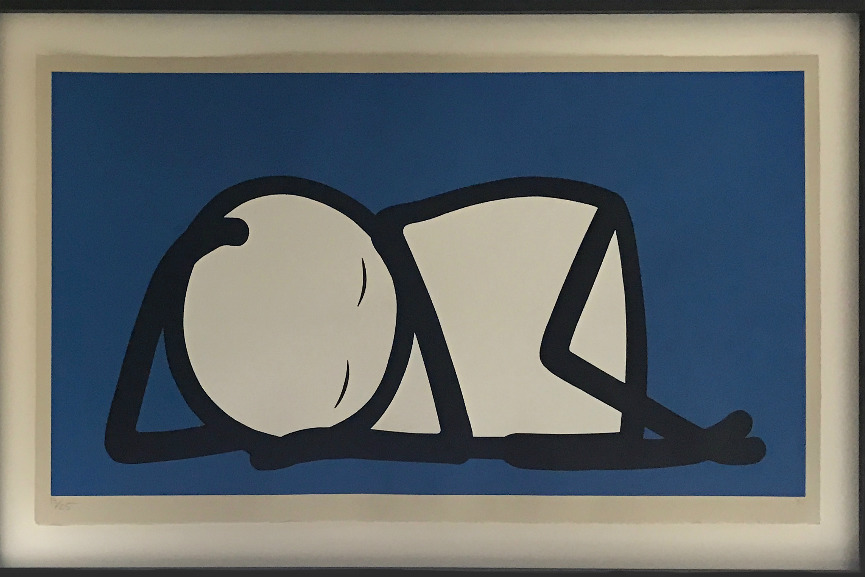 Free Art and Charity Projects
Throughout his career Stik worked on a variety of charity projects and helped numerous hospitals, LGBTQ, and homeless organizations to raise money for their cause. Apart from his street artworks painted all over the globe the artist also created a variety of studio works which represent his main source of income since everything he paints on the streets (even commissions) are completely free. His paintings, sculptures and prints are known to reach tens thousand dollars prices at auctions. Stik's studio artworks featuring his trademark characters were on view in numerous group and solo exhibitions including sold out solo shows in London, Paris, and Montreal. In 2012 Stik released his first book entitled Stik by Stik. The publication that took months to create revealed political and artistic inspiration that lays behind the oeuvre of one of England's most brilliant street art figures.[2] Wonderfully illustrated monograph published by Penguin books, a publishing company responsible for the release of the much sought after Banksy's Wall and Piece, includes a limited edition lithographic print available in either red, yellow or blue.
Stik is represented by GraffitiStreet, Graffic Gallery and Immitate Modern.
He lives and works in London, UK.
References:
Lynskey D., (2015), Street artist Stik: I felt invisible and it was my way of showing I'm here, The Guardian, [April 14, 2017]
Stik., Stik by Stik, Penguin Books, 2012
Featured image: Stik, photo credit Claude Crommelin
Images for illustrative purposes only