Stone Malone is an American artist, musician, and activist - a surrealist with a comic-book flare.
Stone Malone's Masterpiece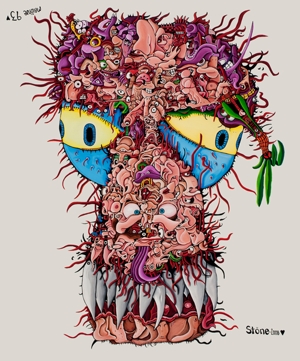 Malone was born and raised in Grand Rapids, Michigan. Since his early childhood, he showed interest in art. As a young child, he could draw coherent pictures before speaking, and decorated the walls of his home with black Sharpie drawings. So, today, he has that old interest addressed in several ways: he is an owner of the Stone Malone Gallery in Los Angeles, he is a musician and an activist, and finally, he is a pure artist.
Malone attended Kendall College of Art and Design in Grand Rapids and Musicians Institute in Los Angeles, California. At the moment when he was pursuing a career in music in LA, Stone never stopped drawing and creating elaborate pen-and-ink works. In 1993, a friend and his roommate asked him to create a piece that could be hung on the wall of their room. Malone painted Masterpiece, an intricate study of color and shapes that featured his now-distinctive use of eyes.
The Stone Malone Gallery
Malone's detailed oil paintings are recreations of his early work in ink-and-color pencil. He is not afraid of bold experiments: Malone created many of the works using a unique 360-technique – which results in curious fact that each piece could be rotated multiple times and appreciated from many angles.
In 2006, he had a fresh start on canvas. During next two years, Stone was recreating 18 of his original color-pencil masters in oil. He was pretty silent and invisible as an artist; however he still gained a cult following as the "Cartoon Picasso."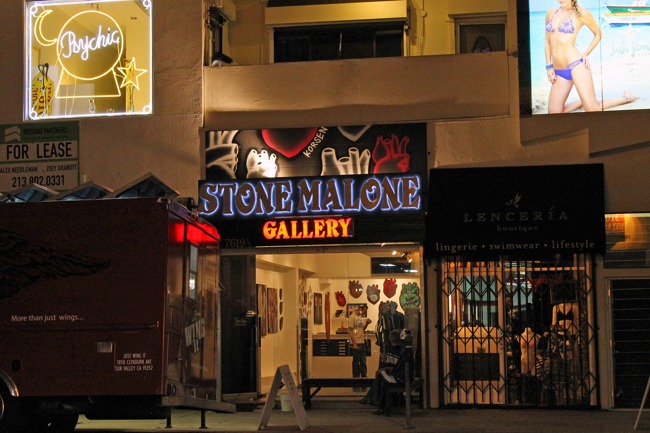 It wasn't before 2013 that he made his debut - on the twentieth anniversary of his first creation, Masterpiece, Stone opened a gallery, The Stone Malone Gallery, in the heart of the world-famous Melrose District in Los Angeles. Opening exhibition was Malone's One + 2 exhibit, a series of pieces from artist's mixed-media collection of oil paintings, ink-and-pencil drawings, and photographs.
Malone was never hiding that the main source of his inspiration lies in cannabis so he did not wait to become a pro-cannabis activist, he even wrote a screenplay about cannabis legislation in 2003.
Stone Malone lives and works in Los Angeles, California.
All images copyright © the artist