Stoul is a French artist who unites her love for fashion and art into a wonderful combination of classy, chic and fun paintings. The artist is very fond of cats, and they are the protagonists of her fashionable collections. On every painting cats are portrayed as graceful female heroines, dressed from head to toes, or paws, in contemporary designed clothing. To make them even chicer, Stoul paints them with long eyelashes and crossed nose, so their flirty face can complement their appearance even better. Along with fashion and cats, the artist uses elements of Japanese Manga comic books.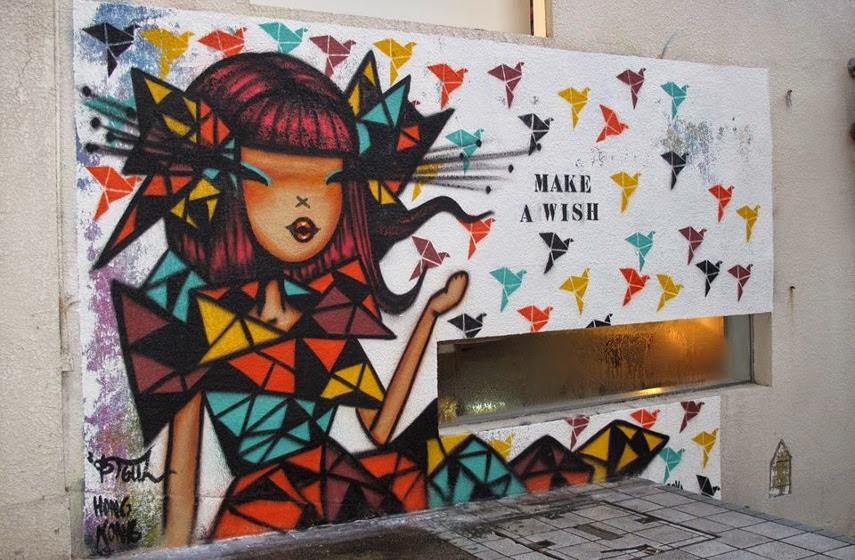 Street Punk with a Sence of Fashion
Stoul started out as a punk girl, who explored the world of art through stencils and graffiti. Although she moved on to different themes, her interest in the alternative culture still influences her work. The artist graduated from École Boulle - public school of arts in Paris and continued her education at the Duperré School of Applied Arts. When she got into Manga comic books a whole new world opened up for her. A world of magic, shiny colors and incredible stories about female characters with superpowers. Her punk phase led her to the streets and she started making collages and using rough materials such as concrete, bricks, and steel. She painted her first mural with 7MR crew.
Stoul's early work was inspired by vintage fashion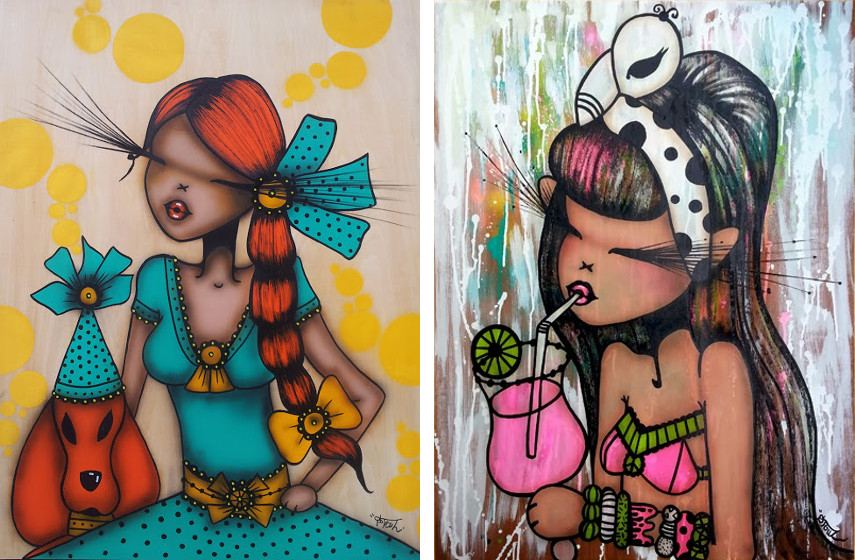 Vintage and Retro Elements
Influenced by her grandmother, she started using more retro prints. Vintage fashion became the leading style of her car heroines, and she dressed them up in sun dresses and flower prints. The fusion of punk art and feminine pop art elements with glimpses of vintage helped the artist to evolve to a whole new level. What is typical of Stoul and her work, is that she constantly grows, but never rejects who was she before. That is the main reason her work is so full of different elements. Variety brings a certain dose of freshness to her paintings. Along with portraits of her imaginary and fantastical models, the artist also sews, adapts old furniture and lately does vector drawing.
The artist started using more geometrical shapes that resemble origami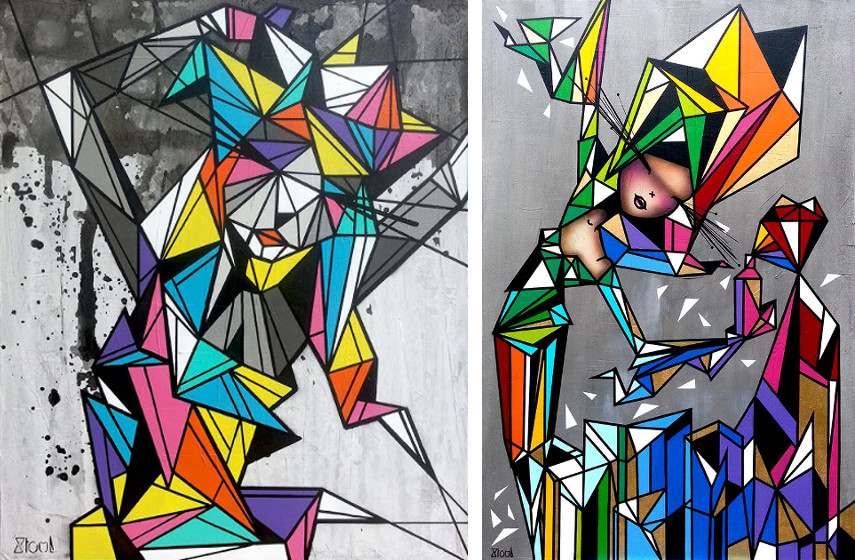 Going Digital
In 2010 she started making more contemporary pieces, using the advantages of digital technology. While working in photo studio she started experimenting with color enhancing, lights and shading. Her cats became more geometrical. Still getting motivation from Asian culture, she put her fashionistas in origami couture, adding a bit of diversity to old school vintage style. Now, she balances between traditional and new technological era. She uses all of her work to create something different, and she will often recycle her old paintings or old furniture. Stoul exhibited her work all over the France and across the globe. She participated in many workshops and charity events.
The artist is represented by Joël Knafo Art Gallery.
Stoul lives and works in Montrouge, France.
All images © Stoul
Featured image: Stoul - Peinture Sur Le M.U.R. D'arromanches, France, 2012